Udimi is pants down the best Solo ads marketplaces if you're looking to drive unlimited and constant targeted traffic to your landing page, website, products, or offers.
However, before you order your first solo ads clicks, you need to learn how to navigate around the marketplace, find a reputable solo ads seller, and make the right purchase to increase ROI.
In this article, I'm going to walk you through every step on how to buy Udimi solo ads successfully.
But before that, let's learn a few things:
How Udimi Filter Works
First off, the Udimi solo ads marketplace wants its customers to get the best possible ROI by making sure scammers and fraudsters are filtered out.
To achieve this, the Udimi system filters traffic in the following ways:
Black hat technique detection.
Rejects users without JavaScript.
Detects anonymous browsing.
Open proxy and real IP detection.
VPN detection and removal.
Anonymous detection and removal.
Detects worms, bots, and non-human activities.
The system records PC info including operating system version, browser, etc.
And more.
Only traffic that passes all these filters will be counted in your stats. This way, you rest assured to get high-quality targeted traffic.
Having known how the Udimi filter system works, let's learn how to place your first solo ads traffic on the marketplace.
How to Buy Udimi Solo Ads Step by Step
Let's get rolling.
Step 1: Choose Your Niche and Determine Your Target Audience
No matter the quality of traffic you generate, you aren't going to get the most out of it if you're in the wrong niche. First off, choose your niche then determine who to target with the solo ads- your target audience/customers.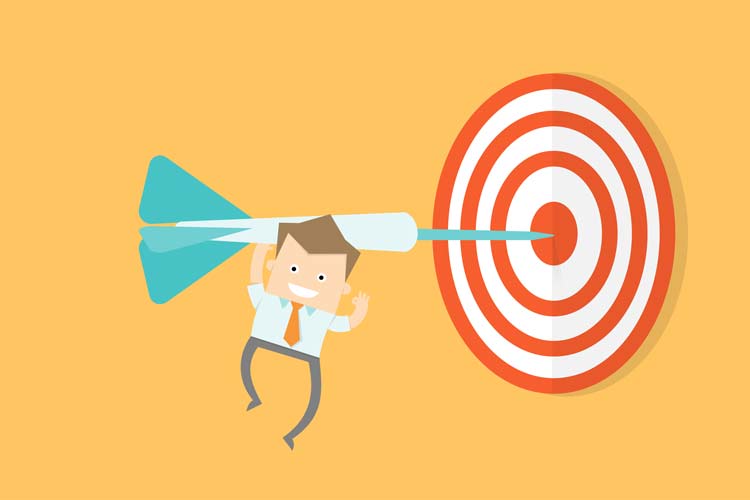 Once you determine your target audience and niche, it'll become easier to find a reputable Solo ads seller who can meet your traffic needs.
Step 2: Find a Reliable Solo Ads Seller in Your Niche
Finding the best Solo ads seller is not a joke given the number of scammers and fraudsters out there. However, Udimi simplifies the whole process for you.
Click the Find Sellers tab at the top menu bar.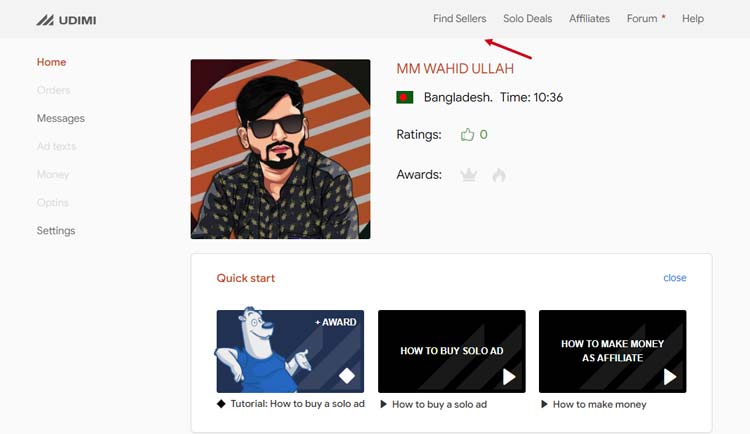 You will see a list of sellers. Use the available filters to find a suitable seller for your exact niche.

Here is the meaning of a few filters you're going to use:
Price: The highest price you'd wish to spend on traffic that passes all the filters.
Niche: Choose your preferred niche.
Ratings: Set the number of positive ratings for the seller you want to use.
Got sales: The number of orders placed on a seller that helped the buyers to generate sales in percentage.
Repeat orders: The number of repeat orders a seller has received from buyers.
Sort: Arrange results either in ascending or descending order based on sales, price, ratings, etc.
Start within: The duration you want the seller to start sending traffic to you.  If you want traffic to start flowing immediately, put 24 hours.
Traffic source: Choose where you want traffic to come from.
Sellers language: Choose the language the seller you want to use speaks. This is auto-determined by your browser.
Seller located in: Where the Solo ads seller is located currently.
Only online: Choose whether to buy from sellers who are online on Udimi at that moment.
ID verification: Display verified sellers.
Step 3: Explore search results
Once you have selected the filters based on your requirements, Udimi will display the sellers' cards where you will see the name of the seller, profile photo, and a brief bio below the "About this offer" section.
You can see whether the seller is online. On the right side, you can see the message button where you can send a direct message to the seller.
Review the seller's profile carefully, by checking average stats, ratings, and reviews.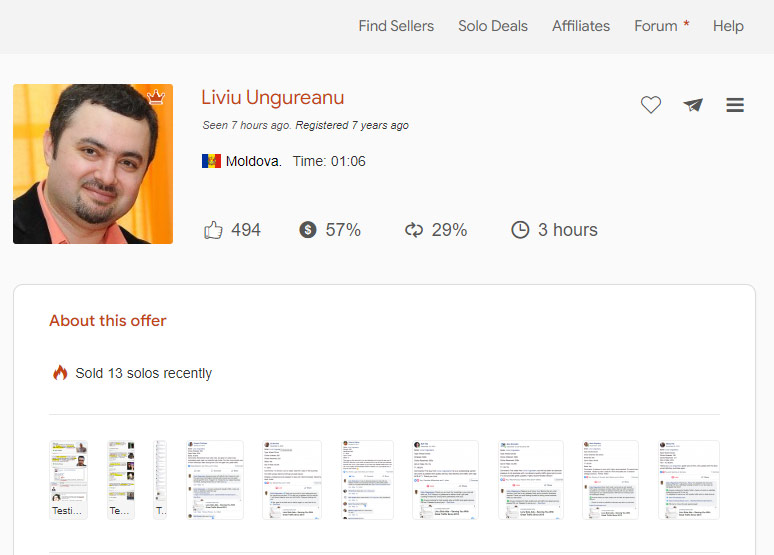 The good thing about Udimi is that sellers don't have the option to remove buyer ratings. This means that you can see sellers with positive or negative ratings so you can find a suitable seller for your niche.
Ensure you're choosing a seller with positive ratings. That's an indication that buyers are satisfied using the seller traffic.
Check the seller's traffic conditions as well as the number of sellers who have gotten sales and opt-in rates.
When you contact the seller using the direct messaging option, ask the following questions:
How the seller has created their email list.
How frequent the seller sends emails to their list.
How often the seller ads new subscribers and the techniques they use to attract them.
Whether the seller's email list includes buyers.
Whether the seller generates income with their email list
The type of offers that work well with the seller's email list.
Step 4: Place Your Order
Once you're satisfied with the seller's response and profile, it's time to make your first solo ads purchase.
Placing your first solo traffic clicks is very simple.
Indicate how many clicks you want to order from the seller by dragging the slider right or left.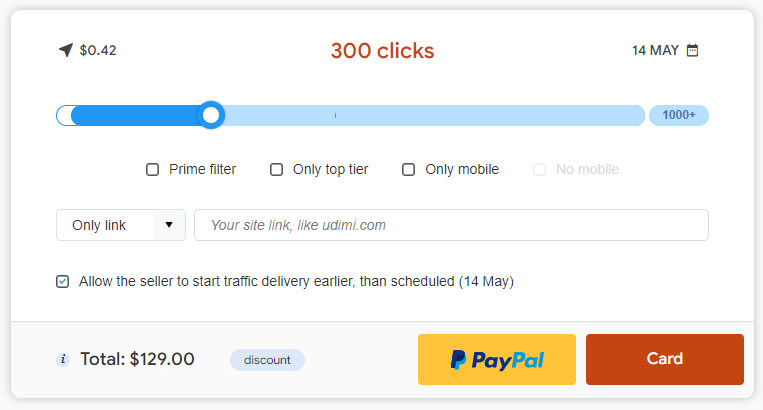 Once you have selected the number of clicks you want, pick the delivery start date at the top right-hand side of the order form.
Below the slider are a number of traffic filters that you select to get the clicks you want.
Prime filter: This is an optional filter that costs $0.03 per click. You can turn it on or off if you wish to.
Mobile filter: Turn this filter on if you wish to generate traffic only from mobile users and tablets.
Only top tier: Select this option if you wish to generate traffic from top-tier countries like the UK, US, Australia, and others.
No mobile: Activate this option if you wish to generate traffic coming from desktop and laptop users online.
Enter your link or ad text:
Inside the order form, below the slider are two options: Only link and Ad text.
You can enter a link to your offer or landing page or type in the ad text.
Udimi allows buyers to insert a link in the ad text body. You can add as many links as you wish as long as they all point to the same web page.
Your link or ad text will be saved in the Ad text field. This way, your ad text will be inserted into the order form in your next order.
You can also select one of your previously used ad texts or links via the drop-down menu in your next order.
Define the order delivery date
If you want the seller to deliver clicks immediately, check the "Allow the seller to start traffic delivery earlier, than scheduled (date and month). Uncheck this option if you don't want your order to be delivered immediately.
Select your preferred payment method and complete your payment. Note that Udimi allows only two payment methods: PayPal and Card.
Step 5: Track Clicks and Give Feedback
Once your order has been accepted by the seller, you will start to see traffic coming to your site. Note that your order will be canceled automatically by Udimi if the seller doesn't deliver the traffic within the time you have specified.
If the seller delivers the order successfully, Udimi will display a traffic stats report so you can determine whether it meets your requirements.
Accept the delivery if it meets your requirements and give feedback to the seller.
You can also use tools like ClickMagick to check traffic reports.
Frequently Asked Questions
Here are a few frequently asked questions about how to buy Udimi solo ads.
How Much Do Udimi Solo Ads Cost?
Udimi solo ads prices range from $0.35 to $0.95 per click. It's worth noting that the difference in prices is since sellers price their offers differently.
How Does Udimi Solo Ads Work?
Udimi is a huge solo ads marketplace that connects buyers and sellers. The marketplace is free to join and you can get started easily.
Is Udimi Any Good?
Even though Udimi doesn't work well with other niches, it's especially great if you're looking to generate traffic for your affiliate marketing business. Another good thing about the marketplace is that you can have your ad text written by your seller which saves time and money on you.
Final Thoughts
If you're looking for high-quality targeted traffic then solo ads are definitely your best option- and Udimi is the best marketplace to find reputable solo ads sellers.
If you're looking for a cost-effective way to generate quality traffic then join Udimi today and purchase your first solo ads clicks via this link.