Reselling digital products is a great way to diversify your income. The good news is that you don't have to create a digital product from scratch to resell.

In this article, I'm going to teach you how to create a new revenue stream for your business by reselling digital products.
I will also talk about three popular PLR websites where you can purchase digital products to resell, and how you can customize the products and promote them to your audience. But before we get there, let's understand a few things:
What Are Digital Product?
Simply, digital products are goods that are created, sold, and purchased online to be used digitally. Some digital products can also be consumed physically.
For instance, you can print an eBook and read it on a hard copy or create a book out of it. Examples of digital products include online courses, videos, websites, mobile apps, etc.
What Are The Most Popular Digital Products?
There are many examples of digital products on the internet today. In this section, I will talk about the best digital products you can resell and make money online.
eBooks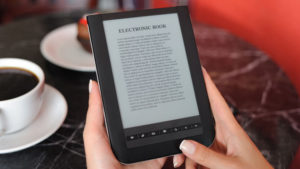 eBooks are the most popular digital products that are easy to create since you just need an idea, write the text, format, and add images to make your content more engaging and informative.
Besides, eBooks are easy to resell since you can either list them on marketplaces or sell them on your own online store.
Software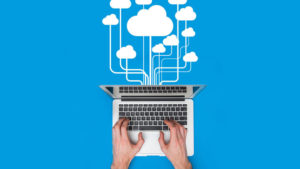 Software products are also popular these days since the industry is also growing.
These are digital products that can be used on computers and mobile devices. They include mobile, web-based, and desktop apps, WordPress themes and plugins, video games, etc.
Courses
Online courses provide an alternative way of learning.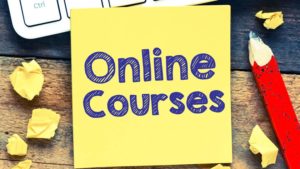 They involve any information piece of writing that informs, guides, and educates the audience. Think of online courses as your ordinary traditional lessons but in this case, delivered via the internet.

They are also easy to create since you can educate your audience about something you have enough knowledge or expertise in.
Videos
Videos are informational, educational, and entertaining content that you can watch online or on your own devices. If you are an avid YouTube user, you don't need an explanation for this.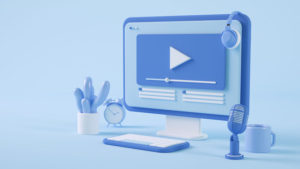 These are just a few examples of digital products you can create or purchase and resell to your audience and make money online.
Since this article is about how to resell digital products, there are things you need to know before you purchase and resell any digital product either on marketplaces or through your digital store.
This takes us to the next item:
Is It Legal To Resell Digital Products?
Yes, it is very legal to resell digital products but is also illegal to resell digital products that you have downloaded or purchased from a website that doesn't allow you to.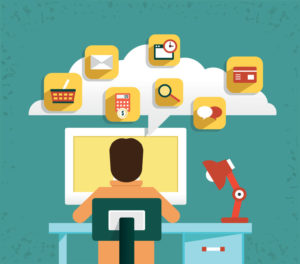 In other words, whether it's legal or illegal to resell digital products will depend on the limitations of the source of the products.
For instance, digital products that come with Private Label Rights allow you to edit, rebrand, or customize them in any way you want and resell or use them as you wish.
I will share with you three popular websites where you can purchase products with private label rights in a moment. But before that, let me talk about yet another interesting thing:

Why Digital Products Are Better Than Physical?
Digital products are way better than physical products in many ways. Of course, before the internet was invented, physical products were the only option.

Thankfully, with the technology, selling eBooks, online courses, software, and other digital products is a breeze. 
That said, here are a few reasons why digital products are better than their counterparts.
Cost-effective:

First off, with digital products, you don't need any inventory. This makes reselling digital products a low-risk business.

Scalability:

You can scale your digital products business fast without worrying about storage space, unlike with physical products that require additional space whenever you add products to your inventory.

Digital products are simple:

With digital products, all you need is a couple of mouse clicks to create or even resell them. On the other hand, physical products require a lot of time and planning from stock management to shipping calculations, and many other things.

Easy to distribute:

Digital products can be distributed to customers free and fast. 
What Are The Advantages Of Selling Digital Products?
When compared to physical products, digital products are way better for selling.
Here are a few advantages of selling digital products.
You can resell them endless times:

Unlike physical products that you can only sell it once, digital products can be resold endless times. For instance, you can resell a single eBook to tens of thousands of customers.

Instant delivery:

With digital products, delivery is just a click of a button. That means that customers get what they have ordered instantly.

Minimal financial investment:

If you plan to sell digital products, there are two options: Create yours from scratch or purchase products that have already been created. The second option is cost-effective and produces great profit margins since there is no shipment cost.
That said, let's get into the main topic of this article:
How To Resell Digital Products
Even though digital products are easy to resell, you need a proper plan to make sure you don't waste time and money investing in a business that doesn't bring any profits.
Walk with me, in this step-by-step guide as I show you exactly how to resell digital products and make money.
Step #1: Choose a Profitable Niche
If you want to get huge success reselling digital products, you need to think long-term.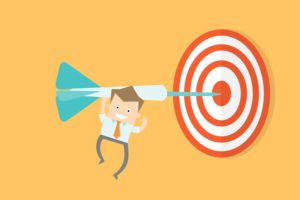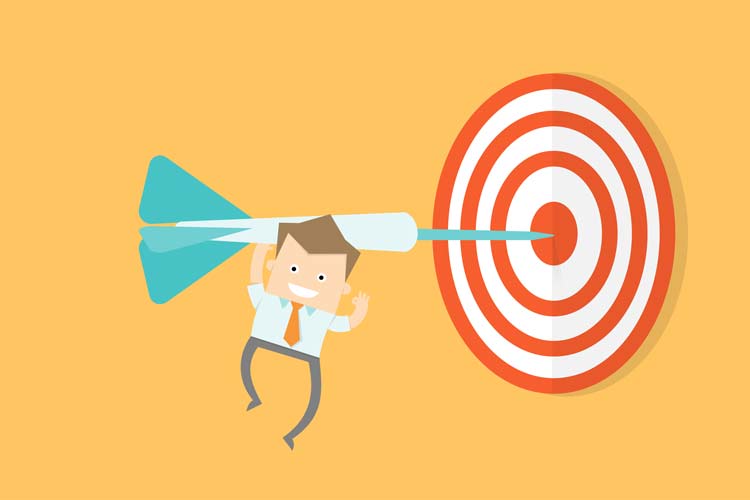 This implies determining your target customers, marketing techniques, and the value your products can provide to them. This is where choosing a topic you are familiar with or have expertise in becomes important.
Trying to sell all kinds of products or in other words, trying to be a jack of all trades thinking that you will make a lot of money will do more harm than good to your business.

The good news is that over 5 billion internet users currently and over 2.1 billion digital buyers, you rest assured to find a group of people you can target.
Pick a niche that you will stick to it for a long period and start small then expand once you have established your authority.
Currently, digital marketing, making money online, health & fitness as well self-development are the most popular niches to make money online with.
Step #2: Understand the Product License Types
Once you have figured out your target customers and the niche you want to focus on, the next step is to understand the common product license types that dictate what you should or shouldn't do with the products.
As mentioned above, reselling digital products is legal but you must do it with adherence to the license types.

Generally, there are three types of licensing rights that let you resell digital products.
Private Label Rights
This is the most popular type of license that allows you a lot of freedom when it comes to reselling digital products.
For instance, it allows you to customize, rebrand, or modify the products to your liking. You are not allowed to claim authorship of the product since your customers might also want to resell the same products.
Resell Rights
This type of license allows you to resell the digital products as they are without doing any changes. You can't sell the resell rights to your customers.
Master Resell Rights
The MRR license allows you to resell digital products together with the rights to customers, but without doing any modifications or changes to the products  
Step #3: Find The Products That You Can Resell
Now that you understand the most popular licensing types that allow you to resell digital products, the next step is to find the products.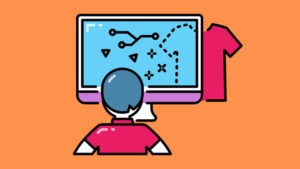 The internet is currently chock-full of websites offering all kinds of digital products covering different niches but not all offer quality products.
The last mistake you want to make is purchasing low-quality products or those that have been resold to different customers.
In this section, I'm going to share with you the three best PLR websites where you can purchase quality done-for-you digital products without breaking your bank.
PLR.me
PLR.me is the go-to PLR website for everyone looking for high-quality digital products you can resell or use for other purposes.

Currently, the website specializes in delivering quality done-for-you PLR content that you can edit, modify, rebrand for sale, give away or use as your own.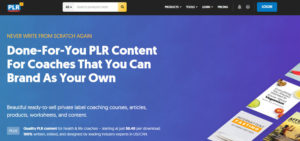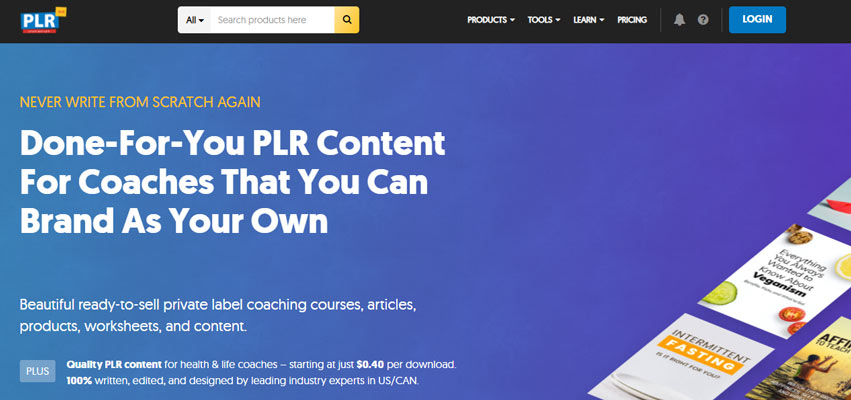 Currently, the website offers more than 263 private label coaching eBooks, more than 1,200 coaching courses, over 5,600 articles, and many other digital products.

The beauty of this website is that everything is 100% created, designed, and written by an in-house team of industry experts and writers.

The products cover almost all the world niches out there such as health, dating & relationships, business & marketing, career & job, anxiety, depression, etc.
Unlike other PLR sources, this website allows you to buy digital products individually or in bundles.
Here, you can purchase quality products for as little as $0.40 per download.
PLR Database
PLRDatabase.net is a PLR membership website with a massive digital database with over 26k licensed done-for-you products of different types including articles, eBooks, graphics, videos, audiobooks, websites, and more.

Unlike PLR.me, this website requires you to purchase a membership to access all the products listed on it. 

Most of the products come with PLR rights so you can change and resell or use them as your own but others come with different licensing rights so you should understand the type of license the product you want to purchase comes with to avoid facing legal issues.
The website also offers digital products in different niches including health, business, psychology, affiliate marketing, and many others.
Even though this website offers tens of thousands of digital products at a great deal price, some of the product categories haven't been updated with fresh content for a long time.
Besides, the products' quality can't match PLR.me.
Pricing starts at $10 per month.
Content Sparks
Content Sparks markets itself as the go-to website for the done-for-you best white label courses covering different subjects such as marketing, business, sales, personal development, etc.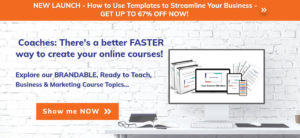 If you're planning to sell online courses or coaching programs then this website can be a great source for you.
Inside this website are different types of white label training content that you can resell and make money on the internet.

The courses are created by a team of expert writers and graphic designers.
Specifically, Content Sparks is created for educators, online business professionals, coaches, and consultants who don't have the time to create online courses from scratch.
The website offers you full rights to the courses so you can resell, and use the content inside the courses as bonuses, lead magnets, etc.
Must mention that you can't convey the resell rights to the customer. Once you sell the course to a customer, the customer isn't allowed to sell the products to someone else.
The courses are designed in Doc and PowerPoint formats making it easy for you to edit or convert them into other forms as you want.
The courses come in different prices starting from $47.
Step #4: Add Value To Them/Customized the Product
It's worth noting that even though some websites like PLR.me offer the highest quality digital products, you still need to add value to your product to make them valuable to your customers.
So, once you have purchased your product, whether an eBook, an online course, software, or graphic, customize it.
This doesn't only help you provide value to your customers but also helps you to avoid plagiarism issues since there are high chances that someone else has already purchased the product.
Make the product unique and high-quality using the tips below:
Make the content better:

Assuming it's an eBook, all you need to do is to find out valuable information about the topic and edit it accordingly. This could involve removing some content or adding some more useful information.
Package the product with others:

You can also put together different digital products to make one great digital product. For instance, you can put together eBooks, graphics, videos, and other digital products to make a killer online course in your niche.
Step #5: Choose The Platform To Resell Your Products
Up to this far, you are almost nearing that time for counting the mullah. But before that, you need to where you can resell your digital products for profits.
The good news is that you can resell digital courses on marketplaces or create your own digital store and promote your products.
Here are three online platforms where you can resell your digital products:
Payhip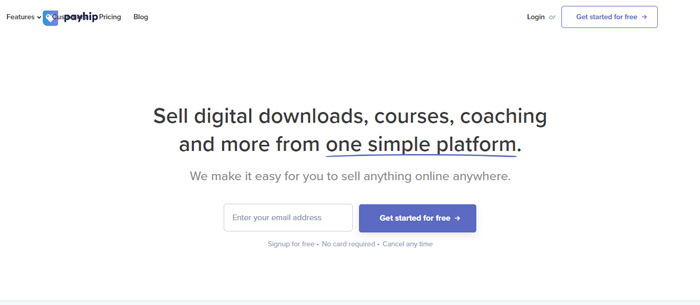 Payhip is designed like an e-commerce website that you can easily integrate into your website and sell digital products such as courses, coaching programs, and more.

The platform offers three different pricing options starting at $29/mo.
Sellfy
Sellfy is also another simple but powerful online platform to sell digital products such as music files, eBooks, videos, etc.
You can also take advantage of the platform's marketing tools such as discount codes and others to maximize sales of your products. Pricing starts at $22/mo billed at $264 yearly.
Gumroad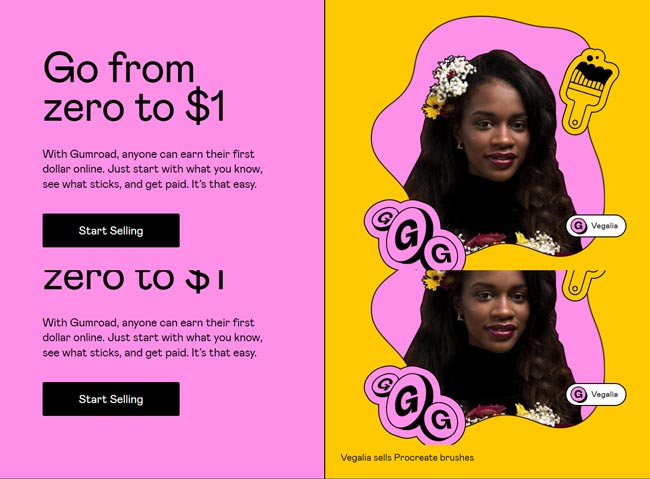 Gumroad is also another awesome platform, but in this case, for digital product creators who sell products through social media.
The platform allows you to upload your products, and set the price and the rest is done for you automatically. You can also integrate Gumroad into your website using the simple widget. Pricing starts at $10/mo.
Step #6: Market Your Products
Whether you decide to create an online store to sell your digital products or list them on any or all of these platforms (of course, some platforms take care of marketing as you focus on the other task or improving PLR products) you need to market them so that your customers can see them.
There are three powerful ways to market your digital products:
Distribute your products to other marketplaces:

As you promote your products through your website, you should also list them on other marketplaces like Kindle Direct Publishing, Etsy, Creative Market, Udemy, etc.
Start a blog:

Create a blog where you can share informative blog posts that drive traffic from Google. For instance, if you're selling eBooks on your website or you've listed them on other marketplaces, you can create blog posts and insert links that direct people to your products
Use paid advertising:

You can also market your products using paid advertising but this method requires some investment and social media marketing knowledge. Here, you can use Facebook Ads, Instagram Ads, YouTube Ads, Google or Bing Ads, Twitter Ads, etc.
Final Words
As the consumption of digital products continues to increase globally, the demand for these products also increases. If there is a better time to start selling digital products for profits then it's now.

The coolest thing is that with the availability of PLR websites like PLR.me and many others out there, you don't need to create digital products from scratch.

All you have to do is to choose a niche and then follow the steps I have outlined above. Be patient and consistent because you are not going to see success overnight.
Good luck!