Have you tried to find the best AI writer tools in Appsumo's lifetime deal without success? If so then your search ends here.

In this article, I'm going to review the 13 best AI content writing tools in Appsumo with a lifetime deal.
Whether you are a blogger, content writer, or online business owner, you will need good written content to succeed online. 
To write content that converts, you must have excellent research and writing skills. And you also need enough time to create and execute a powerful content writing strategy.
If you don't have the time and writing skills, you can hire a freelance writer. But this option can be costly.
For instance, an average content writer can charge you around $37 per hour for quality content. And professional content writers can charge up to $200 for a 1,000-word blog post/article.
What if you could get an alternative way that's not only affordable but can help you autogenerate quality content for all your digital platforms (website, blog, social media channels, etc.) without a hustle? 
Enter the best AI writer tools.
Read on to discover the best AI content generator tools in Appsumo lifetime deals.
Top 13 Lifetime AI Writer Deals In Appsumo 
With the best AI writer tool, you can create awesome sales emails, blog posts, articles, social media posts, and other online content.
But with so many Appsumo lifetime deals out there, it can be difficult to choose the best one for your content writing needs.

That's why we have reviewed these best AI writing software tools to help you make an informed decision.
1. WordHero
Opening our list of the best lifetime AI writer deals in Appsumo is WordHero.
The AI content writer is designed to help online marketers, entrepreneurs, writers, and other online professionals produce high-quality blog posts, articles, sales emails, social media posts, catchy titles and descriptions, and other content with a human voice in just a few clicks.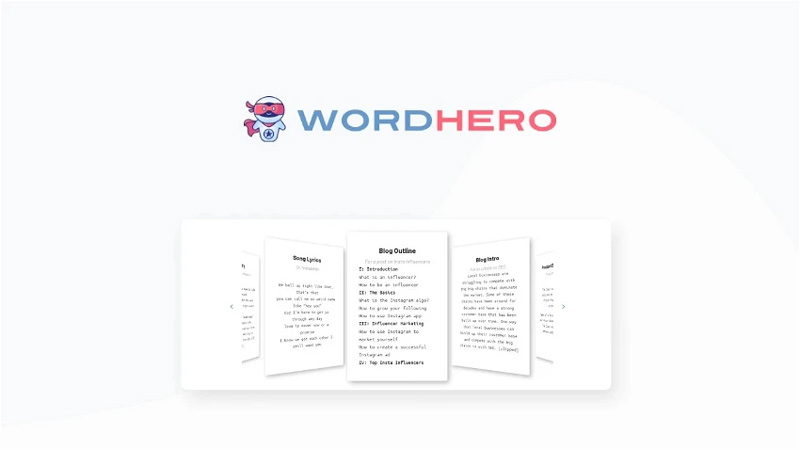 When you purchase this AI writing assistant lifetime deal in Appsumo, you get a complete suite of over 50 writing tools (and new ones are added regularly) to make your content writing work a breeze.

What's more, the AI writer software allows you to generate awesome content in more than 100 languages.
What's so sweet about WordHero is that the software introduced a new feature that lets you convert Word into a great AI editor and a long-form editor to help you produce in-depth articles effortlessly. 
The AI writing assistant is available for a one-time purchase of $89.
The price is expected to increase soon.
2. Wordplay
Are you planning to produce content that ranks higher on Google? If so then grab this lifetime AI writer deal in Appsumo.
Google loves long-form content. You probably know this.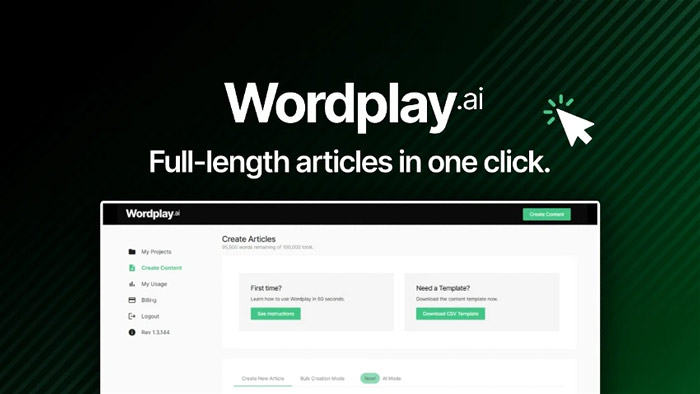 Your audience also wants in-depth articles and blog posts that answer their search intent. But producing such content requires a lot of research and time.

That's where Wordplay.ai comes in.

This AI content generator software can help you create long-form articles of more than 1,500 from just a single keyword in just a single click. The tool lets you add subheadings to break your article into sections or you can let it do everything for you automatically.
The best thing is that the software comes with a powerful plugin that lets you import the generated content directly into your WordPress site. Plus you can churn out up to 7,500 words of content per month or 30,000 words if you stack 4 codes.
The Wordplay long-form AI writer software is available at $99
3. Nichesss
Finding profitable niche ideas is not an easy task. But with Nichesss, you can find profitable niches and create amazing content around those niches in just 60 seconds or less.
What's even great is that this powerful AI niche finder and writer software is that once you find the profitable niches, it also helps you get amazing marketing materials about that specific niche.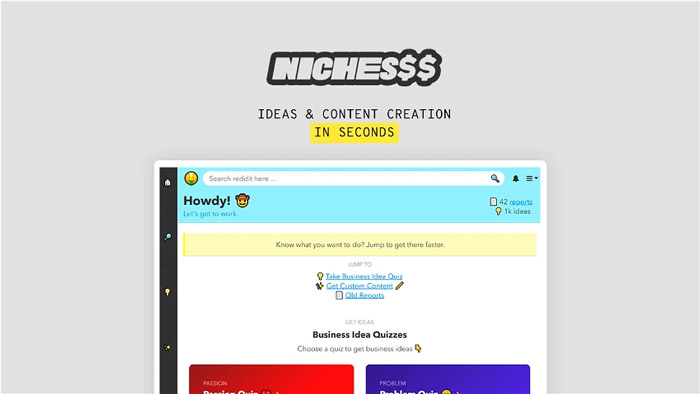 And that's not all. The handy Reddit search allows you to find subreddits based on the number of people in the specific subreddits.

The software can also help you produce irresistible marketing copy and awesome social media posts. Besides, the tool can create posts you can share on Reddit and Product Hunt.
In summary, if you purchase this AI-powered copywriting tool, you can generate amazing content based on your inputs. The tool can also translate content into 100+ languages.
Nichesss is available at $59 for life.
4. ContentForge
Unless you're an expert copywriter, you are going to struggle to produce incredible copy that converts because copywriting requires some mastery.
Fortunately, ContentForge is here to simplify copywriting for you.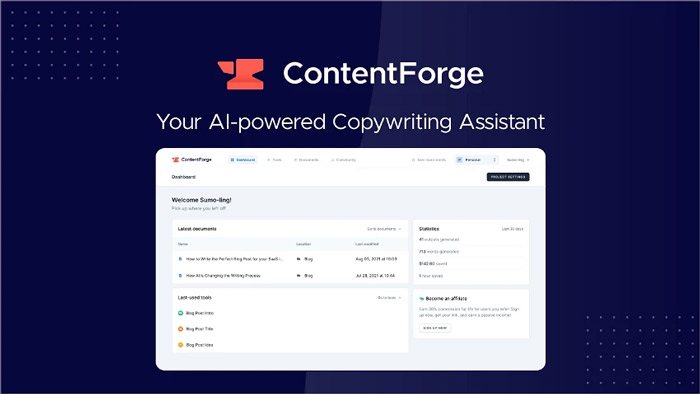 With this powerful AI-powered copywriting tool, you can create catchy ads that will impress your target audience and awesome blog posts that rank high in search engines and many other users.
The software was created to make content writing and editing effortless.
If you purchase the AI copywriting assistant, you gain access to more than 20 handy tools to produce unlimited long-form content that can be converted into 24+ languages.
The software can also do the formatting, editing, and researching for you as you take care of other things.
Say goodbye to writers' block and hello to writing content without lacking ideas with this amazing writing assistant.
The ContentForge AI-powered copywriting assistant is available at $49 for life.
5. Autowriterpro
Autowriterpro is a complete toolkit with over 50 copywriting tools that can help you generate search engine optimized content to grow your online presence.
Inside this AI copywriting software are lots of amazing features like:
Amazing tools and templates for creating an unlimited blog and social media posts as well as sales copy. There are currently over 50,000 templates.

Awesome business and legal templates.

A content Scheduler to automatically generate in autopilot.

WordPress integration so you can post content to your WordPress site.

Handy guest post directory so you can generate quality backlinks to your site.
If you're looking for a handy AI writer platform that can help you generate smart and engaging content effortlessly then look no further than Autowriterpro.
6. Writecream
Writecream is promoted as the secret weapon for producing awesome SEO sales and marketing content.
Let's see whether this is true.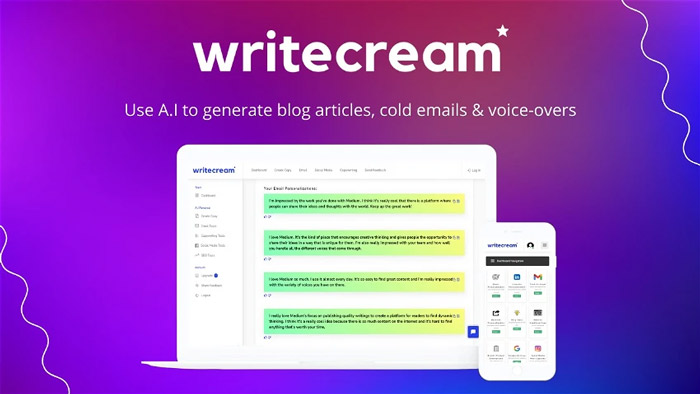 First off, the AI article writer tool can help you create an awesome blog article in four clicks, YouTube Video, and podcast using human-like voice-overs in minutes or all these three in under 30 minutes.
Yes, writing software enables you to write an article or up to 1000 words in just 30 seconds.
And with the handy Long Form Editor and other amazing capabilities like Expand, plagiarism checker, Summarize, and Rewrite, you can make the article generated longer original, and high-quality in just a few clicks.
You can also generate content for Quora answers, Facebook & Google Ads, social media posts, landing page copy, etc.
To help capture your audiences' attention, the tool lets you create personalized and customized introductions and headlines for your emails to increase clicks and opens.
Get Writecream SEO, sales and marketing AI copywriting tool for a lifetime price of $59.
7. Creaitor.ai
If you struggle to write blog articles, social media posts, and sales emails then Creaitor.ai is for you.
The writing tool uses artificial intelligence to help you create awesome content for your site, social media, and other platforms effortlessly and fast.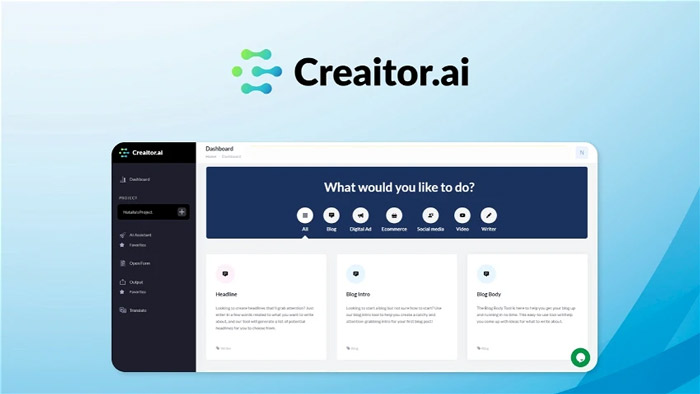 Using the available 60+ templates, you can create content for different purposes.

What's more, the software accommodates up to 5 active users, can handle unlimited projects, and can translate your content into multiple languages. And before I forget, the software packs over 50 powerful AI assistants.
Creaitor.ai is available in Appsumo deals at $89.
8. TextWizard
If you're a marketer then you understand that persuasive marketing copy can help you close huge sales. But creating high-converting marketing copy isn't a joke.
Enter TextWizard.io:
This powerful AI writer software can help you produce fresh and quality content in minutes. With TextWizard, you can create an engaging and human-like copy in just a few clicks.
If you are a blogger, content creator, or digital marketer looking for an alternative way for crafting amazing content then this tool can be a great option.
You can use the writer software to generate real estate listings, social media posts, sales copy, emails, and other use cases.
Besides, the tool can help you repurposes articles published on your site using the paraphrase feature.
If you purchase the software, you enjoy a ton of features such as blog title generator, social media content generator, blog summary generator, SEO meta tag generator, product description generator, long-form article generator, and many others.
The AI copywriter is available in 3 Tiers starting at $59 and is backed by a 60-day money-back guarantee.
9. Flacked AI
If you have a lot of work to do within tight deadlines, especially when it comes to content writing, you can make a lot of mistakes even with the simplest writing tasks.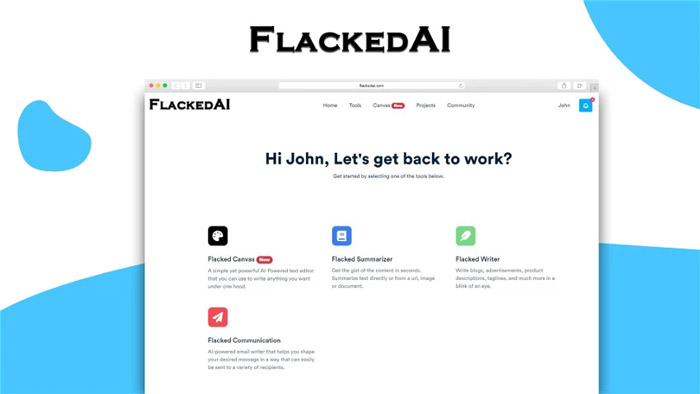 Not anymore, because with Flacked AI-powered tools such as Summarizer and Writer all your writing needs are taken care of.
Yes, you heard that well.

Flacked AI is a full-featured copywriter software with amazing features such as:
Flacked Writer:

To help you write awesome blog posts and web content that converts.
Flacked Summarizer:

Creates a beautiful summary out of any document you have already written.
Flacked Communication:

Takes care of your email writing work so you can focus on other things in your business.
Flacked Canvas:

Your ultimate long-form AI writer for all your content writing needs.
When you purchase this tool, you gain access to over 20 templates, 3+ formats for summarizing content, and many other features.
The software is available for $59.
10. Mentum.ai
Is writer's block preventing you from churning out great content consistently to keep your audience engaged? If so then worry not because Mentum.ai is here to help you with that.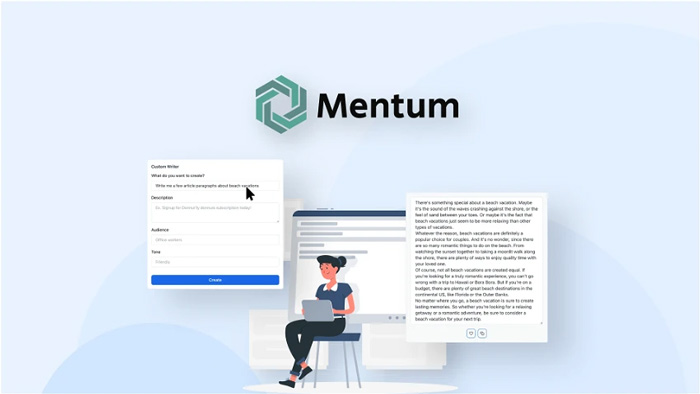 When it comes to writing compelling copy, you will probably think of hiring a professional copywriter especially if you lack efficient writing skills.
But that can be costly given that the average copywriter charges from $70 to $100 per hour with professional copywriters charging up to $240 per hour.
Well, you don't have to leave a dent in your pocket because with Mentum.ai, you can generate great content for your online platforms.

The platform comes with powerful features that let you handle all your writing tasks from writing catchy headlines and titles to crafting compelling blog articles.
Besides, it comes with over 30 pre-made templates such as Facebook Ads recipes, Paraphraser, and many others to simplify your copywriting and other tasks.
You can generate job interview questions, write awesome testimonials, and do a lot of other writing tasks. 
The AI writer software is available in Appsumo for $59.
11. Katteb
Katteb is the most affordable AI copywriter tool in our list of the best lifetime AI writer deals in Appsumo.
The tool is designed to help marketing teams, agencies, and e-commerce brands to generate quality, audience-tailored, and accurate content in just a few clicks.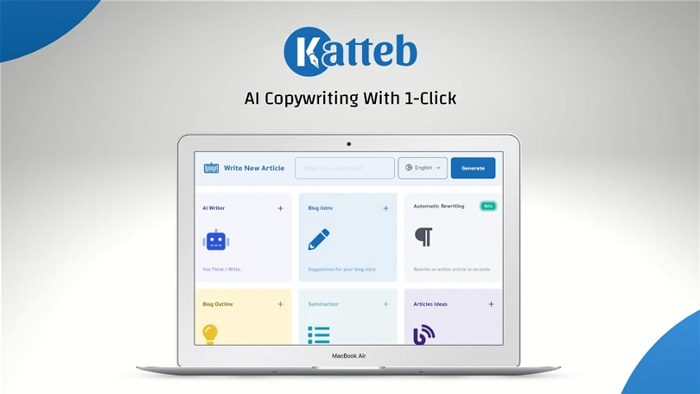 Besides, it comes with powerful features such as support for over 60 languages, an in-built English content proofreader and plagiarism checker, an automatic article rewriter, and many more.
Inside the software are powerful tools like automatic article writer that lets you produce up to 15,000 words articles per month, paraphraser, blog post idea generator, Facebook & Google Ads generator, blog intro & content summarizer, support for over 60 languages, etc.
Katteb is available in Appsumo lifetime deal at $29.
12. Wordblot
Even though content writing is a tough task, you don't necessarily need to spend hours to produce awesome blog posts, high-quality articles, and other written content.
With Wordblot, you can get AI-generated content in minutes.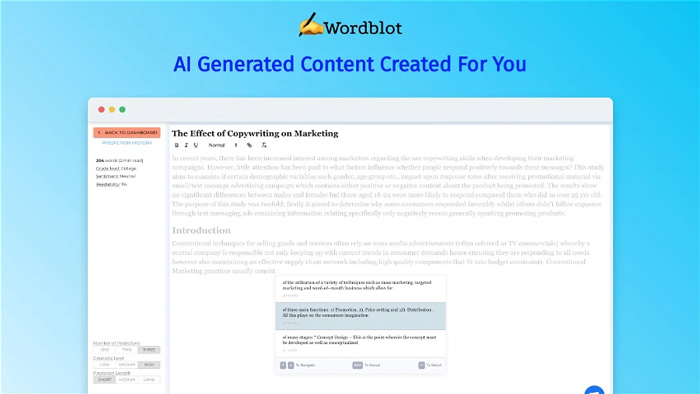 The AI writer comes with amazing features that can help you produce long-form pieces of content in just a few clicks.

Whether you want to create great emails, well-crafted blog posts, winning students' essays, or no matter the writing task you have, this AI-powered writer can do that for you.
Here is a sneak peek of what's included inside the tool:
Grammar checker:

To help you produce great content devoid of errors.
Rewriter:

To rewrite any document based on your keywords.
AI guider:

To help you write content that serves your purpose.
Title generator:

Produce click-worthy titles for your content.
All these features and many others not mentioned here can help online entrepreneurs and marketers as well as bloggers to generate quality written content in minutes.
Get Wordblot.ai at $49.
13. WriteMe.ai
With WriteMe.ai, writer's block is a thing of the past for you. 
Yes, this AI-powered writer software is designed to help you produce awesome content like never before.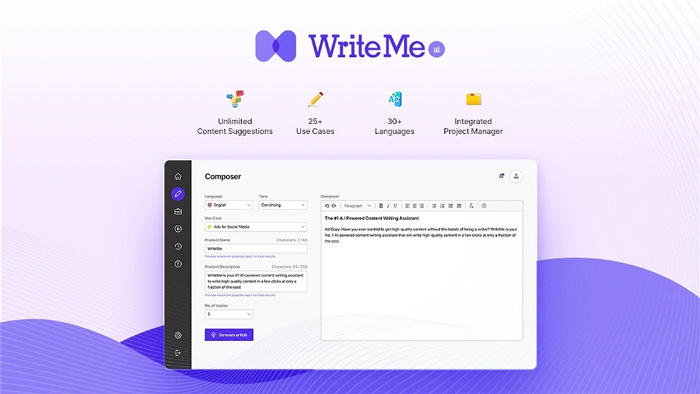 All you need is to enter your topic and the keywords you want to rank for and the AI content writer will generate original content free from all errors and plagiarism.
With a one-time purchase of $49 you gain access to the content writer and start generating up to 30,000 words or articles and blog posts per month.
You also gain access to over 20 sensational Use Cases for more than 7 industries, uncover unique ideas consistently for any kind of content, etc.
In summary, WriteMe can help you produce accurate long-form content, killer marketing copies, engaging articles and blog posts, etc. 
Final Words
So there you have it. 10+ best lifetime AI writer deals in Appsumo.

All these AI writing assistants can help you generate high-quality content with the help of artificial intelligence.
Nevertheless, you shouldn't rely on them 100% because they are prone to errors since they are all programmed and can't produce 100% accurate content.
So, regardless of the tool you purchase, I recommend having your content checked by human editors before you publish it on your platforms or use it anywhere you want to.