Are you looking for the best Amazon feedback-collecting service to gather genuine feedback from customers so that you can improve your brand reputation in the marketplace?
With 93% of online consumers relying on online reviews to make purchase decisions, having amazing reviews on your Amazon listings can help you build trust among your customers and increase sales.
Unfortunately, only 5% to 10% of customers leave reviews on products they purchase. Worse, reviews can be hard to get.
That's where an Amazon feedback software system becomes helpful.
In this guide, I'm going to review 7 awesome Amazon feedback and review software tools.
So without further ado, let's dive in.
What is Amazon feedback software?
An Amazon feedback software is a system specifically designed to help Amazon sellers collect reviews or feedback from customers who have bought your products but haven't left any comments.
With this system, you can send emails inviting customers to leave a review on the products they purchased on Amazon.
The Amazon feedback system can also help you keep track of negative reviews, which could help you determine how to improve the quality of your products and other aspects.
Benefits of Amazon Product Review Software
Reviews have become more important than ever in today's competitive business world.
Various market studies suggest that reviews can increase sales by 18% on average. Besides, 80% of online shoppers read reviews before purchasing products.
This implies that customer feedback and reviews are important aspects of building a successful e-commerce business.
Here are some of the benefits of using Amazon feedback and review software tools.
They help to simplify review management
When you're just getting started selling on Amazon, you probably have fewer reviews in your listings. However, as your store begins to grow and the sales start to trickle in, it can be difficult and time-consuming to manage customer reviews.
With an Amazon feedback software solution like Bqool, you can aggregate all product reviews from multiple listings into a single dashboard thus simplifying review management.
They enable you to stay on top of negative reviews
Even though having no negative reviews can affect your conversion rate having too many of them can adversely impact your Amazon listings.
Unfortunately, spotting these negative reviews on your listings can be tricky. With feedback software, you can spot any negative review with the help of automation that lets you monitor reviews efficiently so you can improve accordingly.
A feedback software solutions enable you to connect with the reviewer
Getting negative reviews from time to time is inevitable as your business grows. After all, no matter how good your products or customer service is, you cannot make every customer happy.
With the best Amazon review software tool, you can reach out to the reviewer, understand the problem and possibly resolve the negative review.
Enables you to give professional and efficient responses
The best thing about most Amazon review software solutions is that they enable you to create customized email templates for contacting reviewers. You also have the option to click on a link to respond to reviewers on the Amazon page.
Additionally, an awesome Amazon feedback system lets you keep an eye on your product performance and maintain your brand reputation.
Top 7 Amazon Feedback Software
If you have been with me up to this far, you're really serious about getting a review management software tool for your Amazon store that will help you not only to keep track of negative reviews but also generate more positive and genuine reviews for your products directly from your customers.
It's worth noting that not all Amazon feedback systems are created equal. Some have great features while others lack some of the essential features.
In this section, I'm going to review the best of the best to enable you to make an informed decision.
Let's get started.
1. FeedbackExpress
For over 12 years, the software has been helping people like you to grow their e-commerce businesses. That's why it has taken the top spot in my list of the best Amazon feedback software tools.
What is FeedbackExpress?
FeedbackExpress is an innovative cloud-based Amazon feedback software that helps large sellers automate feedback and product reviews request with instant notifications and email templates.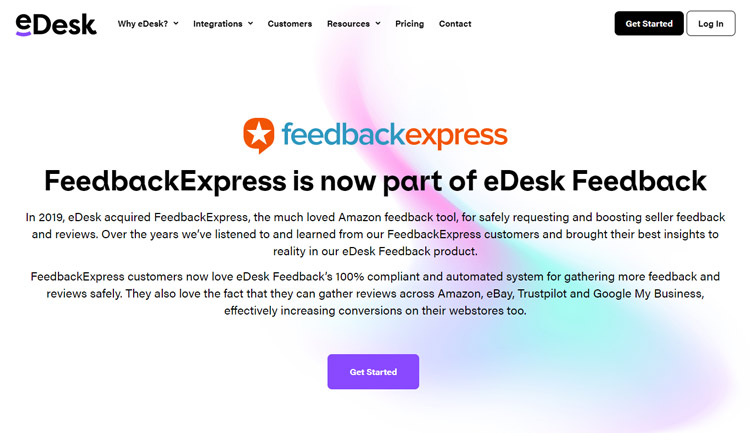 As part of eDesk Feedback, the software enables you to create emails that will be sent to customers who purchase from your Amazon listings automatically to request seller feedback and reviews.
The system can help you respond professionally and efficiently to customer reviews and comments.
According to the FeedbackExpress website, you can get up to 52% more Amazon reviews and feedback with the help of this tool.
What's more, you can also download all the reviews and view them in a centralized dashboard. You can also configure the system to send you alerts straight to your phone via email or text message to help you respond to negative feedback or reviews.
Besides, the system enables you to resolve negative comments directly with the customer or initiate a case with Amazon.
Currently, FeedbackExpress supports multiple channels including AU, US, CA, IN, UK, FR, MX, and more.
FeedbackExpress Best Features
Here are some of the amazing features of the software:
Professionally pre-written emails. Send professionally pre-written feedback or product review requests using great emails that have a high engagement and conversion rate.
Set up alerts so you can get notified instantly when customers leave reviews via text messages or email on phone.
Negative feedback removal requests. You can create and send messages to Amazon requesting for removal of negative reviews that you feel aren't in line with Amazon's terms of use.
Price: FeedbackExpress pricing plans start at $54 per month for 5,000 emails.
2. Kibly
Kibly claims to be a powerful plug n' play customer engagement engine that can help you gather five times more feedback, reviews, rankings, and sales.
Let's find out more about the software to know whether that's true.
What is Kibly?
Kibly is a web-based email automation tool and feedback request solution for Amazon sellers to increase positive reviews and feedback by prompting your customers to leave amazing reviews once they have purchased products from your store.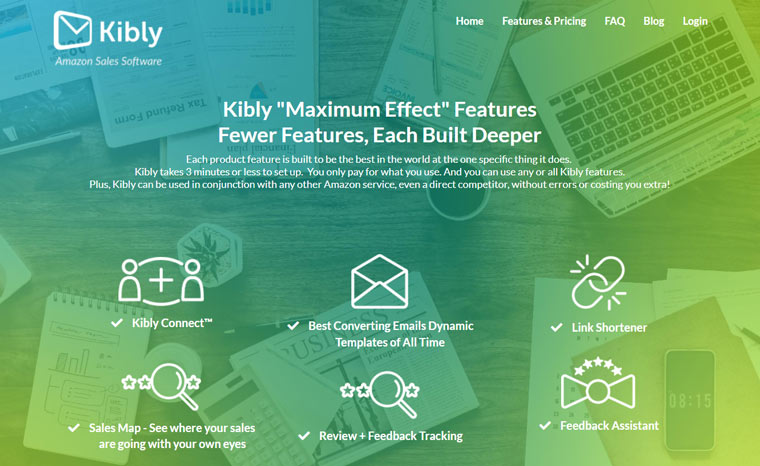 The software comes with a powerful and dedicated suite of features that simplify the whole process of gathering feedback and product reviews on Amazon.
The coolest part about this tool is that it can help you to send customized follow-up emails and feedback requests to your customers even before the customer receives the order.
This way, customers can know where the products they have purchased have reached and will be happy to leave a positive review once they receive their orders.
What's even great is that it comes with impeccable personalized email templates that you can edit or replace with your own. That means that you can tailor the message and graphics in your emails as you wish.
I'd recommend you start with the pre-designed templates that have been experimented with over 1 million test emails.
Kibly Best Features
Here are the noteworthy features of the software:
Automated email follow-up: Send completely relevant, timely, and unique follow-up emails to your customers requesting them to leave feedback and reviews on products they purchase.
Feedback assistant: Request for removal of negative seller feedback from your Amazon page by reporting to Amazon.
Review and feedback tracking: Kibly's feedback and review tracker dashboard let you gather all the comments in a centralized dashboard so you can resolve issues faster.
Pricing:  Kibly offers a 14-days trial version and pricing depends on the emails you send and the features you use.
3. AMZFinder
AmzFinder is touted as the ultimate software to get more positive reviews, improve work efficiency as well as store service, and boost your brand reputation while increasing sales and profits.
Let's dig deeper to see whether this is just hype.
What is AMZFinder?
AMZFinder is yet another amazing seller software that helps you send feedback and review request emails, and manage reviews and orders to improve your store's ratings.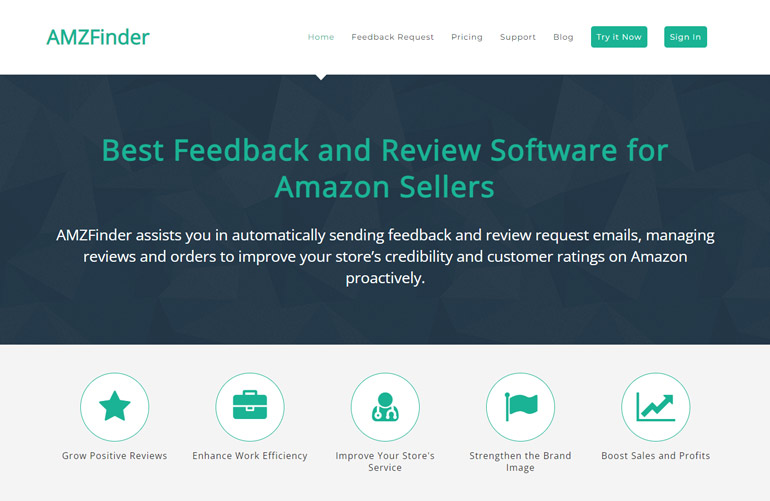 The software comes with two amazing features that allow you to monitor all the reviews and comments left by your customers. You can also download new reviews automatically.
Ideally, the system is suitable for Amazon sellers with small stores.
The good thing about the software is the clean user interface that let you view orders, and customers, and send email requests in a centralized intuitive dashboard.
Another amazing thing about this feedback and review management system is that you can configure it to send email notifications of all reviews.
Besides, you can use the pre-designed email templates to request feedback, resolve issues, etc. Plus you can send invoices to your customers and you can manage multiple Amazon stores with one account.
AMZFinder Best Features
Here is a quick overview of the amazing features of the software:
Feedback request system: The software comes with a powerful feedback request feature that enables you to send review request emails and professional invoices to customers.
Review management: Keep track of positive and negative reviews and resolve issues in a timely to retain the brand reputation of your store.
Multi marketplace support: With the software, you can manage multiple marketplaces with a single account without any additional fees.
Price: AMZFinder is available in two different plans. Customer email plans start at $19 per month whereas Review management plans start at $29.99 per month.
4. Feedbackz
With Feedbackz, you can set up incredible and high-converting targeted automatic follow-up email funnels to your customers.
Read on to discover more about the tool.
What is Feedbackz?
Feedbackz is an intelligent system built for Amazon savvy sellers who want to send high converting and friendly feedback and review requests that persuade buyers to leave incredible reviews on their products.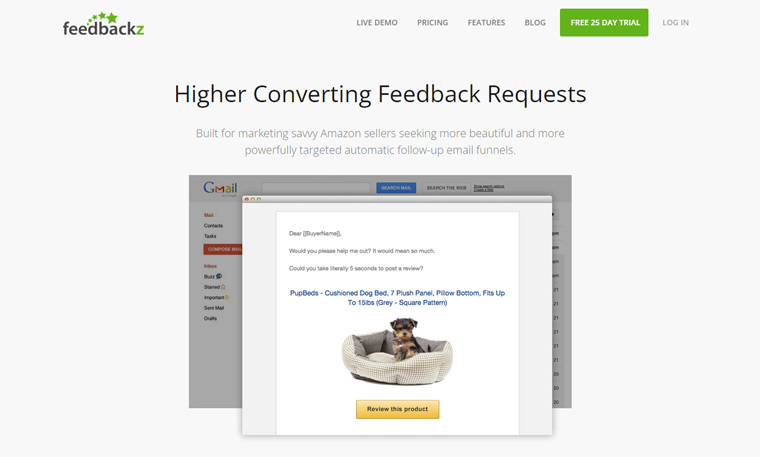 With the software, you can automatically schedule and send persuasive follow-up email requests to customers.
Feedbackz Best Features
Here are incredible features of the system:
Customized targeting and delivery: Tailor your feedback request message to specific buyers based on where they come from and when you want the message to be delivered.
Beautiful and responsive email templates: Use professionally designed responsive email templates to create emails that convert customers into reviewers.
Product reviews alert: Design personalized email alerts to be submitted any time customers leave a review on your ASIN listings.
Buyer management: Blacklist certain customers (or buyers who have opted out of the Amazon marketplace) to keep them from receiving feedback and review requests from you.
Multi marketplace support: Manage multiple marketplaces including Spain, the United Kingdom, Italy, France, and many others with a single Feedbackz account. This feature also allows you to submit emails translated to buyers based on their country and national language.
Price: Feedbackz pricing plans start at $9 per month for up to 500 emails.
5. BQool
With Bqool, you can pull together positive and negative reviews from multiple Amazon listings into a centralized dashboard to simplify review management.
What is BQool?
BQool is a cloud-hosted repricing software solution for e-commerce sellers to manage reviews and feedback while competing with others on price on Amazon Global Marketplaces.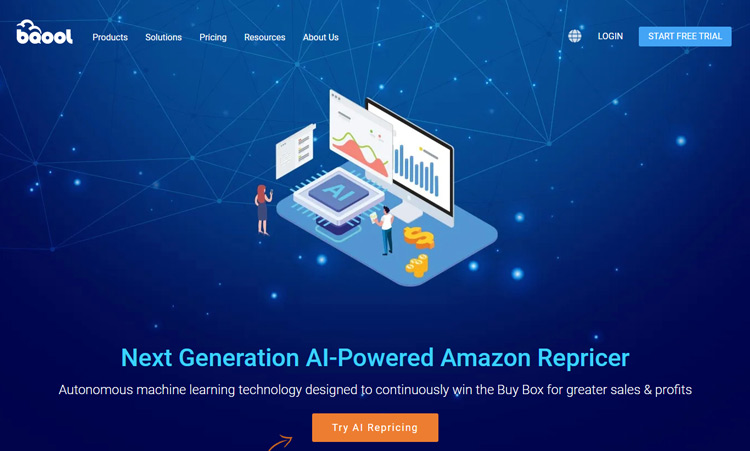 Specifically, the software is designed for Amazon sellers seeking to dominate the Buy Box.
The coolest thing about the software is that it can help you assess market conditions as they happen, predict possible outcomes, and make aggressive pricing decisions.
The tool is suitable for Amazon sellers who want to manage multiple accounts with a lot of customers under a centralized location.
Generally, with BQool, you can send automated email requests to customers, view a detailed overview of your customer's information, pull together buyers' information from multiple accounts in one place, and block customers who have issues with your orders from receiving review requests emails.
BQool Best Features
Here are a few noteworthy features of the software:
Feedback central. Schedule and send feedback request emails automatically to Amazon customers.
Review central. Get real-time alerts when customers leave negative reviews so that you can resolve the issue with the customer instantly to maintain your reputation in the marketplace.
Repricing central. Make aggressive pricing decisions based on assessed marketing conditions and predicted possible outcomes to stay competitive.
Price: BQool offers two types of pricing plans namely BigCentral pricing plans starting at $50 per month and Repricing central plans starting at $25 per month.
All pricing plans come with a 14-days free trial.
6. SageMailer
Is SageMailer the perfect feedback software tool for Amazon sellers?
Let's investigate.
What is SageMailer?
SageMailer is an all-in-one feedback and reviews management software solution for Amazon sellers to send automated reviews and feedback requests to customers to boost sales and get more positive reviews.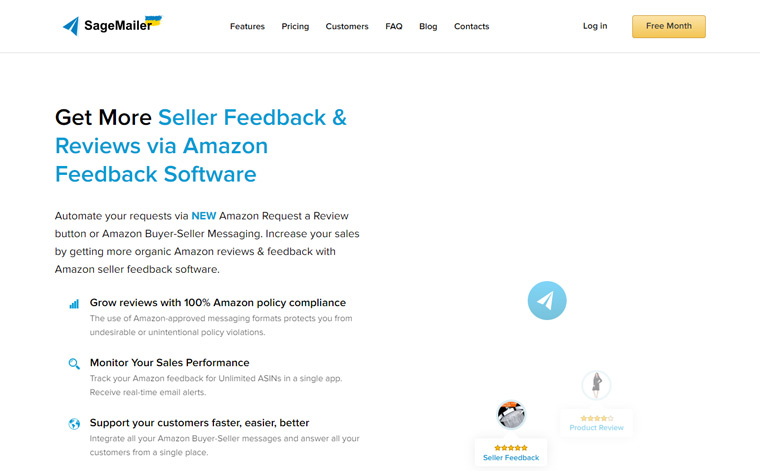 If you're looking for a tool that makes it simple to view and respond to all your Amazon comments directly under a centralized location then look no further than this system.
The software can help you earn more organic Amazon reviews and feedback that are 100% policy compliance.
Furthermore, you can monitor Amazon feedback for multiple ASINs under one app and receive instant email alerts in case a buyer leaves negative reviews.
You can also pull together all Amazon buyer reviews and respond to them from a single location.
SageMailer Best Features
These are some of the amazing features of the software:
In-depth CSV reports: Download all reviews to view and analyze them in a single location.
A/B testing: Create different versions of Amazon feedback request emails to determine which variations generate great results.
Flexible delivery settings: Configure your emails to be delivered to specific buyers at specific times of the day.
Connect with previous buyers: Send feedback and review request emails to buyers who purchased products from you before you started using this tool.
Pre-designed Amazon review templates: Use multiple pre-made templates to help you send Amazon product reviews or feedback requests and follow-up email requests.
Price: SageMailer has a free plan for up to 200 messages per month but to unlock more advanced features I recommend you to upgrade to the premium plans starting at $10 per month for up to 500 emails per month.
7. FeedbackFive
If you're looking to connect with your customers on Amazon at the right time to improve your reputation in the marketplace then try this tool.
What is FeedbackFive?
FeedbackFive is an industry-leading reputation management solution that helps e-commerce sellers to get more Amazon reviews and feedback from their customers to increase their presence in the marketplace.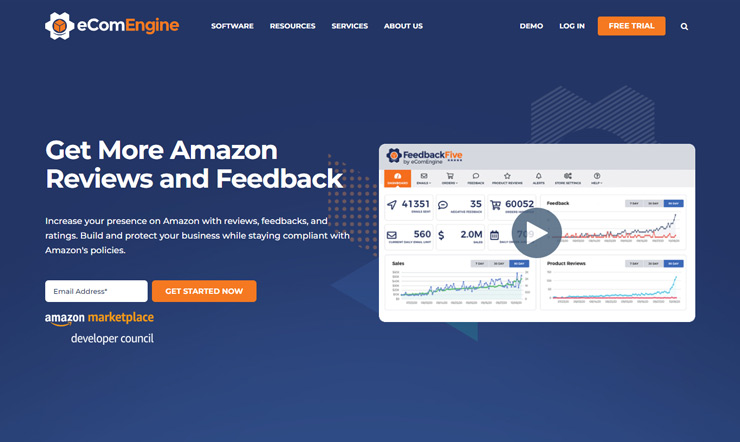 With the software, you can monitor, manage, and proactively improve your seller and product reputation.
In a nutshell, FeedbackFive can help you:
Send feedback and review requests to buyers based on their language.
Use the Request a Review or Buyer-Seller Messaging option on Amazon seller central.
Keep track of product reviews for your ASINs as well as those of your competitors.
Get instant notifications via email or text messages whenever a customer leaves a negative review on the product they purchase from your listing.
FeedbackFive Best Features
Noteworthy features of the software.
Instant alerts: Set up customized alerts to get instant notifications via email or text message for positive and negative seller feedback and reviews so you can resolve the issue promptly.
In-depth analytics: View all reviews, feedback, and ratings on your Amazon page in a centralized location.
Pricing: FeedbackFive offers a free plan for up to 50 emails per month with two campaigns included but this version is restricted to one user so I recommend upgrading to their premium plans that start at $9.99 per month which includes two campaigns and unlimited users.
Frequently Asked Questions
In this section, I answer the most frequently asked questions by users of the best feedback software tools.
What is the difference between feedback and review on Amazon?
Both product reviews and seller feedback affect the overall success of your Amazon store in diverse ways.
Generally, seller feedback concerns the overall experience the buyer had with the seller or store. On the other hand, reviews are comments left by buyers on an ASIN.
In other words, product reviews are the comments customers see that can influence their purchase decision. Seller feedback concerns product packaging, customer experience, and store performance.
Which Amazon reviews are fake?
Recent market studies suggest that an average of 42% of Amazon reviews are fake. To differentiate fake reviews from genuine ones, look for "verified purchase" next to the customer's name.
Also, if the reviews are vague or the reviewer mentions an alternative product, treat that as a red flag.
Does seller feedback matter on Amazon?
Seller feedback matters a lot on Amazon and that's the reason why many Amazon sellers use the tools I have reviewed in this guide to request for them from their customers. It's the area that tells customers more about the performance of your store on Amazon.
A well-rated Amazon store can attract more customers. Seller feedback can also affect the Amazon Buy Box.
What is a good Amazon seller rating?
The Amazon algorithm uses data gathered from buyers to create your seller ratings. Amazon seller rating is the measure of the quality of experience of the seller to the customer.
Typically, the Amazon seller rating consists of a numerical score between 0 and 100. Zero(0) is considered the worst rating.
Will Amazon ban you for too many reviews?
Currently, Amazon limits customer reviews to 5 per customer per week. However, you can have more than five customer reviews for verified purchases.
If your products/store gets more than five unverified reviews per week, Amazon will limit customers from living reviews on your page.
Final Thoughts
As I conclude this guide, you probably have one last question: Which is the best Amazon feedback software tool?
Granted, all of the above tools offer powerful features to enable you to request feedback and reviews from your customers.
Each of the tools is easy to use and offers awesome integration capabilities. However, AMZFinder is the best of all.
The software comes with amazing features that most of the other tools lack. It is not only great for startups but also supports large Amazon stores.