Fiverr is often listed as a solo ads platform. But are Fiverr solo ads worth it?
Even though solo ads are a better advertising strategy than other paid marketing forms, you need to ensure you're purchasing solo ads from trusted and reliable sellers or vendors.
You also need to make sure you're purchasing through a trusted solo ads marketplace.
In this article, we're going to talk about Fiverr solo ads- and whether you should invest your money in them.
I will also mention two alternative solo ads sellers to Fiverr: Udimi and Wayne Crowe.
Let's get started.
What is Fiverr?
Fiverr is a renowned freelance writing website with a ton of experts offering different kinds of freelance services at a low price.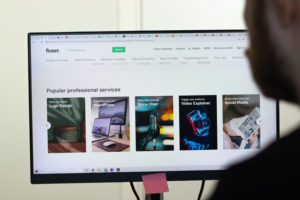 The marketplace connects freelancers to companies, brands, and businesses looking for a range of services such as logo design, writing services, website design, and more.
Typically, Fiverr isn't a solo ads platform. However, there are many sellers offering solo ads at affordable prices.
You can choose solo ads providers based on their reviews and feedback from previous clients.

The downside about Fiverr is that the website isn't as versatile as Udimi.
Besides, even though you can talk to the sellers directly and find out more about their solo ads, you're not guaranteed quality email traffic at all times.
How Does Fiverr Work?
As mentioned above, Fiverr is a freelance writing website that connects graphic designers, website designers, logo designers, and other experts with potential clients looking for similar services.

There are also solo ads sellers with email lists who offer solo ads services at affordable prices.

How Fiverr works are simple: You can sign up as a seller (freelancer or solo ads seller) or a buyer (client).
As a seller, you need to create an account and fill out all the important sections including the services you offer, etc.
Once you create an account, you can start offering your services.
Joining the platform is free like Udimi.
Is it Safe to Buy Solo Ads on Fiverr?
While Fiverr is in most articles about Udimi alternative marketplaces, I still don't recommend purchasing solo ads on this marketplace.
Here is why:
A huge number of Fiverr solo ads sellers provide spam or bot traffic thus you're more like to waste your money.

Fiverr is primarily a freelance writing marketplace thus there are no advanced features you could get on Udimi such as email click filters, email validators, and more. 

The review comments and feedback on solo ads sellers can be fake.

Sellers aren't vetted when joining the platform so it's easy to get scammed here.
In summary, Fiverr solo ads aren't worth it. Even though you can get solo ads are lower prices, you need to be cautious when using the website.
Alternative Solo Ads Sellers
Instead of investing your money on Fiverr where you aren't sure whether you will get real email clicks, I'd advise you to check out their alternative solo ads sellers:
1. Udimi
Traffic Price:

$0.25 – $2



Niches Covered:

Make Money Online, Health, Crypto, Bizz Opp, Finance.

Discount:

$5 free credit.
Udimi is the popular and largest solo ads website with thousands of sellers who provide target traffic in a range of niches to help people generate leads and sales.
The website is free to join and you can start purchasing solo ads right away. Aside from this, the solo ads you purchase from Udimi are guaranteed to convert.

The good thing about Udimi is that you can scrutinize sellers before purchasing solo ads from them. Plus the website filters out useless and spam traffic thus every coin you spend counts. If the seller doesn't deliver traffic as requested, you're guaranteed a refund of your money.
Unlike Fiverr, Udimi solo ads sellers have verified reviews so you can choose a seller based on the reviews they have from previous buyers.
What's more, you get an unmatched customer experience when buying solo ads on Udimi than any other platform out there.
Pros 
If you plan to purchase Udimi solo ads, here are the pros to keep in mind.
Great click tracking system

Multiple niches covered

Over 90% of Tier-1 traffic guaranteed

24/7 customer support

Experienced and credible solo ads sellers

Affordable high-quality solo ads.

Easy to use platform

Buyer and seller protection available
Cons
Here are the downsides of Udimi:
To get more advanced filtering, you have to pay extra.

The majority of sellers cover the Make Money Online niche 
2. Wayne Crowe Solo Ads
Traffic Price: $0.75 per click
Niches Covered:

Make Money Online, Bizz Opp, MLM, Bitcoin, Forex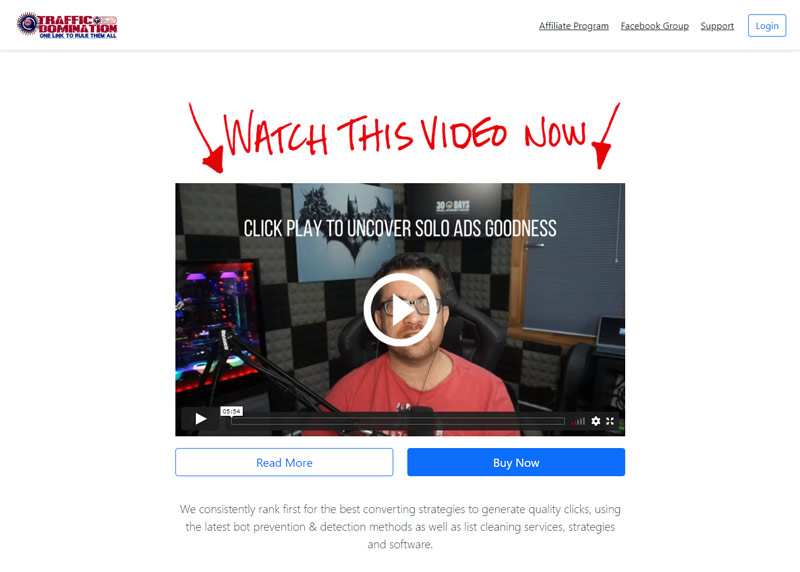 Wayne Crowe is also another alternative Fiverr solo ads seller who provides world-class quality email traffic. It's no doubt people call him the Traffic Dominator since he dominates the solo ads business world.
The good thing about buying solo ads from this seller is that you're guaranteed sales.

Whether you want to build a quality email list, generate leads or increase sales, Wayne Crowe solo ads can help you big time.
Pros
Top-notch customer support

Tier-1 traffic guaranteed

He's a leading solo ads provider

Handy training to help you learn how to use solo ads effectively for free.

Traffic includes buyers

Free email copy course
Cons
Offers solo ads mostly in Bizz Opp and Make Money Online niches only.
Final Thoughts
Solo ads are a great source of quality traffic but it's good to invest in a trusted and reliable provider. However, before you invest your money, you must make sure you're using a reliable seller.

In this case, Fiverr should be your last option. As someone who has used solo ads for many years, I recommend using Udimi or alternative sellers like Wayne Crowe and others.