Are you planning to start serious blogging and make money online but you aren't sure what's the best blogging platform for you? You have come to the right place.
In this guide, I'm going to review 8 of the best free ( and paid) blogging sites and platforms to help you make an informed choice.
As someone who has been blogging for over 10 years now, I can tell you that with so many options out there, it can be challenging to choose a platform that can help you create a blog to make money.
However, it doesn't have to be hard for you if you already have an idea of the blog you want to start, the amount you want to spend- and some technical knowledge.
The good news is that most of the blogging solutions don't require any technical knowledge as they are built with techies and non-techies in mind.
FYI: As a beginner, you should choose a platform that's not only easy to set up but is also easy to use and has a low learning curve. That way, you will not have to waste time figuring out how to work things out.
Let's get started!
What Is A Blogging Platform?
A blogging platform is a software or service that enables you to create and manage a website or blog to publish content on the internet. The content could be written(text) or visual(videos, images, infographics, GIFs, etc).
How to Choose the Best Blogging Platform to Make Money Online
As mentioned earlier, the internet is full ofl all types of blogging platforms packed with amazing features and abilities. This can make it hard for you to choose a suitable platform if you're just getting started with blogging.
How do you find a blogging site that's right for you?
Here are a few things to consider when choosing the right blogging service:
The Type of Content You Want to Publish: There are several different platforms that support different types of content such as videos, blog posts, infographics, music, etc. In this case, you need to choose a blogging platform that supports the type of content you want to share with your audience.
Monetization opportunities: Choose a blogging platform that lets you choose your suitable monetization method. i.e affiliate marketing, selling ad space, courses, subscriptions, etc.
Your level of expertise: Most of the blogging platforms out there don't require any coding skills. However, you need to choose a platform based on your level of skills.
User-friendliness:

If you're a beginner blogger, you should choose a platform that's easy to use.

The setup process may be challenging at first, however, you should be able to figure out things first.
Compatibility: Since you want a blogging platform to make money, you probably want to sell courses, offer subscription services, etc. In this case, you want a platform that supports all these services as well as your preferred payment gateways.
Customization: What level of control do you want over your site and the content? If you want a platform that gives you full control over your website or blog then a free platform wouldn't be suitable for you.
Cost: Lastly, you should consider the amount of money you want to spend on the blogging platform. As a rule, you should choose a platform that's affordable and flexible.
Top 8 Best Blogging Platforms To Make Money
That said, here are the most popular free and paid blogging platforms to start your own blog or website and make money online.
1. WordPress.com
WordPress.com is a household name in the blogging landscape and is best for serious bloggers. Let's find out what the platform offers.
What is WordPress.com?
WordPress is a household name in the world of blogging. The platform is create by the Automattic team and it can help you start any kind of blog or website without needing any coding or technical skills.
Initially created as a content management service, the platform powers 43% of all the websites on the World Wide Web.
WordPress.com is a self-hosted blogging platform and content management system, unlike WordPress.org. This implies that you don't need to install the WordPress software or buy a domain. The platform takes care of the hosting aspect in the free and paid plans.
All you need is to sign up and start using the platform right away.
However, there is a catch with the free plan.

You can't choose a custom domain name. Your domain name will have the .wordPress.com extension, like yourdomain.wordpress.com.
Even though the free plan offers free themes and templates, it comes with limited control and functionality. Your site will also have permanent WordPress ads. You can also not use any monetization method.
So you will need to upgrade to the premium version to set up your domain name and gain access to premium features.
WordPress.com is easy to set up and use so I recommend it to all new bloggers with no technical knowledge.
The fact that it's free enables you to try the platform for free before you decide to upgrade to the premium plans.
Pros
Easy to set up, use, and manage.
You don't have to worry about backups, updates, and page speeds.
Free to use.
Easy to maintain.
Cons
Your website or blog will have WordPress ads.
With the free plan, you can't have a custom domain name.
Limited customization.
No monetization opportunities.
No access to WordPress plugins.
How to Start a Blog on WordPress.com
You can set up your blog in five simple steps as follows:
Decide what to blog about
Create your account
Choose a domain name. I recommend using Bluehost
Tweak your blog as you want
Start creating content
Pricing: WordPress.com is a free blogging platform. However, if you want to get full control over your site and content you can upgrade to the paid plans that start at $36 per year.
2. WordPress.Org
WordPress.org is known as the real WordPress and is different from WordPress.com. Let's learn about this platform and how it differs from WordPress.com. Briefly.
What is WordPress.org?
WordPress.org  is a renowned open-source self-hosted blogging platform and content management system that is easy to use and comes with a high level of flexibility than WordPress.com.
The platform powers 40% of the web.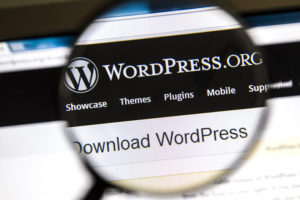 Unlike WordPress.com, you will need to download the WordPress software and install it on your server. The platform comes with plenty of free themes but if you want to do serious blogging and make money online, I recommend paying for premium or custom themes.
You can also integrate powerful plugins and features that can help you make money blogging.
This blogging platform doesn't take care of hosting so you will need to buy a domain name and purchase a hosting plan and install the WordPress software on it.
In this case, I recommend using Bluehost since it offers a free domain name for first-time users and hosting plans start at $2.95 per month.
The good thing about WordPress.org is that you gain access to awesome SEO tools and platforms like Yoast, and Google Analytics that can help you create well-optimized content.
Overall WordPress.org is the best platform for serious bloggers
Pros
Offers you full control over your blog and content.
Enables you to add additional features like paid memberships, forums, and more and sell online courses.
Offers plenty of customization options.
Offers tens of thousands of free WordPress plugins so you can add features like contact forms, and many more.
Optimized for search engines.
The drag-and-drop editor makes it easy to create and publish any type of content.
Plenty of monetization options.
Cons
The is a bit of a learning curve before you get used to the platform.
You have to take care of backups, site speeds, security, updates, etc.
How to Start a WordPress Blog
Purchase a custom domain name (Get a free domain name on Bluehost– first-time users).
Sign up for web hosting.
Install and set up WordPress software.
Tweak your blog design template.
Log in and start creating content.
Customize your blog with plugins.
Add a contact form.
Set up Google Analytics tracking.
Optimize your blog for SEO
Monetize your blog and start marketing it.
Pricing: WordPress.org is a free blogging service, but you will need to purchase a domain name and hosting plan
3. Medium
Medium is primarily loved by writers due to its Partner Program that enables writers to earn out of articles they publish on the platform.
What is Medium?
Unlike WordPress.com and WordPress.org, Medium is a free, popular blogging and open writing platform used by professional writers and hobbyists to create, publish and promote their stories to a huge audience both on Medium and outside.
Since it's open writing platform, anyone can create and publish articles. Writers can also follow each other so they can know when other writers have posted new articles.
The greatest thing about Medium is that the platform allows you to create a personal profile and publications where you can store stories of your favorite writers under one brand.
If you're a professional writer looking to write and build an audience while making money, then Medium is the best platform for you.
Medium might not be a great blogging platform to make money for you though.
From my experience, I have seen bloggers who benefit from the site are those who use it to attract followers, make some little money with the Partner Program then monetize their work on their other platforms.
Also, Medium is hugely different from other blogging platforms I have reviewed in this article since it's more of a community of professional bloggers and writers.
Besides, it's not the best blogging platform for building an online business.
Pros
It offers a quick and simple way to start blogging.
It's a free blogging and publication platform.
No technical skills are required to get started.
Has a low barrier of entry for bloggers and writers.
The Partner Program is great for new writers.
Cons
No domain ownership
Only one monetization method- The Partner Program
You can only rely on the internal audience
How to Start Writing on Medium
Sign up for an account – You can use your email or log in with your social media account
Complete your medium profile
Familiarize yourself with Medium guidelines
Choose topics
Start writing articles
Pricing: Medium is a free blogging site.
4. Tumblr
You've probably heard about Tumblr. If not, I'm going to talk about it here.
What is Tumblr?
Tumblr is both a social media, blogging platform, and search engine that was initially started as a microblogging site.
The platform is used by content creators and curators who share short stories, long articles, media content such as memes, images, GIFs, and other users' content.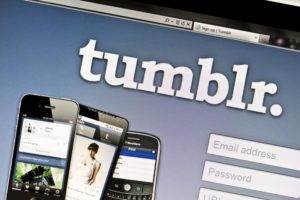 The site also comes with a chat feature that allows users to send direct messages to others. The platform is linked with social media channels like Twitter and Facebook so you can share content with your social media fans without leaving the platform.
Once you create a Tumblr account, you're given a free subdomain so your blog's URL will look like blogname.tumblr.com.
You can also purchase a custom domain name and link it to your blog instead of using Tumblr's free domain name.
What's more, with Tumblr, you don't need to find a hosting provider for your blog.
Once you set up your blog, you can customize it using a few free themes offered on the platform.
Similar to the most popular social media sites, you can follow other users' blogs or make your blog private.
Tumblr allows users to monetize their blogs the way they want including using Google AdSense, selling ad space, adding affiliate links to their posts,  or promoting their work.
Recently, Tumblr introduced Post+, a monetizing program that allows users to put some of their posts on a paywall so that people can subscribe to view them.
Pros
Tumblr is easy to set up and use.
It's free
Plenty of monetization methods.
You can post any type of content from images to short and long blog posts as well as videos.
You can use a free or custom domain name.
Cons
Limited options for designing a unique blog
How to Start a Blog on Tumblr
Sign up/create an account on Tumblr
Configure Tumblr settings
Configure Tumblr account settings
Redirect to a custom domain
Customize your Tumblr blog
Make Tumblr posts
Monetize your content
Pricing: Tumblr is a 100% free blogging, social networking platform, and search engine.
5. Blogger
Blogger is probably the first and oldest blogging platform in the history of blogging. It's also one of the simplest blogging sites out there.
What is Blogger?
Blogger is a free blogging service and website owned by Google that allows users to create personal blogs or websites, sharing photos, images, videos, and other types of content.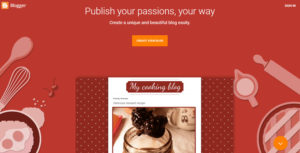 The platform was established in 1999 as a commercial blogging service and was purchased by Google in 2003 and transformed into a great blogging site.
The blogging service is easy to set up and manage thus it has helped millions of people to start blogs and make money online.
To start blogging on Blogger, you need to create a free account using your Gmail account and start your blog right away.
Upon creating a free account, you can select your preferred theme and layout, create the title of your blog and select a URL.
Your domain name will have the blogspot.com extension, but you can purchase a custom domain(Get a free domain name on Bluehost– This offer is for first time Bluehost users)
With Blogger you make money via Google AdSense.
It's worth noting that Blogger is an outdated platform. Besides, any content you publish on Blogger is at the mercy of Google, so your revenue can go down the drain if Google deletes your account.
Pros
You can create a free Blogger account.
It's easy and quick to start a blog.
You can monetize your blog via Google AdSense
Cons
Blogger isn't as flexible as other blogging platforms in this list when it comes to design and functionality.
Limited blog customization options
How to Start a Blog on Blogger
Head over to blogger.com and sin un up for an account with your Google account.
You will then be redirected to the blog section.
Enter your blog name and URL in the "Create a New Blog" section
Choose a theme and click Create Blog"
Start creating content.
Pricing: Blogger is free to join, but you will need to buy a custom domain name and add-ons to customize your blog and monetize it.
6. Wix
Wix is WordPress.com's close rivalry in that it comes with a drag n' drop editor that makes it easy to get started fast and easily.
What is Wix?
Wix is a free cloud-based website builder that comes with web hosting and design solutions.
Besides, the platform comes with drag n' drop tools and over 500 customizable and beautiful templates that help users create professional websites without needing any technical skills or hiring a web designer.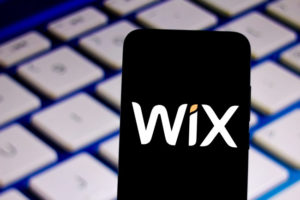 These features also allow you to design, manage and develop your website the way you want. The platform is great for designing your online portfolio, small and medium business website, blog, or e-commerce store.
Note that Wix's free version is more limited than that of WordPress in terms of customization options. Besides, your free website will have Wix ads displayed on your site.
If you want to start a serious blog and make money with it, you'll need to upgrade to the paid version.
You can monetize your Wix site by offering paid membership plans, writing sponsored posts, asking for donations, using online ads, selling eBooks, etc.
Pros
It's a free and user-friendly website builder.
It offers users a ton of built-in marketing and SEO tools- available in the paid version.
Offers tons of customizable and stunning templates and designs.
Has a low learning curve
Cons
The free version is limited and comes with Wix ads that can be annoying to your readers.
The free plan comes with fewer options for third-party plugins and themes.
It can be costly to set up a website on Wix.
You have limited control over your website's backend.
How to Start a Blog on Wix.com
Head over to Wix.com and create a free account.
Create your blog (either using the artificial design intelligence or drag n' drop editor).
Answer simple questions.
Choose a homepage design.
Design and publish your blog
Start creating content or connect your blog to a custom domain to start serious blogging and make money.
Pricing: Wix offers a free and premium version starting at $14 per month.
7. Squarespace
Squarespace is perhaps the latest platform for creative, bloggers and e-commerce site owners.
What is Squarespace?
Squarespace is a do-it-yourself website builder and blogging platform that comes with a hosting service to enable users to create professional blogs and websites.
Unlike other platforms I have reviewed in this article, Squarespace doesn't offer a free plan. However, it comes with a ton of ready-made and stunning templates as well as drag-and-drop elements to help users create beautiful websites and blogs in just a few clicks.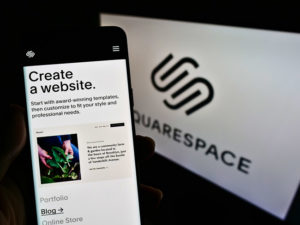 The coolest part about this platform is that it can support websites with up to 1k pages. Besides, the platform offers amazing themes so you can customize your site's design and appearance the way you want.
The platform also comes with in-built marketing and SEO tools as well as eCommerce features that enable you to make money on your blog through affiliate marketing, sponsored blog content, ad placement, consulting and coaching services, website flipping, etc.
The platform doesn't allow users to add advanced features and functionality to their sites with professional plugins or extensions so you'll need to download them from individual vendors.
Aside from that, the platform offers limited third-party integrations.
Pros
Plenty of stunning and professional templates optimized for all kinds of devices.
Awesome social media and email support.
Integrates well with multiple SEO and marketing tools.
The platform offers automatic updates.
Cons
The platform is relatively costly.
Lacks an autosave feature so you will need to save your work severally.
Limited customization options.
How to Start a Blog on Squarespace
Head over to SquareSpace.com and create an account. You can connect your Facebook account or use your Google account.
Choose a template for your blog and tweak it to suit your requirements.
Start creating content and monetize it.
Pricing: SquareSpace pricing plans start at $14 annually or $19 per month.
8. HubPages
Are you a creative writer, blogger, or knowledge seeker looking for a platform like Medium where you can seek knowledge, start conversions, ask questions and find answers from like-minded professionals? If so then welcome to HubPages.
What is HubPages?
HubSpot is a unique online publishing and revenue-sharing platform as well as a community of passionate writers and readers to find their niches, create content, build an audience, and make money online.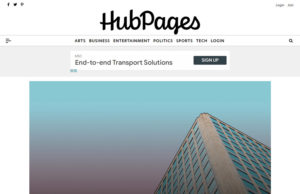 In this platform, you can discover tons of in-depth and informative user-generated content on almost all niches. If you're a specialist in a certain niche, you can also share valuable content with your audience and monetize it.
Typically, HubPages offers multiple monetization methods: Amazon affiliate marketing, Google AdSense, ghostwriting, and digital marketing services.
The platform is also easy to get started with. All you need is to create an account using your email address and start a mini-blog where you can start publishing content right away.
Since HubPages is a revenue-sharing platform, writers earn 60% of the ad revenue generated from the ads on their mini-blogs. Your earnings must reach the minimum threshold of $50 for you to be paid via PayPal.
Unlike Medium and Blogger, HubPages enables you to monetize your content through affiliate marketing.
Pros
It's free, easy, and quick to join HubPages.
The platform gives you access to an internal audience.
You can monetize your mini-blog and content in multiple ways.
Cons
The platform controls your blog so your content can be deleted at any time if you breach the terms of use of the platform.
You have no control over ad placements on your mini-blog.
How to Start Blogging on HubPages
Head over to com and register an account. You can sign up with your email or Facebook account.
Click the Sign-up button.
That's all.
Pricing: HubPages is a free online publishing platform for passionate writers, freelance bloggers, and hobbyists.
5 Reasons Why You Shouldn't Choose Free Blogging Platforms
Sure. If you're a newbie blogger, you need to try as much as you can to cut down the costs. And this could mean using a free blogging platform like Wix.com, Blogger.com, and others.
However, if you intend to make money with your blog, then here are the five reasons you should avoid free blogging platforms:
Free platforms have limited features: You can start a blog on a free platform but due to the limited features, it will be hard to monetize it unless you purchase premium tools from third-party vendors.
Lack of customization options: Free blogging platforms offer fewer customization options that could hinder you from establishing your brand online.
No custom domain name: To make money with your blog, you need a custom domain name. Unfortunately, most free platforms offer non-branded domain names unless you purchase it somewhere else.
Limited control over your content: With a free blogging platform, you have zero control over your blog and content. For instance, the platform displays permanent ads on your blog without your permission.
Limited or no monetization potential: With a free blogging platform, you only have a few or no monetization methods.
Final Thoughts: Which Blogging Platform Is Best For Making Money?
If you want to do serious blogging and make money online, you need a blogging platform that gives you full control over your blog and content from day one. This means that the platform allows you to customize your blog the way you want, share the type of content you want, and offer you multiple monetization methods.
In this case, I recommend WordPress.org.
The platform isn't only easy to use but is also flexible and you can monetize your content in multiple ways. Besides, there are no restrictions as to what you want to do with your blog including the appearance, layout, etc.
Happy blogging!