Are you planning to create a powerful social media strategy to increase brand awareness and generate more sales or traffic by aren't sure when is the best time to post on Pinterest?
You have come to the right page.
Pinterest is one of the powerful social media platforms for website traffic.
According to multiple studies:
Pinterest has over 478 million monthly active users.
89% of pinners use Pinterest for purchase inspiration.
32% of pins are made on Mondays and Tuesdays with only 7% of pins being posted on Saturdays and Sundays.
Over half of Pinterest users (50%+) come from the US.
As you can see, it can be challenging to keep up with the best practices on Pinterest and constantly post on the platform.
So, what is the best time to pin on Pinterest?
In this article, I'm going to share with you some guidelines to follow to ensure you post on Pinterest at the right time (and day) to make the most out of the platform.
So without further ado, let's get started.
Why Care About the Best Time to Post on Pinterest?
Gone are the days when Pinterest had a chronological feed where the only thing that mattered is when you posted on the platform.
These days, Pinterest uses Smart Feed to deliver content to users. If you pin at the wrong time, your posts won't be seen by some people- and probably these are your target audience.
The Pinterest algorithm also focuses on the quality of the content you post. That means that no matter the timings of your posts if your pins are poor-quality, they aren't going to appear anywhere in the Smart Feed.
Another thing worth noting is that the algorithm looks for determines whether to rank your Pins or not based on the user engagement.
That means that when you post content at times when people aren't active, no one will engage with your Pins, and Pinterest won't rank your posts higher.
If your Pins don't perform better due to wrong timings, Pinterest thinks that your content isn't valuable enough to be shown in the Smart Feed.
If you post at the right time, your audience will see your new pins and save or click on them. This signalizes to Pinterest that they are valuable.
The algorithm will push them higher in the Feed and search results to make them visible for more people to see even those who don't follow you. And this happens to all your Pins.
This explains why it's important to know when to Pin on Pinterest.
When Is The Best Time To Post On Pinterest?
According to multiple studies, maintaining a consistent content strategy and spreading your pinning out is important for building your following on Pinterest.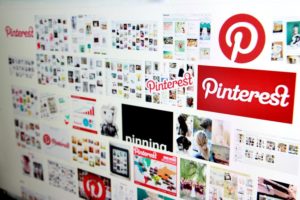 Many expert marketers say spreading out your Pins throughout the day is a good idea. This is because it exposes your pins to different Pinterest users which can lead to more exposure, repins, and increased followers.
For that reason, I'd recommend using a Pinterest scheduling and automation tool like SocialPilot.
With this tool, you can schedule and share new posts (including video and GIFs) on your Pinterest boards faster, build brand awareness by creating branded Pins, and get ahead with your posting schedule using a simple Content Calendar.
According to a study by Buffer, the ideal Pinterest frequency is between 5 and 30 posts a day.
As a rule, when it comes to Pinning, the best advice is to focus on quality than quantity.
According to the Buffer study mentioned above, different topics peak on different days.
The Buffer Study on When to Pin
The study observed that there is no bad or good day to post on Pinterest, although different topics perform better on varying days.
For instance, Mondays are good days for making Pins about fitness, Tuesdays are for technology, Wednesday for inspirational, Thursday for fashion, Friday for funny GIFs, Saturday for travel, and Sundays for food and craft ideas.
In fact, a Bitly study suggests that Saturdays are the best days overall for posting on Pinterest. This is the time when Pinterest users are free.
As you can see, different sources have different suggestions concerning when is the best time to post on Pinterest.
In a nutshell, you should try as much as you can to post quality content consistently on Pinterest while avoiding the time when people are at work.
Preferably, you should make Pins between 8 PM and 11 PM and between 2 AM and 4 AM EST.
According to multiple studies, the platform is most active when people are free preferably in the evenings.
As a rule, you should include a visible call to action in the descriptions so that people can know what to do after seeing your Pins.
How to Identify the Best Time to Post on Pinterest for Maximum Exposure
If you want to generate maximum exposure for your pins, create brand awareness, and drive massive traffic from Pinterest for free, you need to find the best and optimal time to Pin on the platform. But that's where the challenge comes in.
Here are a few tips to help you find the best time to share posts with your audience on Pinterest.
1. Post consistently for at least 30 days
The best way to know the best time to Pin is to experiment with posting at different timings and days.
To start with, you need to stay active on the platform to know when users are more active.
Start posting continuously for 30 days. This way, Pinterest will see your consistent pins. Remember to keep your Pins more valuable.
Use eye-catchy images and taglines to encourage repining.
2. Pin More on Saturdays
According to Buffer, the best time to post on Pinterest is Saturday between 8 AM to 10 AM, 8 PM and midnight, 4 PM to 6 PM. Saturday evenings are the best times to post on Pinterest to get more user engagement and exposure on your Pins.
3. Use Tools to Know When to Post on Pinterest
As someone who has been using tools, I can honestly say that the easiest way to know the best time to post on Pinterest is to use tools. SocialPilot is the suitable software for this work.
The software doesn't only schedule your pints, it also automates your posts so they can go live when your followers are active on the platform.
Additionally, the software enables you to create Pins with ease and you can share them directly from the SocialPilot app.
What's even great about the software is that it lets you view all your scheduled posts so that you can reschedule or reshare them directly from the calendar or from anywhere on the internet using the browser extension for Firefox, Safari, and Chrome.
What's more, you can replace ugly URLs in your posts with integrated URL shorteners
4. Use Google Analytics
Google Analytics is a free web-based analytics service that comes with basic analytical tools to provide statistics for search engine optimization and marketing purposes.
The service can be used by anyone from business owners to bloggers to social media marketers.
You can also use it to determine when to post on Pinterest.
The service can show you the overall page view, top-performing content, user by country, etc.
5. Using Google Analytics to find the best time to Pin
The reality is that most experts still have a vague idea on when to post on Pinterest to generate more eyebrows to your content.
Google Analytics is a free SocialPilot alternative software that can help you know when you should share content on Pinterest.
Here are a few ways to discover this information:
Examine recent traffic patterns
The simple way to know when your followers are active on the platform is to examine the pattern of traffic.
Head over to your Google Analytics dashboard, click on Acquisition then go to Channels, select Social and click Pinterest then choose a time-frame (a 30-day time-frame would be better).
Google Analytics will show you a chart that shows which days Pinterest gets a lot of traffic.
You can also view the bounce rate and pages per session. It's normal to have a higher bounce rate from Pinterest so don't worry about this.
Check the days your posts attracted the most traffic
This is especially important if you're creating fresh pins.
Head over to Acquisition, then select Social and click on Network referral then choose Pinterest. Select the post you want to examine and set the time frame ( it could be 30 days or even more).
Examine any patterns in the time frame you set.
Try a 30-day experiment
If you just joined Pinterest, it's not easy to get any useful information on Google Analytics.
That's where the 30-day trial and error comes in.
First, create awesome Pins for your content and optimize the descriptions with searchable keywords.
Concentrate on a small number of boards with powerful keywords and save your pins to those boards at varying times each day.
Repeat the process at different times for each week.
Repeat the process two or more weeks then check your Google Analytics to see which days or times win.
Keep experimenting and viewing your Google Analytics as you add more Pins and watch for any trends in traffic until you find the best time to post on Pinterest.
My Advice: Learn About Social Media Scheduling
Having used Pinterest for many years myself, I think it doesn't matter when you post on Pinterest but the quality and type of content you share is what matters. This applies to almost all platforms.
If you're new to social media post scheduling, don't worry because SocialPilot is a handy and simple platform that can do everything for you.
The software can help you to batch-create content and then spread it out using the built-in scheduling features and tools.
Tips for Scheduling Post on Pinterest
As with any other social media platform, consistency is everything when it comes to creating awareness, building your following, and driving traffic to your website.
When you spread your Pinterest posts out throughout the day varying your timing, your content will be exposed to different Pinterest users which can lead to more repins, followers, and brand exposure.
The good thing about Pinterest is that it uses the Smart Feed algorithm that ensures that no matter how many pins you post per day, you won't overwhelm your audience.
I'd recommend you start by making five pins per day until you learn the trend. You may also up your number to 30 Pins per day if you have too much content to share.
You can also repin some of your posts to make them visible to other users.
As a rule, you should focus on posting quality content.
Frequently Asked Questions
That said, here are some of the frequently asked questions by Pinterest users:
What is the best time for making pins?
Different sources have different ideas about when to post on Pinterest.
For instance, some sources say that the best time to publish posts on the platform is between 8 PM and 11 PM and between 2 AM and 4 AM EST.
The idea is to maintain consistency with your posts while focusing on quality.
How do I maximize my exposure on Pinterest?
To boost your exposure on Pinterest, you can integrate the Pin It button on your website. This will enable visitors to pin images directly from your website and save it to their boards.
It's also a great way to dramatically increase your repins, impressions, and clicks.
To make your posts go viral on Pinterest, you need to get your timing right, avoid pining your own content all the time, pin fresh content, host discussions, give your followers more of what they want, etc.
How often should I post on Pinterest?
Different sources have different suggestions about how many pins to make on Pinterest. For instance, some sources recommend sharing at least one fresh pin per week while others recommend up to 5 pins per day.
Overall, you should maintain consistency while posting fresh high-quality content.
Can you Pin too much on Pinterest?
Pinterest doesn't limit the number of Pins you should make per day. What matters is the quality of the content you pin.
How do I get my pins noticed on Pinterest?
There are many ways to get your pins noticed on Pinterest but the most powerful techniques include pinning popular content, sharing images that perform, creating interesting and precise descriptions while putting Pinterest SEO in mind, allowing others to pin your content, etc.
Final Thoughts
Pinterest isn't as popular as other platforms like Instagram, Facebook, and Twitter. However, the platform has huge potential. Most of the Pinterest users come to the platform for purchase inspiration or to discover new products.
If you're looking for a platform to build brand awareness, drive massive traffic to your website for free then Pinterest is for you.