Are you planning to buy online courses to resell but you aren't sure where to begin? If so then you will find this guide helpful.

According to Statista, the global e-learning industry is projected to reach $400 billion by 2026. So if there is a better time to start buying and reselling online courses then it's now.

But creating an online course from scratch isn't a simple task. You must have enough knowledge in a particular subject, put a lot of effort and time into research, and create the course for you to create a killer online course.

What if you have the knowledge but you don't have the time and resources?
Don't worry. There is a way you can purchase done-for-you complete courses in almost any topic you can think about.

In this article, I'm going to talk about the benefits of buying and selling online courses, and the best PLR websites where you can buy high-quality done-for-you online courses to customize, rebrand, and sell as your own.
I will also share with you the best platforms for reselling these courses.
But before that, let's define PLR courses.
What Is A PLR Course?
A PLR course is a package or collection of lectures or lessons created from eBooks, articles, action guides, and other products covering a specific subject.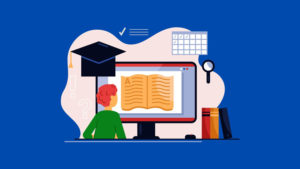 Private Label Rights (PLR) courses allow you to edit, customize, rebrand, resell, give away or do anything you want with the course.
The good thing about PLR courses is that you can put together separate PLR products to create a course or purchase already-done ones at affordable prices. I will show you where to buy amazing PLR courses in a moment.
Having used PLR courses for a while, I find compiling separate PLR materials to create a course a bit cheaper than purchasing ready-made courses although you'll need some more time and effort.
Benefits of Buying and Reselling PLR Courses
There are many benefits of buying quality done-for-you courses and reselling them. The statistics are clear that the global e-learning industry is booming.

So if you aren't already doing PLR courses then you should start. And if you still haven't thought about purchasing and reselling PLR courses, here are a few reasons to encourage you to get started right now.
They are readily available:

PLR courses are done for you by professional educators and course creators. This means that you don't have to go through the hectic course creation process. The good thing is that when it comes to PLR courses, you have plenty of options. For instance, you can download separate materials and compile a great course or purchase a fully packaged white-label course. I'm going to teach you where to buy the quality courses and coaching materials right below.  
Customization options:

PLR courses allow you to do anything you want. For instance, you can add your logo to the course, edit, remove or add some content, change the format, etc. This helps to improve your brand recognition.
It's a source of passive and recurring income:

You can make consistent money out of buying and selling PLR courses. This is because a single course can be purchased by tens of thousands of learners and you don't have to worry about creating multiple copies or shipping the courses to the buyer.
Which is the Best Site for Online Courses?
The internet is chock-full of all kinds of websites and platforms where you can purchase online courses, but not all offer awesome courses.

As a rule, you need to purchase from a website that delivers quality courses for a good deal.
Below are some of the best PLR websites where you can purchase quality courses.

The first website offers ready-to-go online courses but the second delivers coaching materials separately that you can compile yourself to create a killer course to resell.
So here are the best sources for PLR courses and training materials:
1. Content Sparks
Content Sparks is the one-stop digital shop for coaches looking for brandable, ready-to-teach white-label courses in different topics such as business & management, sales & marketing, professional development, and more.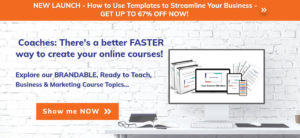 The website has a team of professionals experienced in designing and developing business training for businesses both small and large.
The good thing is that the courses are customizable so you can tweak them in any way you want to suit your target customers.

For instance, you can change the style of the course, add your insights, voice, etc. You can also repurpose the courses.
The website has 400+ white label courses currently that are designed with lessons and modules and you can search the website by a particular niche using the handy search feature.
Inside the courses, you will get plenty of helpful materials such as action guides, sales pages, course books, slideshows, spreadsheets and worksheets, infographics, and more.
The course content is created in DOC and PowerPoint formats to make it easy to rebrand, edit, or customize the courses as you wish.
The website list every course with detailed and informative descriptions to help you understand the content included inside the course before purchasing.
You can resell the courses, take out some material to use for content creation, or give it away to your subscribers.
Pricing
The website lists courses with different tags and for different prices as below:
Flash:

In this tag, you will find separate coaching materials like blog posts, reports, and many others that you can compile to create an awesome course. The coaching materials cost between $19 and $47.
Beacon:

This tag consists of smaller courses such as webinars, master classes, etc. Their price ranges from $47 to $147.
Blaze:

This tag consists of complete courses with modules, lessons, and other sections. Most courses cost $297 each.
If you want complete white-label courses to resell then search them in the Blaze tag. 
2. PLR.me
PLR.me isn't a website dedicated for complete courses but you can get high-quality PLR material in any niche that you can put together to create an excellent course.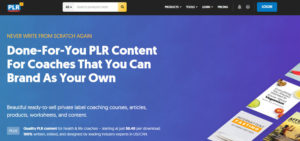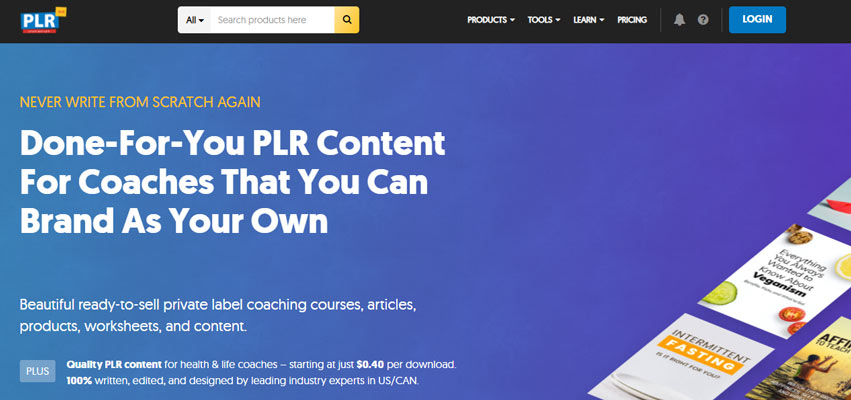 Currently, the website offers 10 complete courses on different topics like self-improvement, success and wealth, dating and relationships, weight loss, and fitness.
The courses are designed with well-organized lessons and are packed with multiple coaching content to help you become an expert in your industry.
The website offers brandable coaching materials for online coaches and course creators looking to deliver professional courses to their target audience.
The best thing about this website is that it has an in-house team of professional native English writers and content creators so you rest assured to get well-written and original coaching content.
Another awesome thing about PLR.me is that it delivers over 16k done-for-you info products including:
Articles and blog posts.

eBooks and reports.

Action guides, handouts, and lead magnets.

Worksheets.

Affirmation reflections.

Checklists.

And many more.
All these materials are editable, brandable, and customizable. You can use them to create awesome courses for reselling or give them away for free to your subscribers.
Pricing
Unlike other websites, payment for products is done using credits. You will need to purchase credits that you can use to download products.
You can download high-quality eBooks, marketing materials, articles, and other PLR products for as little as $0.40 per credit.
Here is a sneak peek of PLR.me pricing:
All content comes with written text that you can edit and customize as you want.
Best Platform to Resell Online Courses?
Once you have purchased complete PLR courses or compiled different products to create awesome courses, the next step is to find where to resell them.
In this section, you're going to discover three awesome platforms to resell online courses.
WordPress Website
The first and most popular way to resell PLR courses is through a WordPress website, especially if you already have a huge number of visitors reading your content regularly.
The good thing about selling online courses on your self-hosted WordPress website is that you have full control and freedom over how to display your products.
Plus the platform offers tens of thousands of plugins and other features that let you customize your website in any way you want and list as many products as you can.
The WooCommerce plugin helps to make your WordPress website a digital store where you can list your digital products and courses for reselling.
Must mention that the WooCommerce trial version lacks some useful capabilities so you will need to purchase the premium version so you can fully convert your website into a complete platform for selling online courses.
Even though there are plenty of affordable e-commerce builder plugins, most of them don't come with enough features and functionalities.
In a nutshell, even though you will need to put in a lot of work and incur costs to get your WordPress up and running, you will have complete control over your business than with the other options below.
This option is also suitable for course creators who are looking to establish a long-term business.
All-In-One Ecommerce Platform
This is a complete platform that has all the features that enable you to create, host, sell, and promote your courses so you don't have to incur expenses like you could with creating a WordPress website.
This option is suitable for online course creators who want to allow learners to enroll in their courses. With this solution, you can design a stunning digital platform complete with product pages where you can list your courses for students to enroll.
You also don't require any technical knowledge to begin selling your courses and you get 24/7/365 support in case you have any challenges.
One of the best all-in-one e-commerce platforms is Podia.
The platform offers a monthly payment plan of $39 that enables you to design and customize a fully-functional website with integrated e-commerce themes, add stunning sales and landing pages, host online courses, membership platforms, webinars, etc.
Think of Podia as another WordPress platform thus you can use your custom domain name.
As you can see, reselling your online courses through an all-in-one e-commerce platform is a little bit more affordable than creating a WordPress website.
But there is still another option.

Online Course Marketplace
One of the most popular ways people sell online courses is through marketplaces like Udemy, Skillshare, Teachable, Thinkific, and many others.

Selling courses on these marketplaces is beneficial in many ways.

First, they already have established consistent traffic. Secondly, most of these marketplaces allow you to create and list courses free and then they take a certain percentage from every successful sale.
Marketplaces also have their downsides though. For instance, the amount they deduct from every successful sale is high plus you don't get full control over your course as you will have to operate within the platform's terms.
Also, if your course is new, it will take time before it starts attracting the attention of interested learners.
Another problem with online course marketplaces is that most of them don't allow creators to establish long-term relationships with course takers as they don't provide an option for list building.
Nevertheless, it's a great option for generating passive income.
Final Words
Creating killer online courses that sell like a charm can be daunting. You need enough knowledge about a certain topic- and that's not all.

You have to spend hours planning, writing, formatting, and doing everything to make your course sellable. But the work doesn't end there. You also need to learn how to market your course on different marketplaces.

This isn't only time-consuming but is also a hectic task. Luckily, purchasing courses from PLR websites can help you avoid all the hectic work of creating a course from scratch.
If you're looking for complete white-label courses, then try Content Sparks. The website delivers great ready-to-go online courses that you can rebrand, resell and keep 100% of the profits generated.

If you still can't find good quality courses on this website, or you want to create courses yourself using different coaching materials then use PLR.me.
Once you have purchased or created courses, try to resell on one or two of the platforms I have mentioned above to see which one works best for your business.
Good luck!