Are you looking for the best affiliate marketing plugins for WordPress that can help you manage your affiliates, track performance, and increase your online sales?
This article is for you.
According to multiple statistics, affiliate marketing is a multibillion-dollar global industry currently. This explains why 8 in 10 brands (app 80%) run an affiliate marketing program.
Besides, over 84% of publishers use affiliate marketing to generate more income online.
Nevertheless, without the right set of affiliate plugins for WordPress, managing your affiliate program can be challenging. And that can hinder you from generating more revenue from your business.
But with over 54,000 free WordPress plugins and countless premium out there, how do you choose the best one for your website?
In this article, I'm going to share some of the best WordPress plugins to help you manage your affiliate programs and skyrocket your online sales.
What is the Best Affiliate Program Plugin For WordPress?
Here is a quick summary of the best affiliate WordPress plugins.
A quick note: You don't need every plugin listed here. Installing them all on your site can affect your website performance. Just choose a few that serve your marketing needs and meet your budget.
Affiliates  
Amember Pro 
AffiliateWP 
Easy Affiliate 
Solid Affiliate 
Ultimate Affiliate Pro 
WP Affiliate Manager 
SliceWP 
Tapfiliate 
9 Best Affiliate Program Plugin for WordPress 2022
Below, I have reviewed each affiliate marketing plugin to help you understand the useful features of each system as well as the price so you can make an informed decision.
Let's dive in.
If you're looking to maximize your affiliate marketing revenue online, you need a system with growth-oriented tools.
Overview:
Unique Features: Free and premium integrations and extensions.
Free Trial: Free for life
Lifetime Deal: None
Money-Back Guarantee: None
Rating: 4.4 out of 5
What is Affiliates Plugin?
To run a successful affiliate marketing program, you not only need a powerful system but simple for both novices and professional partners. That's what Affiliates offer you.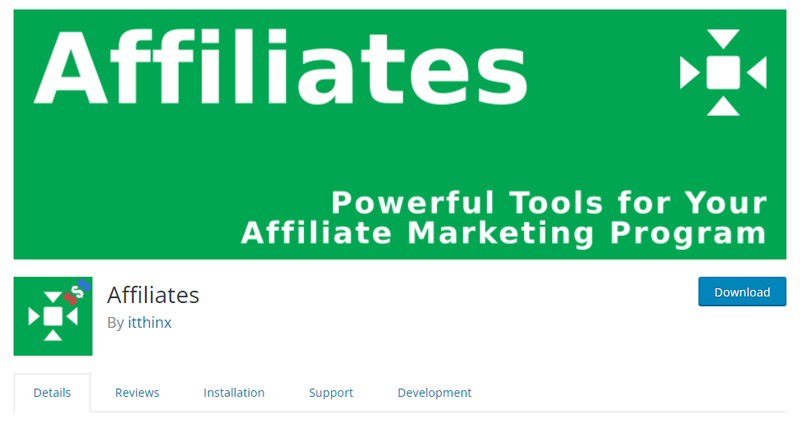 Affiliates is a free, feature-rich affiliate WordPress plugin developed by itthinx and Kento.
The affiliate management system works right out of the box and is ideal for small to medium enterprises. If you're looking for a free WordPress affiliate software with upgradeable options, this can make be a suitable option as well.
Let's discover what the plugin offers:
First off, the affiliate management system lets you add new affiliate partners easily thanks to the easy affiliate recruitment feature. This feature lets affiliates sign up automatically- or you can add them manually with or without user accounts.
Secondly, you can integrate this plugin to any eCommerce or membership platform and other systems easily.
What's more, you can track an unlimited number of affiliates and traffic statistics which enables you to know what's working and what's not. Setting up the system is also a breeze.
There are currently over 5,000 active installations of the system.
What's even great about the affiliate marketing management software is the clean and intuitive dashboard that enables your partners to promote your products or services easily.
Top Features of Affiliates WordPress plugin
Here are the most important features of the WordPress plugin for affiliate marketing:
Intuitive affiliate dashboard: Let your partners spread the word about your products or services easily.
Quick and easy installation: Download, install, and activate the plugin right from your WordPress dashboard in minutes.
Automated affiliate registration: Enable instant affiliate sign-up, automatically accept new affiliate partners based on your requirements.
Real-time reporting: Get instant referral and affiliate link statistics including clicks, purchases and monitor the performance of all affiliates.
Unlimited affiliate management sections: Add as many sections as you wish to the affiliate dashboard and customize it without coding.
Seamless integration: Integrates beautifully with eCommerce, membership sites, and other systems.
Price: Affiliates is a free WordPress affiliate management software but you can upgrade to a premium version which starts at $49 for a single site per year.
Amember Pro offers you every feature and functionality you wanted from membership or subscription software.
If you're looking for powerful membership software to sell digital products and downloads try this one.
Overview:
Unique Features: Easy protection
Free Trial: None
Lifetime Deal: $149.36
Money-Back Guarantee: 30 days
Rating: 4.3 out of 5
What is aMember Pro?
Before I proceed, it's important that I mention this.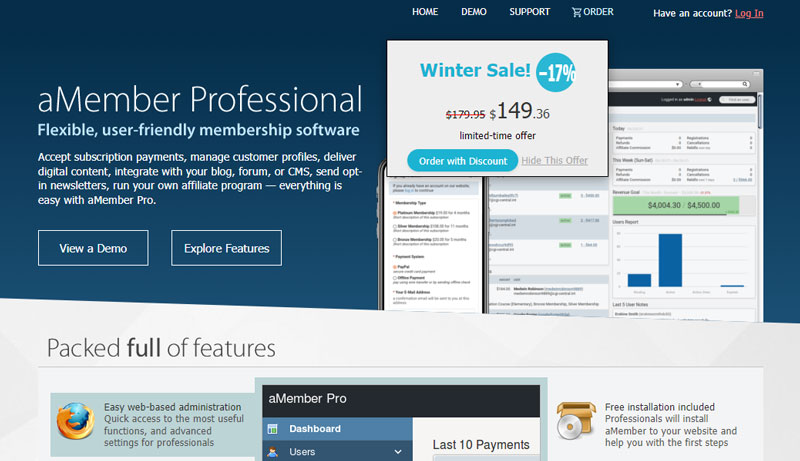 Unlike the other affiliate management platforms I talked about here, aMember is a flexible membership and subscription management PHP script you download and install to your web hosting server.
It's not a native WordPress system so it might cause compatibility issues with other plugins. Check its compatibility with the other plugins you're using before you install it.
You will be offered a full source-code application and complete freedom to customize it as you want.
The system lets you accept subscription payments, deliver digital content like software, eBooks, images, and audio files, send opt-in newsletters, and run a successful affiliate program.
The good thing about this system is that there are no monthly fees. You pay once and use it for life.
Plus it comes with a plethora of features and capabilities to help you manage your subscriptions, accept payments (via PayPal, Stripe, NoChex, BeanStream, VeriSign PayFlow, and 2Checkout).
With this system, you can set up unlimited memberships, create dynamic prices and upload unlimited products. The admin panel allows you to manage your memberships hassle-free.
Top AMember Pro Features
Here are some of the outstanding features of the WordPress affiliate management system:
Easy web-based administration: Gain access to the most useful functions and advanced settings for easy affiliate program management and administration.
Integration plugins: Integrates seamlessly with vBulletin, WordPress, XenForo, and more.
Multi-level memberships: Create as many membership levels and upload as many products as you want. You can also add product prices and subscriptions for WordPress users to choose from.
Easy protection: Keep your site folders, blog posts, scripts, forums, and files protected.
Multiple payment systems supported: Supports all popular payment gateways like Stripe, 2Checkout, CCBill, JVZoo, PayPal, and over 200 more.
Integrated modules: Multiple modules such as integrated helpdesk, shopping cart, email newsletter opt-in, and many others.
Price: AMember costs a one-time payment of $149.36 for an unlimited number of sites.
AffiliateWP is for users who looking for an affiliate marketing solution with advanced features for their WordPress website.
Overview:
Unique Features: Integrated payout service
Free Trial: None
Lifetime Deal: $499.00
Money-Back Guarantee: 14 days
Rating: 4.5 out of 5.0
What is AffiliateWP?
AffiliateWP is one of the best premium affiliate management plugins for WordPress. The plugin comes with all the affiliate marketing tools you need to increase your online sales and grow your business.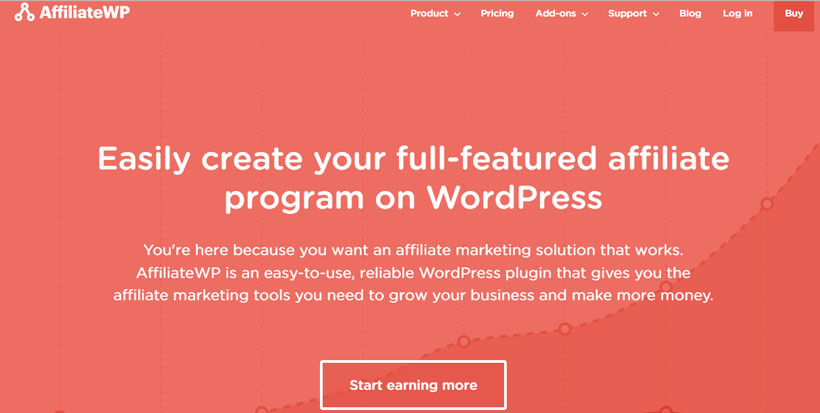 One of the most outstanding things about this affiliate plugin is that it's designed to mimic WordPress.
What this means is that it comes with features that adapt with WordPress seamlessly to give you a familiar experience to that of the most popular content management system.
Besides, it offers advanced affiliate and referral tracking functionality that provides accurate, reliable data.
But that's not all, the software comes with a user-friendly affiliate dashboard that lets members access marketing materials like affiliate links, detailed reports, and more. A referral link generator is also included in the dashboard.
As if that's not all, the affiliate management system comes with a range of advanced customization capabilities such as the ability to accept and reject emails or customize registration.
Top AffiliateWP Features
Here is a sneak peek of the system's noteworthy features:
Accurate, reliable affiliate tracking: A reliable feature to track affiliate referrals even on aggressive-caching servers.
Integrated payout service: Easily process cession payments directly from your bank or debit card to your affiliates' bank accounts right from your WordPress dashboard in just a few clicks.
Easy affiliate management: Keep track of your top earning affiliates, view performance reports, moderate affiliate registration, and more.
User-friendly affiliate area: A window to help you track performance, retrieve your affiliates' referral URLs, view earning, and more.
WP-CLI integration: A complete suite of WP-CLI commands to update, moderate, remove, create, and view all data within the affiliate management software.
Pricing: AffiliateWP pricing start at $150 per year.
Was formerly known as Affiliate Royale but today Easy Affiliate. With this plugin, you get affiliates promoting your online products in no time.
Let's find out what the affiliate management platform has to offer.
Overview:
Unique Features: Fraud Detection
Free Trial: None
Lifetime Deal: None
Money-Back Guarantee: 14 days
Rating: 4.0 out of 5
What is Easy Affiliate?
Easy Affiliate is the all-in-one affiliate program plugin for WordPress.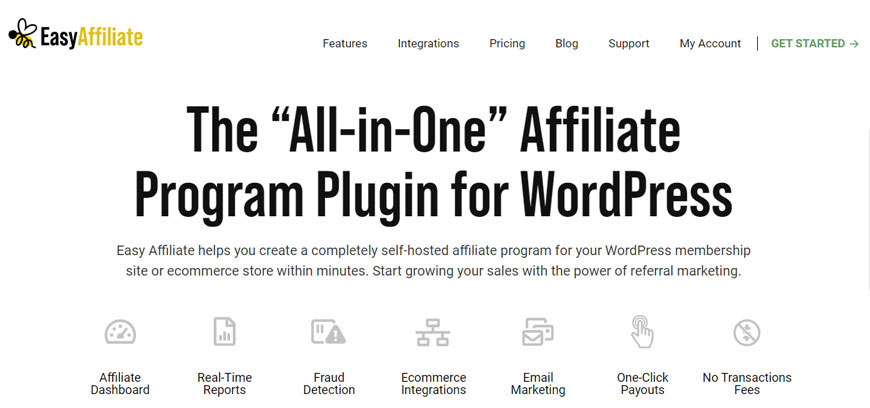 The software enables you to create a fully self-hosted affiliate program for your WordPress membership site or eCommerce in just a few clicks. Their unmatched referral marketing can help you start generating more sales.
As a product from MemberPress, the systems work perfectly together to provide you with shortened, easy-to-remember affiliate links for your affiliates.
The system integrates awesomely with WordPress to help you create a powerful affiliate program, track your online sales, clicks, and payments from a centralized intuitive dashboard.
The software can also integrate with most of the major platforms like ConvertKit, MemberPress, MailChimp, WooCommerce, PayPal One-Click, MonsterInsights, Formidable Forms, and more!
Top Easy Affiliate Features
Here are the powerful features offered by the software:
Fraud detection: Detects, and flags or reject suspicious affiliate behavior to prevent you from making unnecessary payments.
Intuitive email marketing: Integrates beautifully with the most popular email marketing providers like ConvertKit, MailChimp, ActiveCampaign to help you stay in touch with your affiliates.
Advanced security: For accurate commission tracking and protection against affiliate program attacks.
Powerful admin: Get every tool and feature you need to run a successful affiliate program right in your WordPress admin. View useful reports such as your top affiliates, clicks, the amount you owe your affiliates as well as transactions in real-time.
Pricing: Easy Affiliate pricing starts at $99.50/ year.
If you plan to promote your WooCommerce store successfully, launching a powerful affiliate program would be the best idea. To achieve this, you need all the tools and software, and that's where Solid Affiliate becomes helpful.
Overview:
Unique Features: Affiliate user roles
Free Trial: None
Lifetime Deal: $149
Money-Back Guarantee: 60 days
Rating: 4.4 out of 5
What is Solid Affiliate Plugin?
Solid Affiliate is yet another powerful WordPress plugin with features that help you with everything from affiliate program creation, to management, and growth, all from your WordPress dashboard.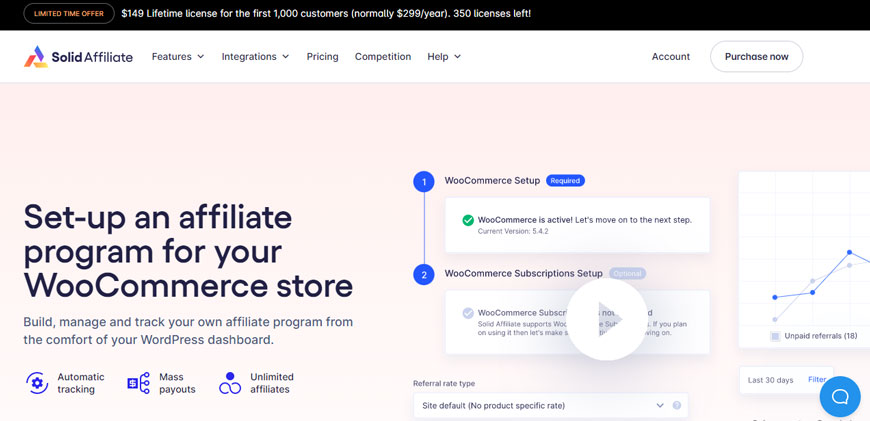 If you're looking for a system to set up an affiliate program for your WooCommerce store then look no further than this one.
The system integrates beautifully out of the box with WooCommerce and WooCommerce Subscriptions. The developers announced recently that they are working on more prominent WordPress plugins and SaaS platforms integrations.
The coolest thing about this system is that you can use it on client websites as your license supports an unlimited number of sites.
Besides, the software is free and open-source the GPL v2 license.
The WordPress plugin is developed to keep your affiliate program running smoothly, help you invite new affiliates, and keep track of the referrals earned.
A key feature of this plugin is the smart installation wizard. It enables you to get started creating your affiliate program in minutes.
Top Solid Affiliate Features
Here is a quick preview of the features of the system:
Setup wizard: Set up your affiliate program in just 2 minutes. No technical knowledge required
Seamless WooCommerce integration: The plugin is designed from the ground up to integrate with WooCommerce. Add an affiliate program to your WooCommerce store in just a few clicks.
One-click affiliate payments: Effortlessly process transactions with the smart payment wizard.
Customizable affiliate portal: Easily attract affiliates and empower them to be independent with their own dashboard.
Pricing: You can Get Solid Affiliate Plugin with a one-time payment of $149.
Of all the premium affiliate program plugins I have reviewed in this article, Ultimate Affiliate Pro stands out for the awesome list of features it packs at a cheap and flexible price.
Overview:
Unique Features: Affiliate custom slug
Free Trial: None
Lifetime Deal: $69
Money-Back Guarantee: 30 days
Rating: 4.6 out of 5
What is the Ultimate Affiliate Pro WordPress Plugin?
Ultimate Affiliate Pro is the recently released WordPress plugin for affiliate marketing that comes with a host of features including special performance bonuses, lifetime commissions, special offers, rankings, and more.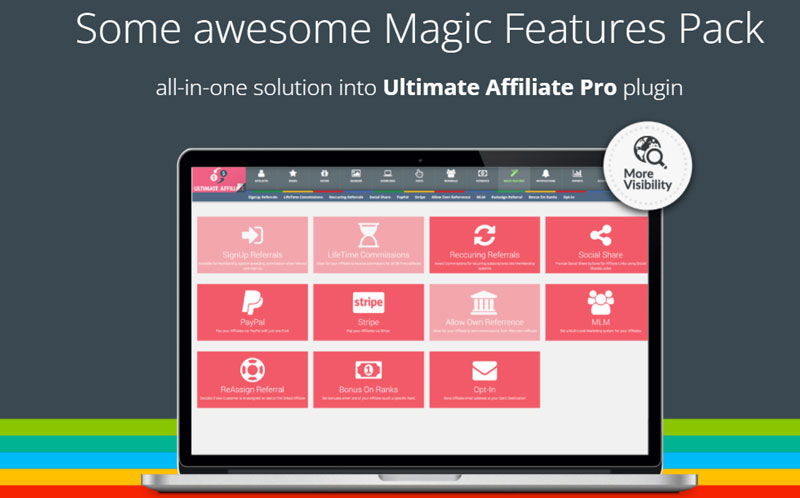 This plugin enables you to reward your affiliates based on ranks. The Multi-level Marketing strategy lets your affiliate create independent powerful campaigns.
The WooCommerce affiliate plugin also integrates awesomely with other platforms and payment gateways like Easy Digital Downloads, PayPal, Stripe, and more.
If you're looking for a plugin to create a complex affiliate program then this would make the best option.
One of the most outstanding features is the Signup Referrals that enables affiliates to earn commissions when they refer other affiliates to your program.
One possible drawback with this software is that it doesn't allow you to customize emails although other aspects are greatly customized.
Top Ultimate Affiliate Pro Features
Rank with achievements: Rank each affiliate based on their achievements and assign them a different commission level.
Special offers: Pay affiliates different commissions based on the products purchased.
Multi-level marketing: Enable your affiliate to recruit more affiliates.
Lifetime commissions: Set a system that enables your affiliates to receive lifetime commissions without worrying about cookies or different browsers.
Pre-defined templates: Over 26 pre-designed templates including 6 account page templates, 10 login templates, and 13 register templates.
Affiliate custom slug: Set conditions for your affiliates to use a custom affiliate slug that lets them personalize their affiliate link slug.
Pricing: Ultimate Affiliate Pro is available for $69.
When choosing an affiliate WordPress plugin, flexibility, user-friendliness, integrations, and affordability are the top-most factors you must consider. That's what you get on the WP Affiliate Manager plugin.
Overview:
Unique Features: Manual Adjustments and Payouts
Free Trial: None
Lifetime Deal: $39 forever.
Money-Back Guarantee:
Rating: 4.2 out of 5
What is WP Affiliate Manager Plugin?
Whether you're running an eCommerce store or a WordPress membership having the right set of plugins and tools can set you up for success.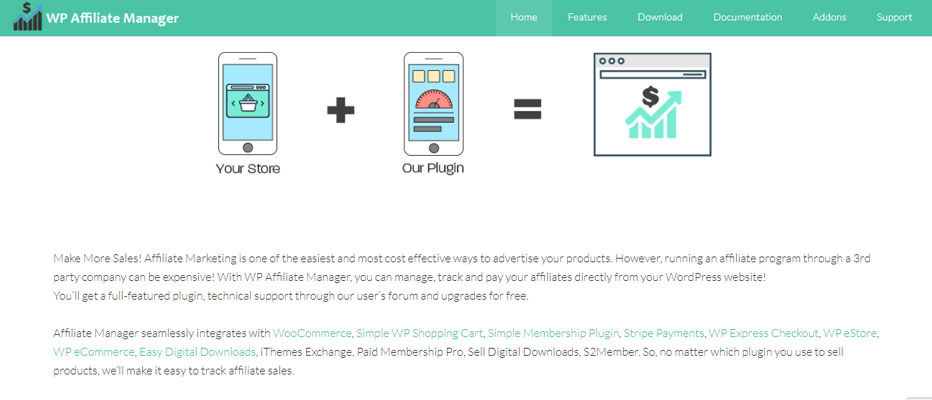 Meet WP Affiliate Manager.
WordPress Affiliate Manager is also another easy-to-use, feature-rich plugin that can help you with your affiliate program management to help you generate traffic and more revenue to your site.
As one of the best WordPress affiliate marketing plugins, this system allows you to recruit, manage, pay and track affiliates directly from your WordPress dashboard.
You also get technical support through the user's forum and free upgrades. The flexible features of this plugin enable affiliates to reach more people without limits.
Besides, the software integrates perfectly with other platforms such as WP eCommerce, WooCommerce, Simple Membership Plugin, Simple WP Shopping Cart, WP Express, Sell Digital Downloads, and more.
Top WP Affiliate Manager Features
Easy installation: The plugin is easy to install and use. The handy tutorials will show you how to upload, activate and use it.
Affiliates portal: Enable your affiliates to signup, log into their portal and get the ad code to promote your products or services.
Automated system: Once you set up your affiliate program, every process from affiliate sign up to maintenance and account login is automated.
Flat rate or percentage based: Choose how to reward your affiliates- whether on a percentage of the sale amount or a flat rate.
Pricing: WP Affiliate Manager pricing start at $39
SliceWP is marketed as the WordPress plugin to power your affiliate program on the official website. Is the plugin up to the mark?
Let's find out more about it.
Overview:
Unique Features: Customizable affiliate registration form
Free Trial: None
Lifetime Deal: $159
Money-Back Guarantee: 30 days
Rating: 5 out of 5
What is SliceWP?
Running a successful affiliate program on your WordPress-powered business doesn't have to be difficult when you have the right tools and plugins.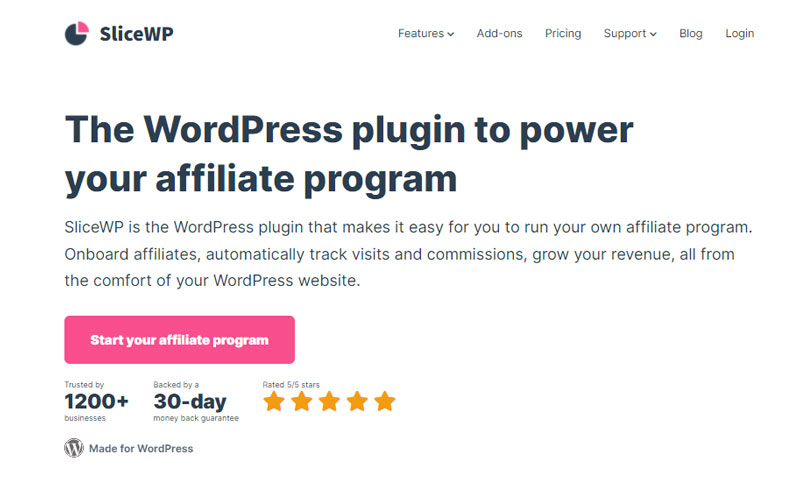 SliceWP is a freemium, simple WordPress plugin to create a great affiliate program, generate more traffic to your online business, and make more revenue.
With this system in place, your eCommerce store won't miss out on affiliate sales thanks to the great integration capabilities with other e-commerce WordPress plugins and platforms.
The most amazing thing is that you can use the free version of SliceWP available on the WordPress plugin directory, although this lacks advanced features offered on the premium version.
The plugin enables you to connect your existing plugins, recruit affiliates, keep track of their performance through real-time reports and easily manage your affiliate program without leaving your WordPress dashboard.
And this is just the tip of the iceberg. You can also approve new affiliates automatically or manually, and do many other things.
Top SliceWP Features
To understand the powerful nature of this plugin, let's look at the features:
Customizable affiliate registration form: Provided in the premium version only, this feature lets you customize your affiliate registration form to decide what information to collect from an affiliate during onboarding.
Affiliate approval process: Vet new affiliates before approving them to get only the suitable ones.
Auto-approve affiliates: Approve all your customers as affiliates automatically.
Customizable commission rates: Customize payments to affiliates based on commission rates.
Pricing: SliceWP pricing starts at $99/annually.
Sometimes all you need is a powerful affiliate tracking software that can integrate with your e-commerce affiliate store and simplify your cooperation with your affiliates. Why not try Tapfiliate?
Overview:
Unique Features: Geo distribution stats
Free Trial: 14 days
Lifetime Deal: None
Money-Back Guarantee: 30 days.
Rating: 4.6 out of 5
What is Tapfiliate?
Tapfiliate is an all-in-one affiliate marketing software that helps you to easily create, track, and grow your affiliate marketing programs.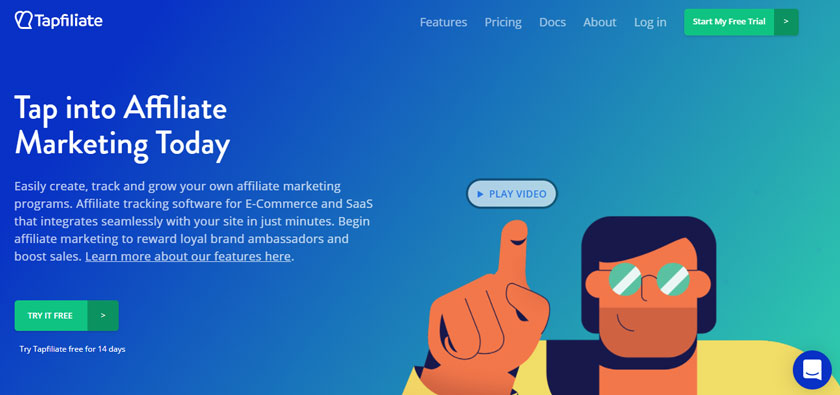 The software integrates perfectly with over 34 platforms including Zapier, WordPress Shopify, Wix, Squarespace, and more.
And before I forget, the software is 100% cloud-based so you don't need to download and install it on your device. With this plugin, all your affiliate and referral marketing needs are in safe hands.
What's even great with this system is that it provides affiliates with their own white-labeled dashboard on its subdomain to allow them to view real-time stats and general links. This helps them to measure their success
The software also allows you to create affiliate tiers so that you can offer performance bonuses or set commissions on per product or category level.
The intuitive dashboard also comes with a multi-language feature for non-English speaking affiliates so they don't struggle when using the program.
If you're in the eCommerce and SaaS business but aren't sure what plugin to use for your affiliate program management then I recommend you to try this one.
Top Tapfiliate Features
Performance bonuses: Offer your affiliate tempting bonuses to boost your online sales by setting targets on per number of conversions or conversion amount.
Automation: Automate your workflows, approve commissions manually or automatically with the help of the Zapier app.
Multi-level marketing: Create an affiliate referral program that rewards affiliates who refer new potential partners to your affiliate program.
Publisher tools: Provide your affiliates with all necessary tools for successful campaigns.
Pricing: Tapfiliate pricing starts at $89 per month.
How to Choose the Best WordPress Affiliate Plugin
There are tens of thousands of affiliate marketing management plugins for WordPress.
Without the right information, you might end up choosing a bunch of useful plugins that don't help you manage your affiliate program successfully.
To narrow down your choices, here are some factors to guide you:
Real-time analytics: The affiliate WordPress plugin should offer built-in data analytics or third-party integration abilities with apps like Google Analytics to help you monitor referrals and performance.
Intuitive interface: The affiliate plugin shouldn't require technical knowledge to use. It should come with a user-friendly interface to help you create your affiliate program fast.
Central management dashboard: The system should allow you to manage all your activities from a single centralized dashboard.
User-friendly affiliate area: The best WordPress plugin for affiliate marketing should have a dedicated dashboard where affiliates can manage all the processes.
Flexible pricing: If you're still new to the world of affiliate marketing programs and plugins, I'd recommend you choose a plugin with a free trial so that you can try the service before committing to the premium version.
Which WordPress Affiliate Marketing Plugin Should You Choose?
With tens of thousands of plugins all claiming to be the best affiliate program plugins for WordPress out there, choosing the right one for your business can be challenging.
I decided to take the hard work out of your hands and reviewed these nine to help you make the right choice.
Remember that many of the plugins I have covered in this post can be used in combination to get a monster combination of complementary features.
However, you shouldn't choose more than two. Just pick one or two that work well together according to what you need for your website and budget.
If you're still unsure what affiliates plugin to choose, here is my final recommendation:
If you're looking for a simple-to-use WordPress affiliate plugin that integrates seamlessly awesomely with the most popular e-commerce, membership, and invoice WordPress platforms and plugins then try AffiliateWP.
If you're tight on budget, Affiliates would make the best option for you. It's free forever, but you can upgrade to the premium version to enjoy more advanced features.
Solid Affiliate and Ultimate Affiliate Pro are ideal solutions for eCommerce affiliate store owners whereas Easy Affiliate, WP Affiliate Manager, SliceWP, are great for you if you want all-in-one affiliate marketing plugin software.
Tapfilliate will help you track every activity of your affiliates so you don't miss out on any important updates.
Good luck.