Are you wondering what's the best email marketing software to execute successful email marketing campaigns?
You're on the right page.
Email marketing is a powerful tool for communicating with your prospective customers and email subscribers.
Besides, multiple statistics suggest:
29% of marketers rate email marketing as the most effective marketing channel.
89% of marketers say email is their primary channel for generating leads.
Email marketing generates an ROI of $42 for every $1 spent.
However, without the right software, executing successful email campaigns can be a tough task.
In this article, I will discuss the 6 best email marketing software for affiliate marketing.
What is the Best Email Marketing Software for Affiliate Marketing?
To identify the best email marketing software for different businesses, I and my team spent hundreds of hours of research and analyzed over 20 popular email marketing platforms on the market based on their prices, functionality, and ease of use to give you the best options to choose from.
GetResponse
SendX
EmailOctopus
Drip
Kartra Mail
AWeber
6 Best Email Marketing Software for Affiliate Marketing
Here is our list of the best email marketing platforms for affiliate marketing. These should work for small business owners, online marketers, internet entrepreneurs, marketing agencies, and other online business professionals.
1. GetResponse
Are you an affiliate marketer looking for a platform that will help you run successful email campaigns? If so then GetResponse is the best email marketing software for you.
Overview:
Unique feature: Great email and newsletter design tools
Free Trial: 30 days
Money-back guarantee: None
Trustpilot rating: 4.0 Out of 402 Reviews
What is GetResponse?
GetResponse is an all-inclusive email marketing service that helps you reach a huge audience, engage with customers and prospects, and boost affiliate sales.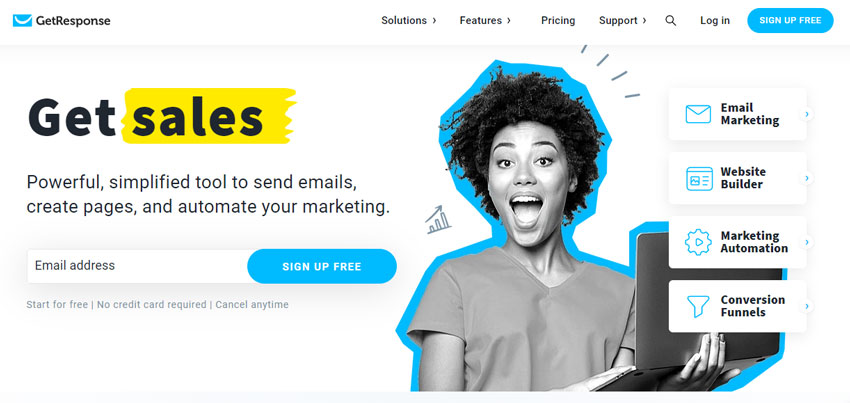 The platform comes with over 30 tools that help you to send high-converting emails, create stunning pages, and automate your marketing to transform your online marketing and bring real results.
Besides, the email marketing service offers native lead generation forms and automation to help you nurture engage and nurture new subscribers.
The software offers over 30 high-converting landing pages, email marketing campaigns, and webinar builder software to help you connect with your audience anywhere and anytime to increase conversions and engagement.
The greatest feature of all is the Autofunnel that helps you with lead generation, webinar registration, and product sales. This feature is optimized to nurture your new subscribers and increase your funnel's conversion rates.
For affiliate marketers, GetResponse integrates seamlessly with affiliate tracking software to help you track the performance of your email campaigns. Autoresponder and drip campaigns help you to promote your affiliate offers.
Top GetResponse Features for Affiliates
Some of the outstanding features of the software include:
Easy drag-and-drop email creator: Design and deliver stunning, responsive emails to engage with your audience and grow your affiliate marketing business.
List management: Dynamic, data-driven email list management to help you automatically segment your list and reach the right people at the right time.
Transactional emails: Reach your customers, keep them informed with event-triggered emails.
Email analytics: Get actionable data for precise email marketing.
Email Autoresponders: Create and deliver automated email sequences to maximize conversions.
Paid Ads Creator: Discover new customers, build your email list, and grow your business.
Pricing: GetResponse pricing starts at $10.50 per month.
2. Drip
If you are looking to take your affiliate marketing game to the next level then Drip is the best email marketing platform for you.
Overview:
Unique feature: Event management
Free Trial: 14 days
Money-back guarantee: None
Capterra Rating: 4.4 out of 162 reviews
What is Drip?
Drip is a powerful email marketing automation software for e-commerce affiliate sites.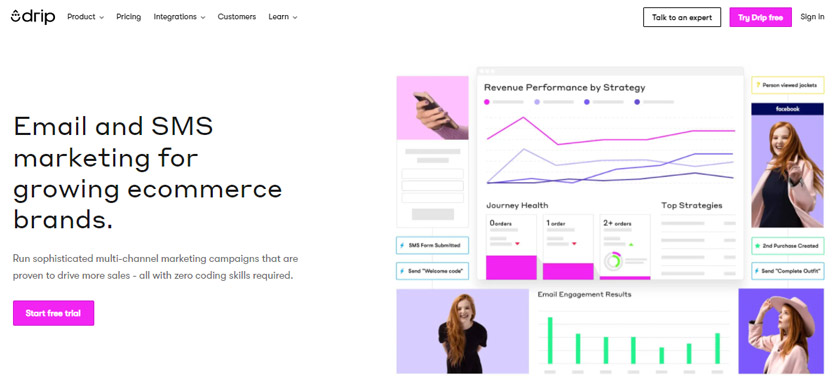 The service uses email and SMS marketing to help you grow your email list, nurture subscribers, and deliver targeted and sophisticated multi-channel marketing campaigns that drive more sales.
The most outstanding feature of this service is the integration with all popular e-commerce platforms such as WooCommerce, Shopify, and Magento.
Besides, the platform's marketing automation tools help to drive customer engagement, plus the intuitive design and code-free layout make the software easy to use for both experts and beginners.
What's more, the software allows you to create multi-channel campaigns so you can engage with your customers with automated campaigns via email, social, onsite pop-ups, and SMS.
Another stand-out feature of this service is its powerful segmentation that lets you target customers and prospects with super relevant and perfectly personalized content.
Top Drip Features for Affiliates
Here is a sneak peek of the features of the platform.
Pre-built email templates: Easily craft emails that convert without a hassle.
Pre-built playbooks: Create welcome series, abandoned cart emails, post-purchase campaigns, and more to generate more sales.
Email segmentation and personalization: Segment prospective customers and send personalized emails like product recommendations based on customers' browsing or past purchase behavior to stir engagement and increase conversions while keeping customers coming back.
Third-party integration: Create multi-channel marketing campaigns and engage with customers across multiple channels.
Optimization: Monitor the performance of your email campaigns and marketing strategies so you can adapt accordingly.
Pricing: Drip pricing starts at $19 per month.
3. SendX
If you're looking for an easy-to-use and powerful email marketing software to send unlimited email campaigns, build your email list, and automate advanced email sequences then SendX is your answer.
Overview:
Unique feature: Opti-Send technology
Free Trial: 14 days
Money-back guarantee: None
Capterra Rating: 4.7 out of 28 reviews
What is SendX?
SendX is an intuitive, affordable, and feature-rich email marketing provider as well as affiliate-friendly autoresponder that enables you to send unlimited email campaigns, build email lists, design and automate email and sequences to take your email marketing to the next level.
The platform boasts high deliverability rate thanks to the Opti-Send technology. Besides, you can create and deliver email campaigns based on the browsing behavior of the user thanks to the Smart Send feature.
Besides, with this email marketing service, you can optimize your email campaigns based on over 30 parameters such as time zone, analytics, etc.
The free templates enable you to create responsive campaigns for your target audience without hassle.
You can use popups, inline forms, and landing pages to capture more subscribers and grow your email list.
What's even great about this email marketing platform is that it allows you to schedule campaigns that promote your affiliate marketing offers and monitor the performance of each campaign.
Top SendX Features for Affiliates
Let's take a look at the features that come with this tool:
WYSIWYG email editor: Create unlimited email campaigns efficiently without HTML to reduce the cost of outsourcing your email designs to professionals.
Customized pre-built email templates: Create customized emails that meet your campaign objectives.
Reporting & analytics: Learn how your email campaigns are performing with custom reports and detailed analytics.
Geo & smart send: Send smart email campaigns optimized for different time zones with just a click of a button.
Embedded sign-up forms: Design and customize elegant sign-up forms that convert subscribers into real buyers.
A/B Testing/split testing: Remove the guesswork out of your email campaigns by A/B testing your email campaigns with different subject lines to boost your opens.
Email drip campaigns: Nurture your leads with email drip sequences.
Segmentation: Segment your subscribers based on interest groups and run automated campaigns and sequences.
Third-party software integration: SendX integrates with a ton of third-party software like payment gateways, webinar tools, Zapier, CRMs, and more.
Pricing: SendX pricing start at $7.49 per month
4. EmailOctopus
If you have been looking for a simple yet powerful email marketing tool to grow your business then your search ends on EmailOctopus.
Overview:
Unique feature: Developer API
Free Trial: Free up to 2,500 subscribers and 10,000 emails per month
Money-back guarantee: None
Capterra Rating: 4.6 out of 130 reviews
What is Email Octopus?
When looking for an email marketing platform, simplicity, email deliverability, affordability, and features are some of the most important factors to consider.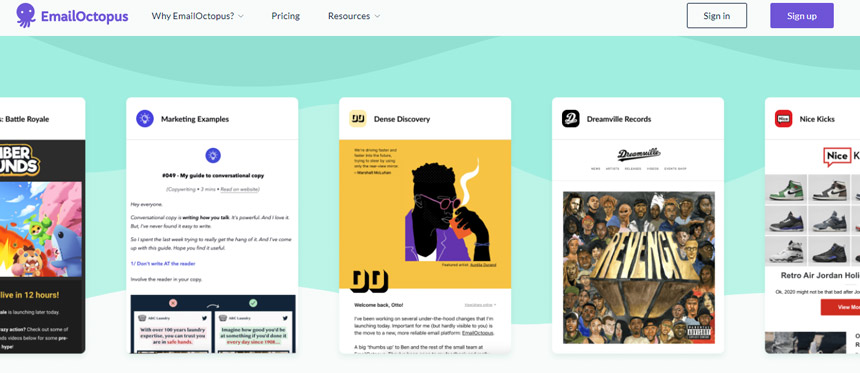 This platform is not only easy to use but the software checks all the boxes.
Email Octopus is a responsive email marketing service that comes with a set of pre-built templates that enable you to create winning campaigns that are responsive to any device.
The platform has sent more than 13 billion emails to different professionals including e-commerce affiliate site owners, bloggers, self-published authors, and more.
The best thing about this email marketing provider is that it comes with the essential features you need to grow your mailing list and engage your audience. The platform also enables users to send bulk emails.
Top EmailOctopus Features for Affiliates
Here are the top features of the software:
A sleek drag-and-drop email editor: Enables you to create both simple plain text and HTML emails.
Straightforward interface: Easily create workflows. The interface is built with beginners in mind.
Responsive to different screens: Send email campaigns that can be accessed via any device.
Create and embed sign-up forms: Capture new leads and nurture your email list with embedded sign-up forms.
Segmentation filters: Segment and send targeted emails to your subscribers based on multiple parameters such as interest, user activity, behavior, etc.
Landing page builder: You can also build stunning landing pages for your affiliate marketing campaigns.
Seamless performance tracking: Monitor your open, click and bounce rates to determine what's working in your campaigns.
Pricing: EmailOctopus pricing start at $24 per month.
5. Kartra Mail
What if you could have an army of marketers working tirelessly for you sending emails, making follow-ups, analyzing and tagging, split-testing, and optimizing email campaigns on autopilot 24/7/365? That's what you get with Kartra Mail.
Overview:
Unique feature: Multiple trigger rules
Free Trial: 14 days
Money-back guarantee: 30 days
Capterra Rating: 4.5 out of 125 reviews
What is Kartra Mail?
Running a successful online business can be daunting especially when you have to manage too many platforms at once.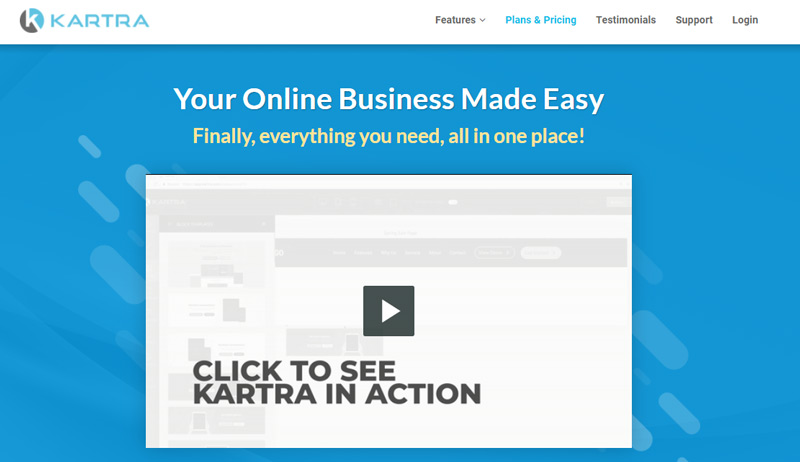 With Kartra Mail, you have a powerful all-in-one marketing and business management platform that helps you manage your business, send email broadcasts, and enhance your marketing.
All features of the software are connected to enable them to seamlessly 'talk' to each other so you don't have to configure any integration.
For instance, Kartra Analytics tracks users who land on your page, whereas Kartra Mail subscribes them to your newsletter as Kartra Memberships sends login credentials to customers who pay through a Kartra checkout. Everything is interconnected.
The coolest thing about this platform is that it's designed for beginners and seasoned users alike thanks to the pre-made email templates and drag-and-drop interfaces. Besides, the email marketing solution is flexible and friendly to affiliate marketers.
To help you learn more about the software, let's take a look at the top features it offers.
Top Kartra Mail Features for Affiliates
Below are some of the noteworthy features of the system.
Drag-and-drop email builder: Create and edit email templates and add video thumbnails, countdown timer, hero sections, and more in the email templates.
Kartra Mail: Create live automated email/SMS marketing campaigns to communicate and engage with your audience.
Behavior-based automation: Activate a ton of automation based on your subscriber's behavior. For instance, if the subscriber hasn't opened the previous email, send a follow-up message automatically.
Intelligent split testing: The platform can split test your email subject likes and contents, track conversions and adapt to the version that converts the best.
Emails and SMSs: Set pre-defined parameters, queue up your email and SMS communications then let the system pace them.
Pricing: Kartra Mail pricing starts at $199 per month.
6. AWeber
You must be looking for a simple but powerful email marketing service that comes with incredible features that can take care of your email marketing while you focus on running your business. Why not try AWeber.
Overview:
Unique feature: Design with Canva
Free Trial: Free up to 500 subscribers and 3,000 emails per month.
Money-back guarantee: 30 days
Trustpilot rating: 4.5 out of 71 reviews
What is AWeber?
AWeber is perhaps the oldest yet the most popular email marketing software out there.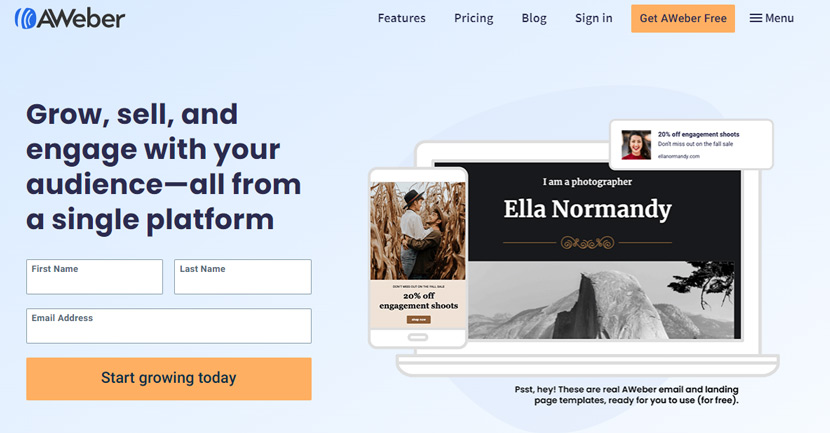 It's also a great choice of an autoresponder with a ton of useful features that allow you to segment your contacts into categories, send triggered emails to your subscribers, as well as others such as A/B split testing, a wide range of templates, and more.
All these features are packaged into a user-friendly interface thus making the platform ideal for novices and seasoned marketers alike.
With this platform, you get high email deliverability, inboxing rate, and of course, the opportunity to migrate your email accounts with all your subscribers, landing pages, and all other elements from any email marketing platform for FREE.
Apart from this, the email marketing solution can create web push notifications for your email campaigns.
Besides, the software offers high-quality email and phone support as well as helpful support guides in the form of articles and videos to help you out with any problem you're facing when using the platform.
Top AWeber Features for Affiliates
Let's learn about a few features of the software.
Over 600 email marketing and newsletter templates: Create high-converting emails and awesome newsletters with just a click of a button.
Reports and analytics: Gain valuable insights into your email campaigns using a library of pre-made reports and analytics
Simple drag-and-drop email builder: Create professional-looking custom emails in just minutes without coding.
List management tools: Import email lists and create a database from file types such CSV, XLS, TXT, and many others.
Segmentation: Segment your list, deliver targeted and super relevant emails to your subscribers.
Canva integration: Edit images with Canva right inside your AWeber account.
Email automation: Automate emails based on the actions and behavior of your subscribers.
Pricing: AWeber pricing start at $16.15 per month
How to Choose the Best Email Marketing Software for Affiliate Marketing?
With over 450 marketing tools out there, choosing the best email marketing software for your business can be a tough task.
Granted, the best email marketing solution should enable you to design professional-looking emails easily, segment your list, send personalized messages, and view analytics reports.
Here are a few things to consider when choosing the best email marketing solution for your online business:
List segmentation
The email marketing platform should enable you to segment subscribers based on browsing activity, purchase behavior, interest, or any other suitable parameters.
Excellent deliverability
You want to ensure your messages are hitting the inboxes of your subscribers thus consider software that provides a deliverability rate of around 80%.
Reporting and analytics
The software should allow you to track vital metrics like clicks, click rates, opens, open rates, bounces, sales, and more.
Opt-in forms
The platform should enable you to design embeddable forms you can add to your website to record email addresses.
Pre-made email designs
The software should have email designs and templates to enable you to create professional-looking emails with ease.
Omnichannel messaging
Consider an email marketing solution that allows you to send email as well as messages across multiple channels.
User-friendliness
The software you choose should enable you to execute winning email campaigns easily whether you're a beginner or seasoned affiliate marketer.
Price
Last but not least, once you feel that the email marketing service is ideal for you, consider its affordability.
Over to You!
After reviewing all the platforms I've discussed above I hope you're now able to choose the best email marketing software for your business with ease.
The best part is that all of the above systems have free trial periods. Sign up on any of them to try it free before you decide which one is ideal for you. Once you're satisfied, you can upgrade to the paid version and enjoy more features.
My Recommendation:
If you're just getting started with email marketing, I'd recommend you to try GetResponse for its user-friendly interface and unmatched features that let you run successful email marketing campaigns without any technical knowledge.
For an advanced user, I'd recommend AWeber due to its high email deliverability, inboxing rate, and the opportunity to migrate your email accounts with all your subscribers, landing pages, and all other elements from any email marketing platform without paying even a dime.
Good luck!