Even though it's the world's most popular marketplace, there is no shortcut to becoming successful on Amazon.
You have to promote hot-selling, trending, and high-demand products with high-profit margins.
Statistics suggest that:
Amazon has over 6 million sellers worldwide with 1.9 million actively selling on the platform.
2% of Amazon consumers prefer to shop in the marketplace due to the competitive pricing.
Over 66,000 orders are shipped per hour.
The most popular products on Amazon are electronics when sorted by category.
55% of online consumers begin their online shopping searches on Amazon.
But, finding profitable products on Amazon can be a tough task, especially for beginners. Worse, if you choose the wrong products, your sales will plummet and your business will struggle to grow.
In this article, I'm going to review the top 7 best Amazon product research tools that can help you discover the winning products and a wealth of information to help you decide whether or not to sell them.
What Is The Best Amazon Product Research Tool?
Here is a quick overview of the best tools for Amazon product research:
7 Best Amazon Product Research Tools
Here is my curated list of the best product research solutions for Amazon sellers. These should help you find winning products on Amazon by providing you with useful data that can help you to choose products to sell and compete with other sellers effectively.
1. Helium 10 – Best Overall
If you're looking for a user-friendly product research system that provides accurate data and can be used by beginners and advanced Amazon sellers then look no further than Helium 10.
What is Helium 10?
Helium 10 is a powerful e-commerce suite of tools that can help you find keywords, stay ahead of trends, optimize listings, and streamline advertising campaigns on Amazon. The software is packed with all the tools you need to run your Amazon business.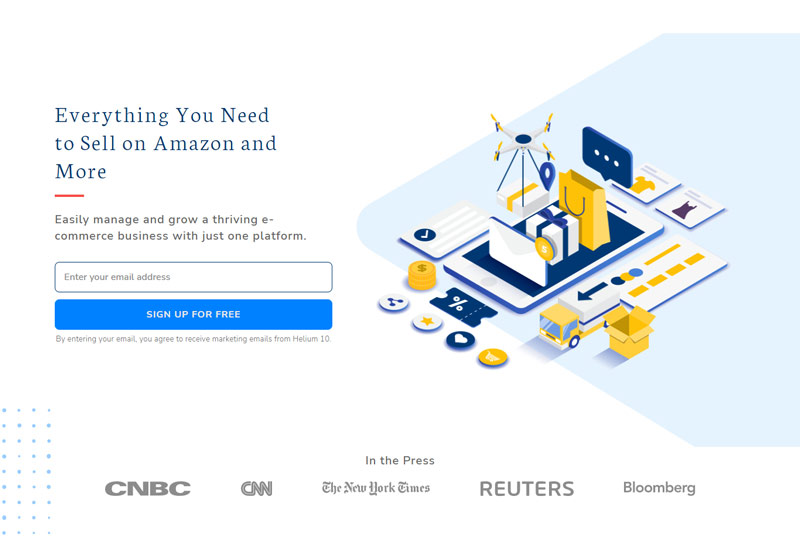 Using the tool's single-word and reverse ASIN search options, you can discover thousands of backend keywords as well as low-competition phrases in seconds. With the smart guide, you can learn how to write stellar, high-ranking listings with appropriate keywords like a pro in minutes.
With the Helium 10 software, you get constant alerts, updates, and all-time monitoring so you can manage your business effortlessly. The in-built security tools keep your business protected from malicious threats.
What's more, the tool provides you with smart metrics that help you make smart decisions. Not only that, you can market your business by attracting Amazon customers to your business thanks to the intuitive tools.
The PPC management and automation functions can help you increase revenue for your business effortlessly.
The best thing is that you don't need to log into dozens of apps to manage your business so you can manage everything in one single dashboard.
Helium 10 Tools Best Features
The software comes with a set of powerful tools including:
Product research: Search through millions of products to find the profitable ones, discover products sales trends, revenue estimates, demand, and seasonality in just a few clicks.
Keyword research: Rank your products higher in searches by discovering high-volume, high-ranking keywords using advanced keyword aggregation and in-depth competitor data.
Listing optimization: Use simple writing and search result verification tools to create high-quality, converting listings to hook your visitors.
Run your business effortlessly: Get constant alerts about any suspicious activity on your account, limit the number of units allowed per order, receive Amazon refunds, ask for reviews to increase your rankings effortlessly.
Analytics: Get clear and accurate analytics and make confident decisions using keyword and market tracker tools.
What I Don't Like About Helium 10
Helium 10 free version has limited functions.
The software has a steep learning curve due to the vast array of features.
Bottom line: Helium 10 is a complete product research solution for beginners/experienced e-commerce entrepreneurs, amazon sellers, and marketers alike.
Price: The software offers a free version but with limited features. You can upgrade to the Starter plan which costs $39 per month to unlock more features.
2. Jungle Scout – Second Best Software
With Jungle Scout, you can research the best products, launch, build, and grow your Amazon business effortlessly.
What is Jungle Scout?
Jungle Scout is yet another leading platform for finding profitable products, launching, and selling on Amazon and other marketplaces.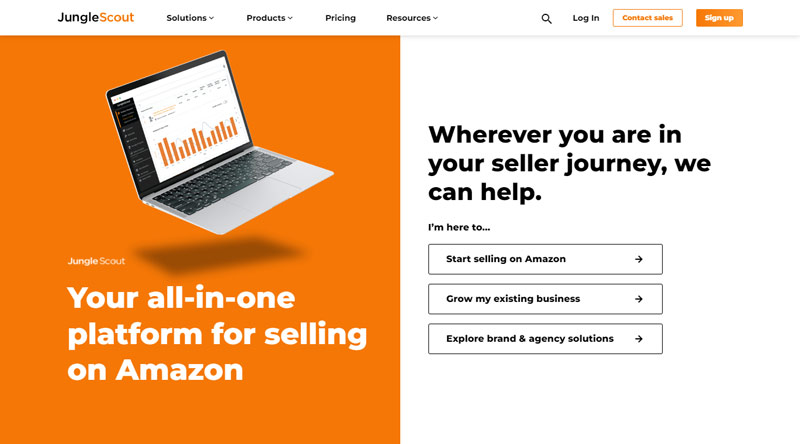 The software can help you find sales estimates, research high-ranking keywords, and spy on your competitors from an intuitive dashboard.
What's even great about the platform is that it provides you with advanced, up-to-date tools, features, and accurate data to help you make confident decisions about your online business. With Jungle Scout, you get web-based software and Chrome extension. The web-based software suite comes with amazing tools that can help you make data-driven decisions, build and launch a profitable Amazon business.
With Jungle Scout's web-based suite of tools and Chrome extension, you can discover opportunities based on high-ranking and low competition keywords that customers are searching for. Not only that, but you can also sort over hundreds of millions of products on Amazon using advanced filters to quickly uncover profitable product ideas thanks to the Product Database.
And that's just the tip of the iceberg since you can take advantage of the industry's data to make important business decisions thanks to the AccuSales algorithm that explores billions of data points every day.
Another cool thing about this platform is that you can track product ideas by measuring the performance of a product or product over a given period. Plus you can build optimized listings to improve the visibility of your listing on Amazon.
You can also track how certain keywords have performed over time by viewing keyword rank history for dozens of keywords concurrently. Besides, the tool can help you see how your competitor's listings are performing in rankings so you can improve yours.
Another amazing thing is that you can validate suppliers by observing their customers and confirming shipments to find legitimate and high-quality manufacturers.
Jungle Scout Best Features
Here is an overview of the software tools:
Jungle Scout browser extension: Install the extension to your web browser and evaluate new product opportunities, request reviews, and access product potential in seconds.
Product tracker: Track the performance of a product or multiple products over time, monitor sales in real-time to uncover worthwhile opportunities, and create a solid marketing strategy on Amazon.
Category trends: See trendy products by tracking the top 100 products of any category or subcategory on Amazon and analyze the performance of any category with historical trend data to determine which product category to pursue in your future product launch.
Inventory manager: Use a data-driven approach to manage your Amazon inventory.
What I Don't Like About Jungle Scout
No free trial
No mobile app
Inventory management can get complicated when managing thousands of products.
Bottom line: Jungle Scout is the ideal software for both newbie and experienced Fulfillment by Amazon sellers.
Price: Jungle Scout pricing starts at $29 per month.
3. Viral Launch
Are you looking to get better automation, great results, and visibility for your brand on Amazon? If so then Viral Launch is the best Amazon product discovery software for you.
What is Viral Launch?
Selling products on Amazon can be a tough task because you need to perfect them, optimize your listings and perform other activities to stand out of the crowd and attract customers. Why not lighten your workload with an innovative product research solution?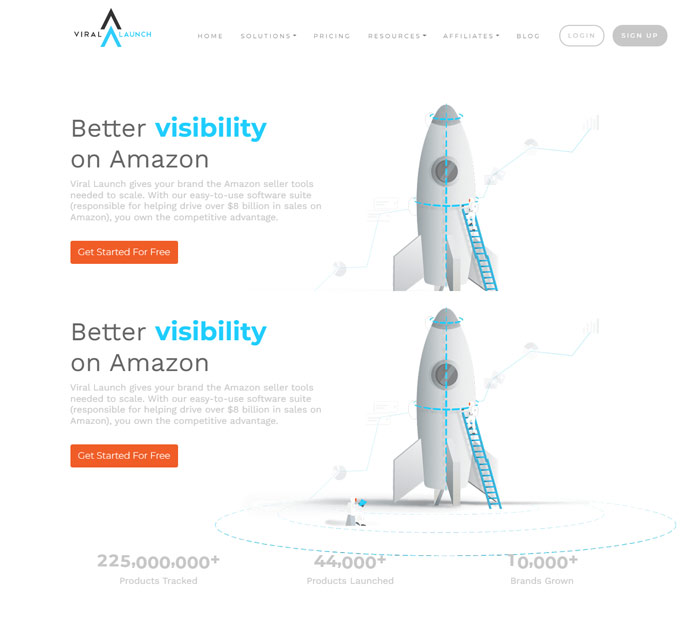 Viral Launch is a complete suite of tools and services that helps brands source, launch, and dominate the Amazon platform.
The software is easy to use and you can start researching profitable products right away.
If you're using Amazon's PPC service to market your products, you will love this tool. With the software's Kinetic tool, you can set specific parameters to run winning product ads.
Take advantage of the tool's AI-powered insights and billions of Amazon data points to make smarter decisions faster.
The software's tools are beautifully integrated to provide you with a convenient all-in-one solution to help you achieve your goals.
With the software, you can start seeing results immediately by discovering quick wins and implementing practical strategies that work.
Top Viral Launch Best Features
Let's explore some of the powerful Amazon seller tools integrated into this platform:
Accurate Amazon keyword research: Discovering products to sell on Amazon FBA isn't a walk in the park. This tool removes the guesswork in your product research and helps you to find reliable product ideas with accurate sales estimates, insights, and other metrics.
Automate Amazon competitor tracking: To be successful with your Amazon business, you must keep track of your top competitors, know their effective strategies, and use their weaknesses to your advantage. In just a few clicks, you can reverse-engineer and monitor your top competitors.
Market intelligence: The Market Intelligence Chrome extension can help to enhance your product research.
Amazon advertising & PPC: Kinetic PPC can help you discover keyword opportunities to incorporate into your ad campaigns.
What I Don't Like About Viral Launch
The software doesn't offer start or beginner plans
There is a steep learning curve.
Not an affordable option.
Bottom line: Viral Launch is an ideal solution for FBA newbies and seasoned sellers as well particularly international marketers.
Price: Viral Launch pricing plans start at $69
4. AMZScout
Finding untapped niche markets for your products can be a difficult and time-consuming task. Even though there are millions of products on the Amazon marketplace, knowing which ones can generate huge profits for your business has never been easy.
Worse, even if you try to spend hours of research to discover the best products to sell on Amazon, you will not discover all the products your customers are searching for.
What is AMZScout?
AMZScout is a complete set of powerful tools for selling on Amazon.
With this tool suite, you can discover profitable products with low competition, source products from both local and internal suppliers, and also find popular and unexplored high-ranking product keywords.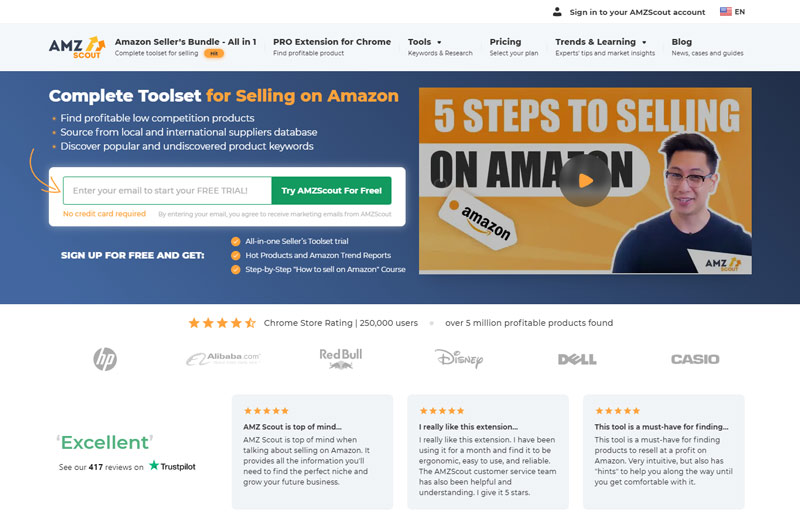 If you're looking to find profitable Amazon products in any niche fast then try this tool.
Generally, AMZScout comes in the form of a web app and Chrome extension.
The AMZScout web app is versatile and lightweight and can be accessed easily on any web browser.
It's also easy to use thanks to the easy-to-navigate dashboard.
The AMZScout pro extension, on the other hand, can be used on Google Chrome and Edge browsers only.
The extension is also straightforward, making it easy to use for new sellers. In fact, you can use it as your starting point before you advance to the web app.
With the extension, you can get products' scores based on a product's potential.
AMZScout Best Features
Here are the amazing features of the software:
PRO extension: Pull out extensive data and sales statistics on every Amazon product to find profitable products to sell.
Product database: Discover hot products to sell on Amazon by applying advanced filters to get a small pool of excellent products in minutes. Easily filter too many competitive products.
Amazon keyword search: Monitor your competitors and uncover new keyword ideas for your products, find related phrases with voluminous searches to build attract listings, run low-cost PPC ads and outrank your competitors.
AMZScout reverse ASIN lookup: Discover all the keywords a product(s) is ranking for, create winning PPC ads, improve your organic traffic, and select products customers are searching for.
What I Don't Like About AMZScout
Fewer tools compared to other tools in the list.
Lacking important metrics offered by Helium 10
You can't track reputable suppliers and manufacturers.
Bottom line: AMZScout is for you if you're working on a tight budget and want a tool that's not only easy to use but is also affordable.
Price: AMZScout pricing plans start at $16.49 per month billed annually.
5. ZonGuru
ZonGuru is suitable software for Amazon sellers looking for a data-focused platform to scale their business the right way.
What is ZonGuru?
ZonGuru is also another complete suite of tools for Amazon sellers designed to minimize stress in discovering profit-making products.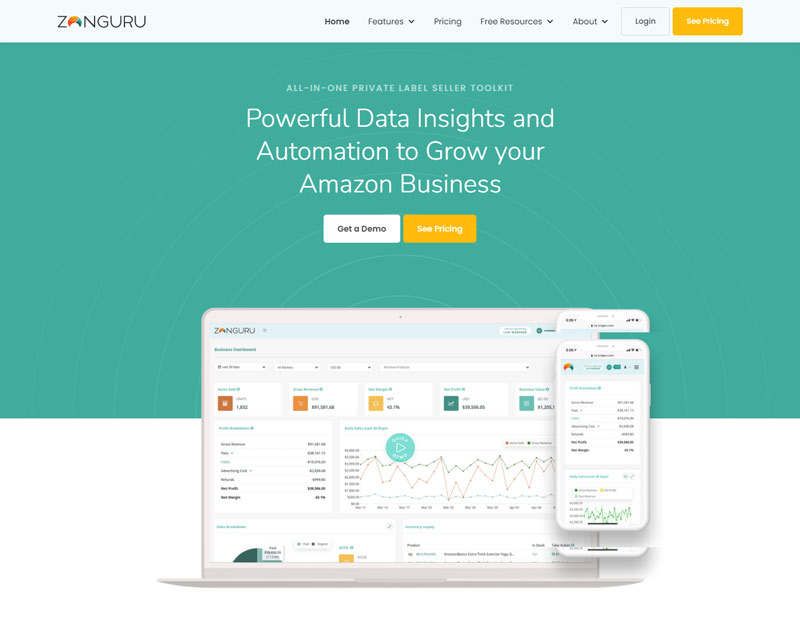 With ZonGuru's advanced product research tools, you can discover winning products, automate your emails with the pre-built email templates, create and optimize your eBay listings, etc.
The software is reputable for offering the most precise estimation and data in the ecommerce industry. It's one of the reliable tools that can pull out powerful data insights and help you grow your Amazon business.
With this tool, you can know where to add the best keywords and images to your listings and drive sales. The software's simple UI and powerful, accurate data can help you monitor the performance of your business.
The software keeps you connected with your customers to keep them engaged at all times.
ZonGuru Best Features
Let's explore more about some of the features that come with the software:
Niche Finder: Type in a search term, set a filter, and get a list of best-selling FBA products backed by reliable sales data.
Sales spy: Get years of historical sales data at your fingertips by just entering an ASIN.
Easy source: Discover a reliable source for all your product manufacturing needs in seconds.
Email Automator: Write catchy, customized follow-up emails by just connecting your MWS account, writing an email, and selecting when you want to send it.
IP monitor: Avoid shady sellers that are looking to make quick money by swindling you or stealing your ideas by getting constant alerts whenever someone uses your product images- even if one tries to resize them.
Keywords on fire: Create accurate optimized listings to maximize your reach and rank higher on Amazon to scale your business.
Review Automator: Build trust with your customers by asking your loyal customers for honest reviews.
What I Don't Like About ZonGuru
The research plan lacks a feature that helps to track listing rankings.
Limited pricing plans.
The Researcher's plan is quite restricted.
Bottom line: ZonGuru is the ideal Amazon research solution for sellers looking for a data-focused platform to scale their business the right way.
Price: ZonGuru pricing plans start at $39 per month.
6. SellerApp
Are you looking for an innovative product research app that was built to conquer Amazon?
If so then SellerApp would be the best option for you.
Seller App was designed to enable e-commerce sellers to track, optimize, and scale their business globally.
What is SellerApp?
To supercharge your Amazon business, it's important to back up your growth strategies with data-driven insights, intelligent automation, and operational excellence.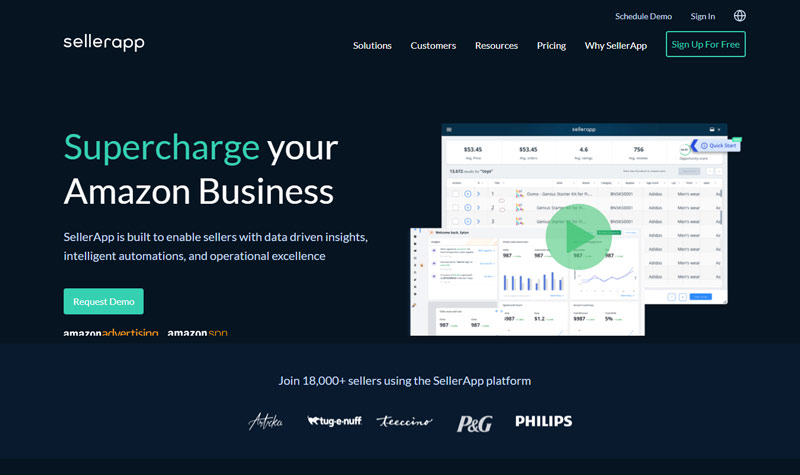 SellerApp is an innovative AI-powered e-commerce intelligence app and behavioral eCommerce analytics tool designed to help sellers and retailers increase their potential on Amazon.
The app employs next-gen optimization and ML models to help sellers increase revenue for their business in an intuitive SaaS dashboard.
The platform comes in the form of a mobile app and Chrome extension to help you manage your Amazon business effortlessly.
Amazon SellerApp Best Features
Here are the noteworthy features of the product research app:
Profit checker: Through the Amazon profit dashboard, you can view 100% accurate sales data to track your success.
Amazon PPC tool: Optimize your ad campaigns effectively with next-gen machine learning tools and an advanced AI-powered PPC analyzer.
Product research: Discover best-selling products with ultra-modern data intelligence tools.
Keyword rank tracker: Track the performance of your Amazon keywords by uncovering your rankings and optimizing your listings SEO with high-ranking keywords.
Product ideas: Discover trendy product trends and ideas with the leading software.
Keyword explorer: Boost your Amazon SEO and PPC campaigns by discovering thousands of high-converting keywords in just a few clicks.
What I Don't Like About SellerApp
The freemium plan lacks customer support and has limited features.
The software only shows the lowest price of products thus making it hard to compare prices.
Bottom line: SellerApp is suitable for sellers running a small to medium-size Amazon business. If you're looking for a new management suite for your growing Amazon business you can also use this platform.
Price: SellerApp is a Premium product research platform but to unlock powerful features you have to subscribe to their premium plans that start at $39 per month.
7. Zoof
Remove guesswork in product research with a data-focused solution.
Zoof is marketed as a suite of fast, easy-to-use tools to take your Amazon business to the next level.
Let's find out whether this is true.
What is Zoof?
Zoof is a data-driven Amazon product research platform that helps sellers discover amazing products by extracting accurate product data directly from the Amazon marketplace.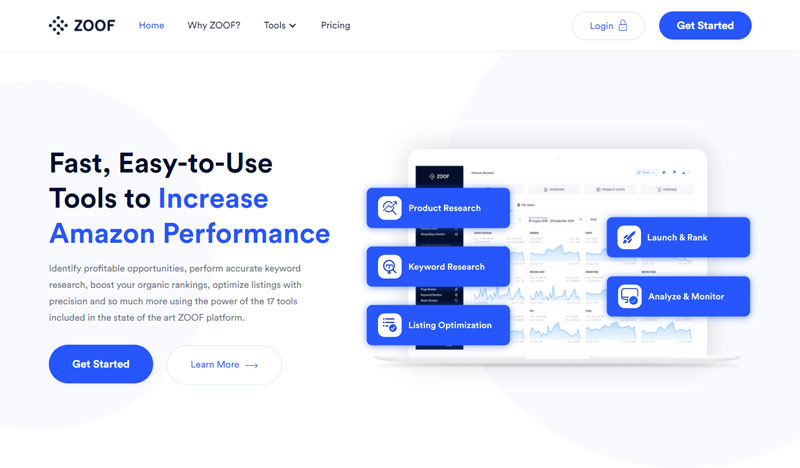 The platform not only helps in product identification but you can also conduct accurate keyword research to boost your organic rankings by optimizing your listings with precision thanks to the powerful set of tools.
The software also comes with a Chrome extension you can install in your browser and research products on other marketplaces as well.
Top Zoof Best Features
Let's explore the handy tools that come inside the platform:
Opportunity Finder: Discover opportunities by filtering through mountains of products and keywords and selecting the best products based on accurate and comprehensive data.
Index checker: Uncover keywords your listings and products are indexed for in seconds. This tool is a must-have for Amazon FBA sellers.
Opportunity analyzer: Use accurate sales estimates and market trends to pick products that customers are searching for.
URL builder: Create sweet and flexible URLs, monitor clicks and conversions, rotate through search terms, and build-retargeting audiences to increase conversions.
Profit Calculator: Determine whether or not a product idea you're researching will actually make money using accurate Amazon data.
Listing editor: Write attractive, keyword-optimized listings that attract customers to your product and increase sales.
Misspelling checker: See misspelling mistakes in your competitors' listings and capitalize on the opportunities.
Rank Tracker: Monitor rankings for unlimited keywords and products with precision.
Rank checker: Keep track of any products and keywords in real-time.
What I Don't Like About Zoof?
No inventory management feature
The 14-day free trial requires a credit card and it will automatically activate the subscription after the 14 days elapse.
Bottom line: Zoof is a suitable product research tool for SEOs, Amazon sellers, and ecommerce entrepreneurs.
Price: Zoof pricing plans start at $49 per month.
Final Thoughts
Are you considering starting an Amazon business and want a suitable product research solution? Or are you considering testing out a tool before investing in it?
If so then try Helium 10 and SellerApp. You can also do product research while on the go with SellerApp using the Android app.
If you're looking for something simple, affordable, and easy to use, start with AMZScout. The platform has a ton of training videos to guide you on how to use the tool for efficient product research.
If you're looking for a tool you can use for product research and sourcing then try Viral Launch, AMZScout, and ZonGuru.
Note: Even though these tools are powerful, none of them is going to find you winning products and niches without putting in the work and effort.
You may also have to start with the free trial before upgrading to the premium version to see whether the tool can help meet your product research needs.
Good luck!