The competition on eBay for online sellers is insane.
Statistics don't lie:
There are approximately 7 billion active listings on eBay.
The marketplace has approximately 17 million active sellers and closes to 147 million buyers from around the world.
Over 109 million unique people visit the marketplace each month.
Undeniably, eBay is one of the most popular online marketplaces for sellers to promote and sell their goods.
But there is a challenge.
Launching an eBay business is one thing- knowing what to sell and make money is another. To be successful on eBay, you really need to stand out from the crowd by choosing products that people are actually searching for. You need to search for products in high demand that aren't flooded with competition.
That's where product research and analysis come in. Essentially, there are two ways you can discover winning products to sell on eBay: Manually or with an eBay product research tool.
Even though searching for products manually saves time, it can be a hectic, tiresome, time-consuming, and ineffective task.
With an eBay product research tool, you can search through millions of products in minutes and discover profitable products with huge profit margins.
In this article, I'm going to review the 6 best eBay product research tools that can help you acquire a wealth of knowledge about the most popular products and new ideas to create winning listings.
What Are The Best eBay Product Research Tools?
Here is an overview of the best tools for eBay product research:
Zik Analytics:- Cutting Edge eBay Product Market Research Software to Find Products With High Demand and Low Competition
Algopix:- A Revolutionary End-to-End Product Market Analysis Platform for eBay, Amazon, and Walmart Sellers
ShelfTrend: – Cloud-Based Fully Featured Online Marketplace Software to Benchmark Competitors and Identify Opportunities.
MarkSight:- Complete Suite of Free and Paid eBay Research and Analytics Tools
Terapeak: – An Exclusive eBay Marketing Research Solution to Analyze Competitors and Products Performances Across eBay.
Megasaleboot: – Ultimate Dropshipping Bot to Find Winning Products for Dropshipping on eBay.
6 Best eBay Product Research Solutions
Below, I take an in-depth look into each platform for eBay product research to help you determine a suitable solution for your business.
1. Zik Analytics
Discovering the right products, optimizing your listings, and ranking your products higher than your competitors on eBay is not a joke.
Zik Analytics offers you fast, accurate, and actionable eBay product research.
What is Zik Analytics?
Zik Analytics is a leading e-commerce market product research software designed for eBay users to collect key insights on profitable items, discover opportunities, analyze products and competitors, quickly list and rank products to succeed on eBay.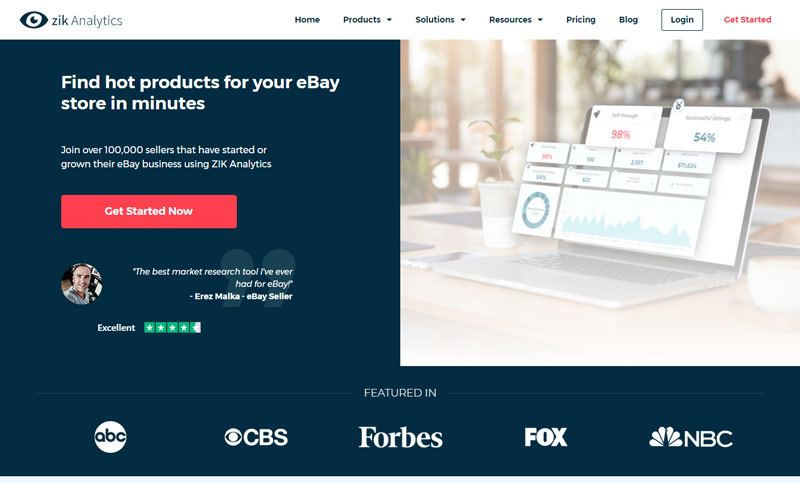 The software consists of a suite of tools that are designed to remove guesswork and research products that have huge profit margins.
If you're looking for a complete solution to find products with high demand and low competition on eBay then try Zik Analytics.
The software has a user-friendly interface with all the tools in one place. The good news is that all tools are automated so you can discover hot products in minutes.
Besides, product research is backed by sales data so you don't have to worry about finding products that are likely to sell.
Aside from that, you will also discover hot niches, and selling trends, analyze competitors' best-ranking listings, and copy their strategies.
Zik Analytics Best Features
Here are the top features of the software that allow eBay sellers to discover and sell winning items on the marketplace.
Competitor research tool: – This tool allows you to discover your competitors, the performance of their listings, their sell-through rates, active listings, sales earnings, etc.
Wholesale supplier database: – Diversify your store and stock more unique items by sourcing hot products from multiple verified private suppliers.
eBay Market Research Tools:- Analyze competitors to find profitable products, and ideas, discover hot item categories and rank your listings higher than theirs.
Zik Funnel:- Create high-converting sales funnels in minutes, drive traffic via Google, Facebook ads, email, and other methods, skyrocket your eBay sales and grow your store.
What I Don't Like About The Software
Data can be inaccurate sometimes.
There are soo many tools some that you might not need.
Pricing: Zik Analytics pricing starts at $29.99.
2. AlgoPix
AlgoPix is yet another product research system for eBay sellers looking to discover amazing items to make more sales and grow their online stores.
What is AlgoPix?
AlgoPix is a product market research and analysis software that provides real-time actionable product research insights for 17 global marketplaces including eBay, Amazon, Walmart, and many more.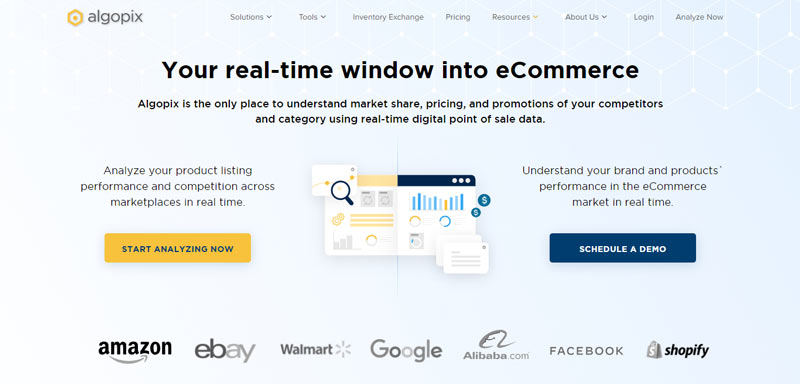 With the software, you can research individual products or in bulk, and understand market share, pricing, and competitors' marketing strategies using real-time digital point of sale data.
What's more, with this tool, you can conduct category research, store analysis, bestseller research, keyword research, etc.
To discover new product ideas, you just need to enter any keyword on the tool and the software will populate a list of current hot selling products on eBay.
You can further analyze each product to see in-depth sales data like estimated profit, competition, estimated demand, and more.
AlgoPix Best Features
Let's explore some of the useful features of the software:
Predictive analytics: – Foresee the demand for items by analyzing historical sales data and the latest trends to determine how profitable the items will be in the foreseeable future. The good thing about foreseeing the future demand for items is that you can adjust your prices accordingly.
Competition analysis: – The software enables you to analyze the competition, compare the performance of your competitors versus yours, and conduct some price benchmarking, to determine how to price your items accordingly. Knowing what products sell better helps you find ways of boosting traffic to your store.
Demand level calculation: – Determine the demand level of a product(s) by calculating the level through analyzing monthly data like eBay monthly sales, Amazon rankings, or Google searches.
Price comparison:- Know from who or where to buy items by comparing prices across multiple marketplaces.
What I Don't Like About AlgoPix
Even though AlgoPix allows you to collect real-time product data, it doesn't provide historical data of the researched products.
Price: Algopix has a free and unlimited premium plan starting at $27.99 per month billed annually.
3. ShelfTrend
Most product research tools come with a price tag. What if you want to try a tool before investing money in it?
That's where you need a tool with a free and paid version like ShelfTrend.
What is ShelfTrend?
ShelfTrend is an eBay analytics and product research tool that delivers real-time data about the eBay marketplace to help you know what products to sell, how to price them, analyze the competition, and more.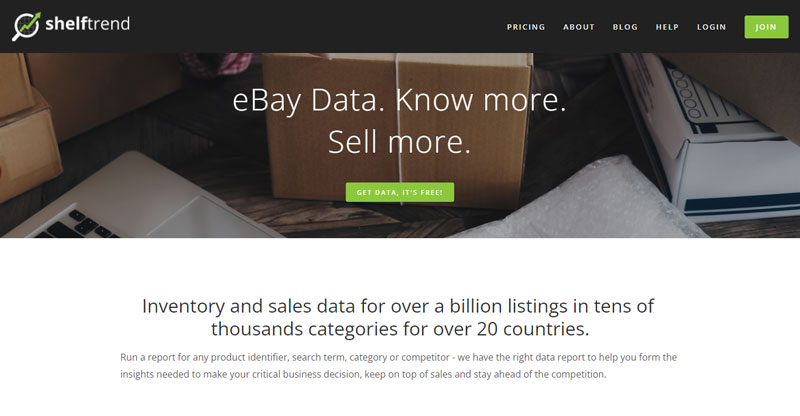 With ShelfTrend, you can:
Discover untapped niches with proven sales.
Identify best-selling listings by researching categories, bestsellers, and keywords.
Learn more about your competitors and their marketing strategies.
Compare your business against others of the same category.
Keep track of your eBay search rank.
Discover your competitors' and top-ranked listings pricing strategy.
ShelfTrend Best Features
Here are the top features of the software:
Monitor competition: – Research your competitors, monitor their listing levels and watch their price changes and their best rankings within a given period.
Analyze marketplace movements:- Watch changes to the top 500 listings, discover emerging competitors and new products, determine sales, and gauge shifting buyer demand.
Benchmark your business:- Compare your business standing against others selling similar products. Uncover opportunities in eBay rank, decrease in listing levels, etc.
Analytical tools: – Get fast insights using interactive smart charts.
Monitor crucial business metrics:- Watch vital data trends such as inventory levels, sales, prices, and best match rank against yours over time so you can make an informed decision.
Real-time overviews of vital stats:- Get real-time summaries of search rank, price ranges, listing volume, and other important stats.
What I Don't Like About ShelfTrend
The interface isn't as straightforward as other eBay product research tools I have covered in this guide.
Price: ShelfTrend offers a free and premium plan starting at $19.99 per month.
4. MarkSight
When it comes to product research, having a complete suite of tools can not only help you to discover profitable products to sell on eBay but you can collect a wealth of information that could help you stand out from the crowd and grow your eBay business.
What is MarkSight?
MarkSight is an amazing eBay product research system that helps you research sold items, and uncover keyword statistics as well as eBay analytics.
The tool provides you with key stats including the average price, title keywords, categories, sell-throughs, and more to help you create winning listings to increase profits on eBay.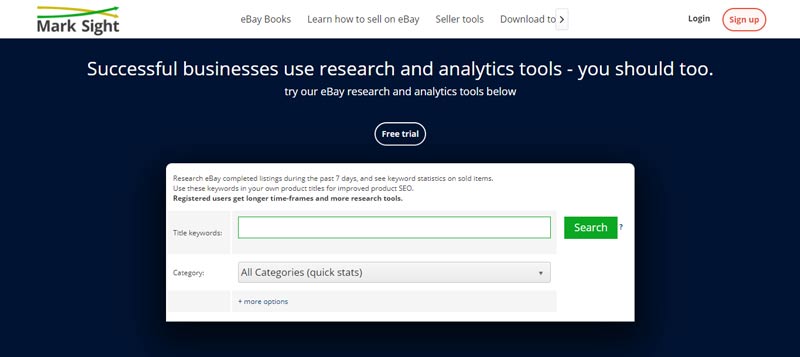 What's great about this tool is that you also learn how to sell on eBay.
Besides, the software comes with a suite of free and paid tools to enable you to get as much needed information as possible about certain products before you decide to add them to your listings.
The software is also easy to use.
To start researching products, you simply enter any keyword into the free tool and the software will display results including sold versus unsold statistics, sell-through rates, average price, etc.
The software also has a free calculator so you can calculate your profits based on eBay, Shipping, and PayPal fees.
MarkSight Best Features
Here is a sneak peek of the top features of the tool:
Analytical tools: – Discover sell-through data, price trends, and useful keywords for products that actually sold on eBay.
Best-selling items:- Discover tens of thousands of top-selling items on eBay with the software's Gold subscription plan.
eBay title keyword research:- Discover quality keywords you can use to optimize your listings to boost SEO and increase sales.
Free eBay template:- A responsive free eBay template to use for your eBay listing description. You can use the template as it is or adjust it as you wish.
What I Don't Like About MarkSight
The eBay fee calculator is sometimes inaccurate.
The pricing plan can be confusing.
Price: MarkSight is free to use but you can purchase the Market Reader tool for $12.95.
5. Terapeak
There are product research tools that can help you with data about winning products to sell on eBay then there is Terapeak.
What is Terapeak?
Terapeak is a powerful market research and analytical tool that provides amazing insights into trends and consumer demand in ecommerce marketplaces to help eBay and Amazon sellers know what to sell next and create successful listings.
The software also helps you make data-driven decisions about items to sell to stay ahead of the competition.
As if that's not all, you also gain insights into competitors' activities and marketing strategies to improve your own listings on eBay.
The software uses the latest eBay pricing, supply, and demand data to help you discover winning products to sell, when to sell and how to price them.
With the software, you can research the latest marketplace price trends and real-world sales data for millions of products to optimize your listings on eBay and improve your sales.
Terapeak Best Features
Here is what you get when you use this tool:
Listing optimization:- Research the top-performing listings to learn how to optimize your own on eBay.
Retail standard optimization:- Boost your retail standards to match the competition by analyzing the top performing listings in detail.
Market research:- Analyze trends in sales volumes, product availability, and prices over time and plan your inventory as well as pricing structure.
What I Don't Like About Terapeak
The software offers fewer features than other tools reviewed in this article.
It lacks precision with some items.
Price: Terapeak pricing plans start at $12 per month.
6. Megasaleboot
Are you looking to find winning products easily for your eBay or Shopify store?
If so then Megasaleboot is your tool.
What is Megasaleboot?
Due to eBay's recent crackdown on dropshippers, succeeding on eBay as a dropshipper can be tricky.
However, it's possible to run a successful dropshipping business on eBay thanks to tools like Megasaleboot.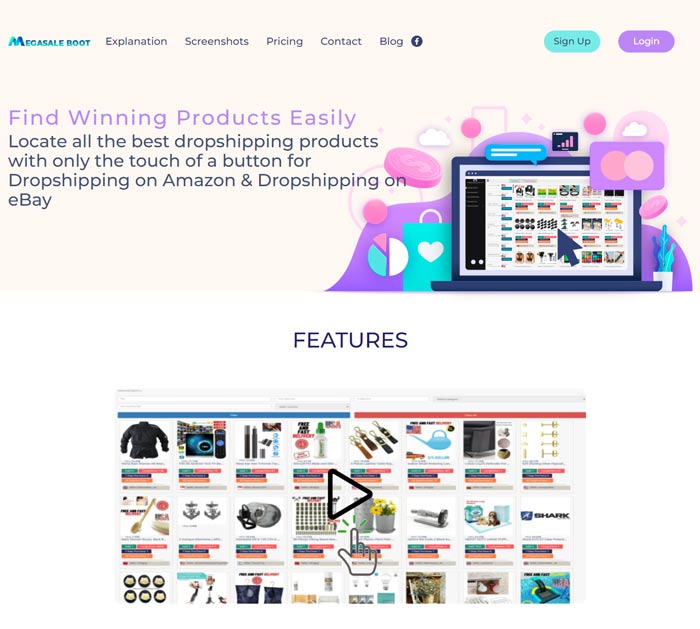 Generally, Megasaleboot is a powerful dropshipping bot that allows you to find winning products for eBay, Amazon, and AliExpress dropshipping.
You can also discover hot selling products in wholesale and find dropshipping suppliers from other sites like CJDropshipping, ChinaBrands, and more with the software.
The good news is that uploading the products you discover to your eBay store is a breeze. Plus the order fulfillment feature lets you fulfill orders placed on eBay automatically from AliExpress.
Megasaleboot Best Features
A few amazing features of the software include:
Products matched from eBay to AliExpress:- The eBay vs. AliExpress product matching feature allows you to get the best pricing on top sellers on the two marketplaces.
Products matched from eBay to Amazon:- The eBay vs. Amazon product matching enables you to get the best pricing on top sellers on the two marketplaces.
eBay best selling items:- Discover eBay's best selling See the number of sold items in the last 7, 30, and more days.
AliExpress product search:- The software searches through heaps of products on AliExpress to help you uncover trending quality products in seconds.
Lists of Shopify stores:- Research other Shopify stores, see what's hot-selling, check whether the products can be dropshipped, view their ratings, etc.
What I Don't Like About Megasaleboot
The software has a steep learning curve.
Price: Megasaleboot pricing plans start at $9.99 per month.
Conclusion
Undeniably, Zik Analytics is the best product solution of all that I have reviewed in this article.
Even though it comes with a hefty price tag, its suite of tools makes it recommendable for unmatched product research and analysis.
You can also use MarkSight free plans, although you will get limited features.
If you intend to compare prices between the three largest online marketplaces (Amazon, eBay, and AliExpress) then Megasaleboot would be the best option for you.