Are you looking for the best forensic email analysis software? If so then you have landed on the right page.
Email remains one of the most effective communication and marketing channels.
Statistics suggest that:
Over 4 billion daily
64% of small businesses use email to reach customers.
Over 347 billion emails are sent every day.
59% of B2B marketers say email is the most effective channel for generating revenue.
The increased usage of email by individuals, business owners, and professionals causes a big challenge for email forensic investigators who are tasked with the collection of evidence from multiple custodians.
That's why email forensic tools were invented.
In this article, I'm going to review the top 4 best email forensic tools for email search and analysis as well as archive activities.
So without further ado, let's get started.
What is Email Forensics?
Email forensic is the investigation/analysis of the source and the message contained in an email to identify the sender, recipient, the date the email was sent, and more to gather credible evidence that can be used to bring fraudsters to justice.
The investigation involves metadata analysis, port scanning, keyword searching, etc.
Why Need Email Forensic Tools
The increased use of internet usage worldwide has increased reliance on email as a primary medium of communication for professionals and business owners.
Attackers are aware of this and are working day and night to use email for fraudulent activities. Identifying these attackers can be challenging. That's where email forensics software.
These are innovative solutions that help forensic investigators discover hidden details in emails to identify malicious activities done via email.
What is the Best Email Forensic Analysis Software?
Here is an overview of the best tools for conducting email forensic analysis:
Xtraxtor: – Best All-In-One Email Forensic Software
MailExaminer: Innovative Email Examiner Software For Faster, Better, and Smoother Email Analysis.
Advik: Advanced Email Investigation Software for Cyber Forensics Experts to Analyze Email With 100% Accuracy.
Aid4Mail: Fast, Accurate, and User-Friendly Email Forensics Software Solution.
Top 4 Best Email Forensics Tools
Here is an in-depth look into each email forensics software solution. Not that, all tools come with different features and abilities so choose one that's suitable for your kind of work.
Opening our list of the best forensics email investigation tools is Xtraxtor. If you're looking for a tool that can help you extract, convert, migrate, and backup emails for desktop or web users as well as email servers and files then look no further than this one.
What is Xtraxtor?
Xtraxtor is a great email forensics analysis software that helps with the extraction of email addresses, messages, and telephone numbers from all types of email files.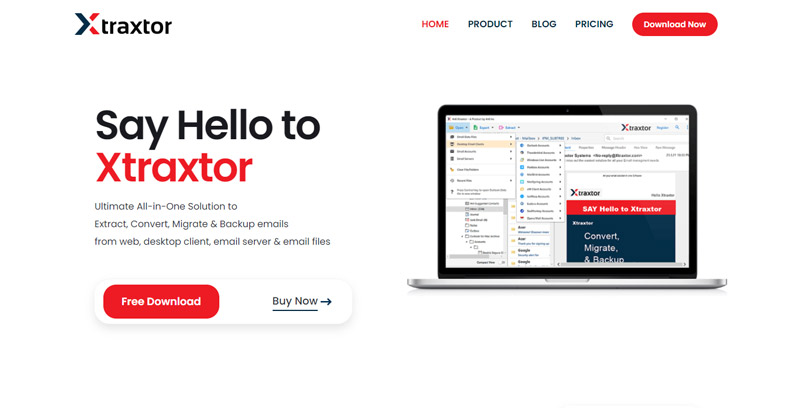 The software is designed with technical and non-technical users in mind.
The greatest thing about this tool is that it comes with a simple user-friendly interface for faster and more accurate email conversion, migration, and backup.
It's also supported by all versions of the Windows operating system. With the software, you can migrate Outlook emails to Gmail and other cloud-based email accounts.
Xtraxtor Features
Here are a few noteworthy features of the software:
Data extractor: The software can help you extract data including attachments, phone numbers, etc. from emails, webmail, or archives with ease.
File converters: Aside from email extraction, the tool can help you with email conversion into multiple email files. Currently, the conversion wizard supports over 10 file formats.
Advanced search option: The software comes with a handy search feature that lets you load files into the panel so you don't have to add files manually.
Free email viewer: This feature scans and generate a thorough preview of the data in the files and folders before the conversion process so you can determine the authenticity of the emails before making any modifications.
Preserves metadata: This feature helps to preserve all meta properties of emails including to, cc, bcc, date, email subject, during the conversion to help you get highly accurate results. The tool also preserves the email attachment files appropriately without losing anything.
Unlimited conversion: This feature lets you export or converts a large number of files. With the software, you can convert any number of files in minutes. This makes it ideal for small and large organizations.
Simple graphical interface: This makes the software ideal for technical and non-technical users.
Maintain folder hierarchy: After extraction and conversion, most of the tools don't maintain the order of the folders and subfolders. With Xtraxtor, the folder hierarchy is preserved after the conversion process.
Price: Pricing plans start at $99 for a single license that can be used in up to 10 machines.
2. MailXaminer
MailXaminer is the solution for professionals working in government organizations, academic institutions, and law enforcement.
What is MailXaminer?
MailXaminer is a fully-featured and user-friendly solution to analyze emails for fast and accurate email examination. With the software, you can get compact, lawful reports approved by courts.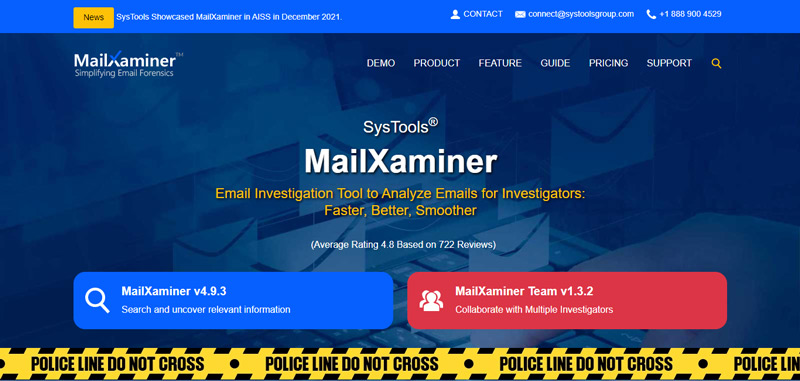 The software comes with advanced features to help you acquire, recover, analyze and report comprehensively.
What's more, the email analysis solution supports a ton of mailboxes including Mozilla Thunderbird, Mac Outlook, IncrediMail, Microsoft Outlook, etc.
As if that's not all, the software comes with advanced search filters that let you carry out accurate forensic email searches with ease. Aside from that, you can recover mail evidence, analyze emails, manage case studies, export mail items into multiple file types, and more.
MailXaminer Features
Here are the useful features that make MailXaminer a 100% reliable email analysis solution:
Calendar data analysis: MailXaminer lets you analyze calendar data items like Calendar Sent and Receive Date, Calendar Recipients, etc from multiple file formats with the powerful algorithm.
Search with various subsets: The software enables you to search data within emails using multiple subsets with options like From, To, Sent, Size, Subject, etc.
Sort and filter data: After importing the email files to the software panel, the software lets you sort and filter data in ascending or descending order based on attributes such as size, file name, custodian, etc.
Multiple file formats support: The software supports email data files from web-based and desktop-based email applications. The tool supports over 20 email file types and can help with bulk email data file import using CSV files.
Email tagging: When examining mountains of emails, it can be hectic to identify emails that are pertinent to the investigation. MailXaminer lets you tag emails based on their importance or need.
Team collaboration: With the software, many forensics examiners can work on the same case simultaneously to increase the efficiency of the investigation process.
Price: MailXaminer has a free plan but you can upgrade to the premium plan and get a single user license at a $1999 yearly subscription.
3. Advik
Advik is yet another advanced solution for email forensics analysis with a ton of powerful features to provide efficient email investigation.
What is Advik?
Advik is an advanced email forensics investigation software for Cyber Forensics experts to capture data and analyze emails.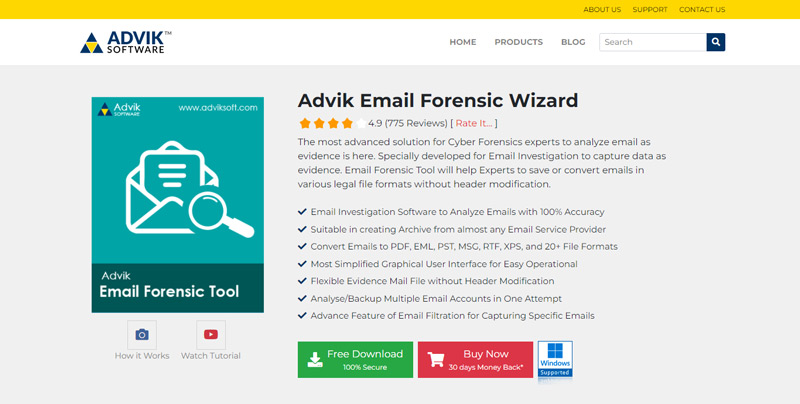 With this tool, forensics experts can save or convert emails in multiple legal file formats without modifying the header.
The most amazing thing is that the tool can help you create Archives from all types of email service providers.
You can also convert emails to over 20 file formats. Another awesome thing about the software is the user-friendly interface that facilitates easy email analysis.
Advik Email Investigation Software Advanced Features
Let's take a look at the noteworthy features of the software:
Supportive email sources: The software allows forensics experts to capture and download emails from all kinds of email service providers including GMX Mail, Yahoo Mail, Zoho Mail, Gmail, Office 365, and more.
Email conversion: The tool enables you to save emails in various legal document file formats including DOC, PDF, CSV, HTML, etc.
Backup complete mailboxes: The software can also help to download mails and back them up to several desktop clients such as Windows Live Mail, Thunderbird, etc.
Forensic email header analysis: The email header provides an overview of the email thus the software preserves it as it is to allow Cyber forensics experts to investigate emails without leaving any bit of information behind.
Email filtration: The advanced email filter option enables the software to save specific emails by applying filters such as Date Range, Sender Details, etc.
Support Windows operating system: The software is supported by all versions of Windows OS so you can use it with Windows XP, 10, Server 2000, etc. The best part is that there is a tool that can help you determine whether your Windows OS is compatible with the software before purchasing it.
Standalone solution: Unlike other software applications that require you to install external applications to create an archive, Advik is a standalone tool.
Price: Advik pricing plans start at a $99 one-time payment.
4. Aid4Mail
If you're looking for a fast, accurate, and easy-to-use email forensic software then Aid4Mail is for you.
What is Aid4Mail?
Aid4Mail is a powerful email forensic software that can help you perform multiple tasks such as email discovery, email analysis, email migration, email data mining & extraction, email archiving, conversion to various formats, etc.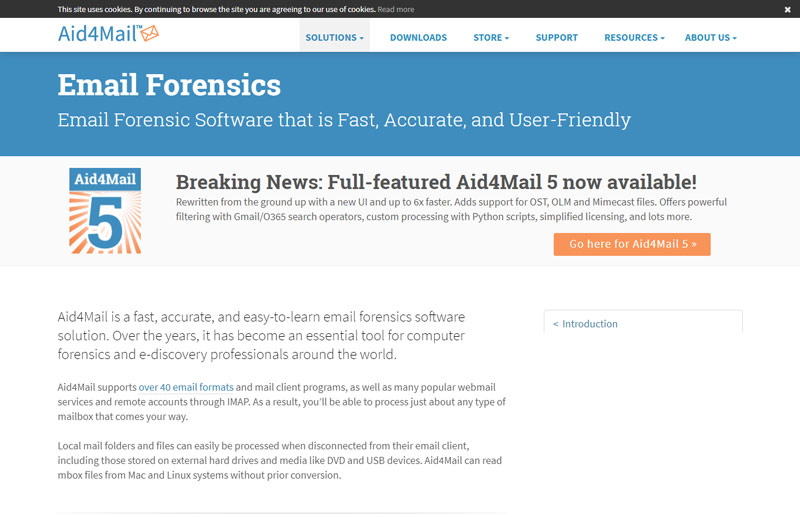 If you want to use the software to migrate email accounts fast and reliably then you will love Aid4Mail for Windows.
This tool is easy-to-use and is suitable for computer forensics and e-discovery experts. It also supports 40+ email formats and mail client applications. That means that you can use it to analyze any type of mailbox.
With Aid4Mail, you get dependable and accurate results you cannot get with any other software out there.
As mentioned above, the software is easy to use for both technical and non-technical users. The fast email analyzing engine and de-duping feature save time.
Aid4Mail Features
Here are the powerful features that set the tool aside from others out there.
Email e-discovery: Aid4Mail is fast, accurate, and easy-to-use e-discovery software for legal investigations and compliance.
Large-scale migration: With the software, you can perform large-scale email migration without losing any single data.
Email migration: Even though migrating your emails from one system to another may sound simple, it can be a time-consuming and hectic task. Aid4Mail uses three migration methods to simplify the whole process.
Email conversion: Convert emails between different file formats such as CSV file, PDF, DBX, XML, and more without a problem.
Email archiving: Through email archiving, the software keeps your data secure from hackers.
Price: Aid4Mail pricing plans start at $299 for a yearly subscription.
Final Thoughts
What's the best email forensic software solution?
Different email forensic solutions help with different tasks and can be used in different places.
All the tools mentioned above can help you with various tasks such as email header forensic analysis, email search, email investigation, instant mailbox archives, etc.
While both of these tools are powerful and effective, I find Xtraxtor the best and most reliable email forensic solution of all.
The software is not only easy to use but comes with a ton of advanced features that speed up email investigation while producing accurate results.