Are you wondering how to create custom links with Bitly?
If so then you have come to the right place.
In this step-by-step guide, I'm going to walk you through every step on how to create a custom URL with Bitly for free.
The best thing about custom links is that they are easy to remember and are brandable thus they can help you to improve your brand recognition and set you apart from the crowd.
What Is Bitly?
Bitly is a user-friendly and free link shortener that helps to shorten any long link into a shorter, memorable, and readable link.
The platform can also help you track click information on your links although you will need to upgrade to the premium version to use this feature.
The Importance of Using Customized Short Links
Looking at the most popular website like Facebook, Google, The New York Times, and many others, you will notice that they use branded short URLs on their social media pages.
This way, they strengthen their brand recognition among their users. Customized short links are also easy to share with your audience on social media.
That said, here is a step by step process on how to create customized Bitly links for free:
How to Create Your Custom Bit.ly Links for Free
Step 1: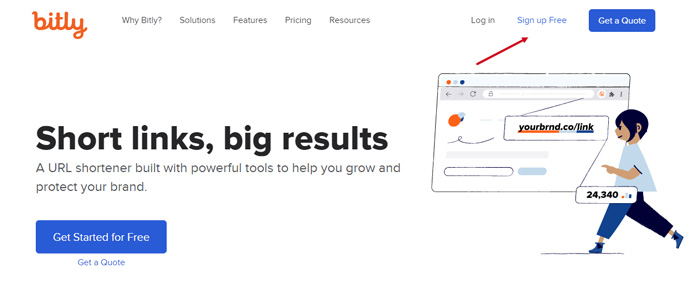 Head over to bitly.com and click on the Sign Up Free at the top right-hand side corner. You can also click Login if you already have an account.
You will be taken to the signup section where you enter your Username, Email address, and Password.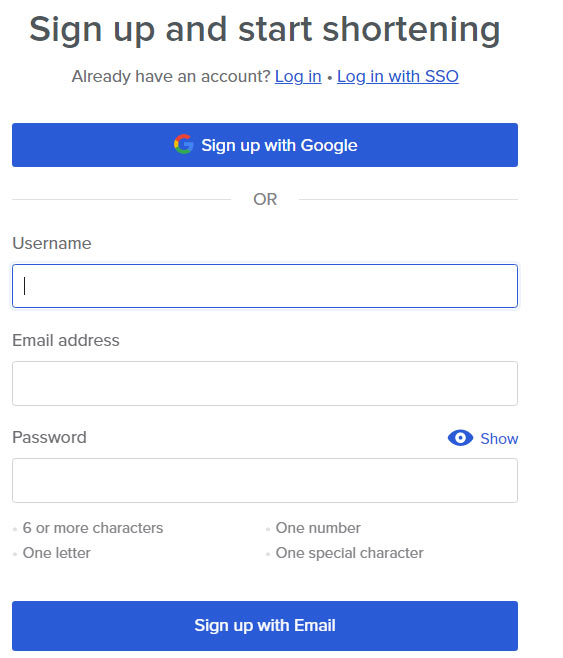 You can also sign up with your Google account or login with SSO.
Step 2:
Once you have created your account and logged in, you will see this dashboard: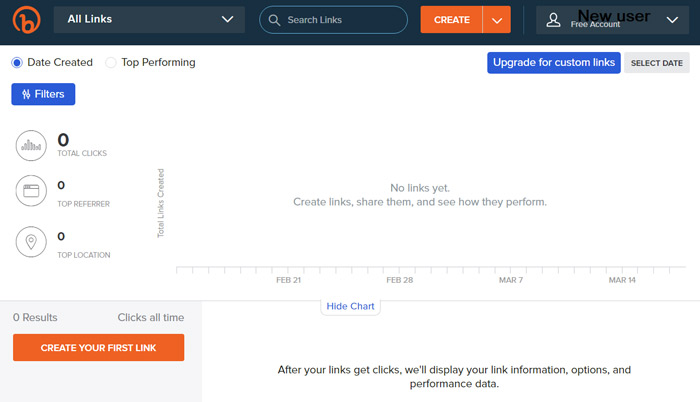 Click on the CREATE YOUR FIRST LINK button at the bottom left-hand side corner or point your mouse at the CREATE button at the top right-hand side and click on LINK.
Step 3: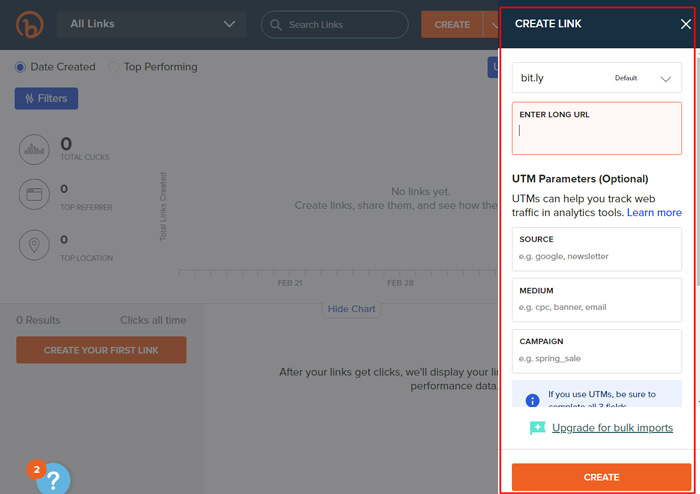 Enter the URL to be shortened at the right-hand side in the displayed box and click on the CREATE button at the bottom of the box.
You will be taken to the next box for editing your link.
Step 4:
This is optional. Enter the name of the link created and adjust the back half. This is the last section at the right-hand side of your URL after the / symbol. You can use lowercase, uppercase, characters, and numbers to adjust the back-half.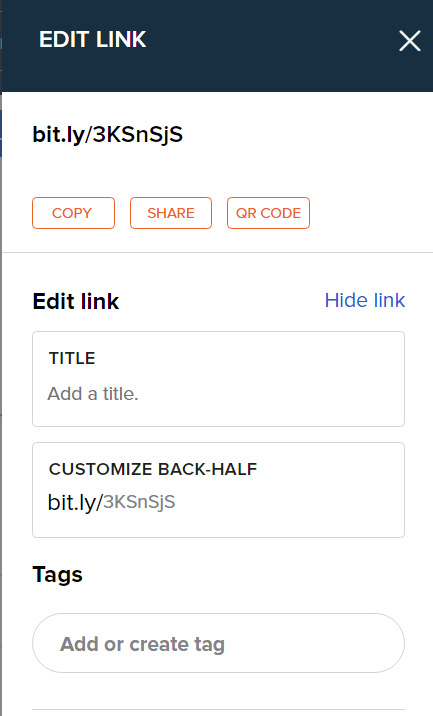 Step 5:
Click SAVE to use the link later COPY to use the link somewhere else or SHARE it to your social media platforms.
When you go back to your Bitly account dashboard, you will see the performance of the link(s) you have created in the Link Management section.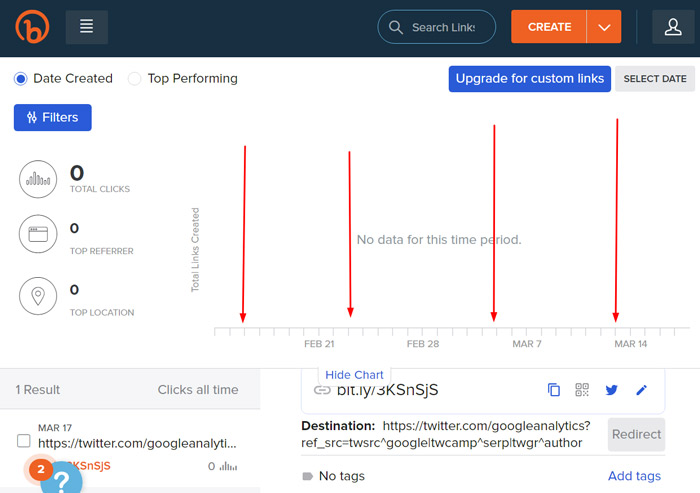 Bitly Alternative
As you will notice when creating your custom Bitly links, even though the tool has a great free option there are a lot of limitations to what you can do to the links.
For instance, you can only connect to one domain. The link shortening service also lacks a feature for changing the destination URL. Besides, there is no option to select a custom keyword when adjusting the back-half. Another downside with Bitly is that you cannot make your links private.
That's where Rebrandly comes in.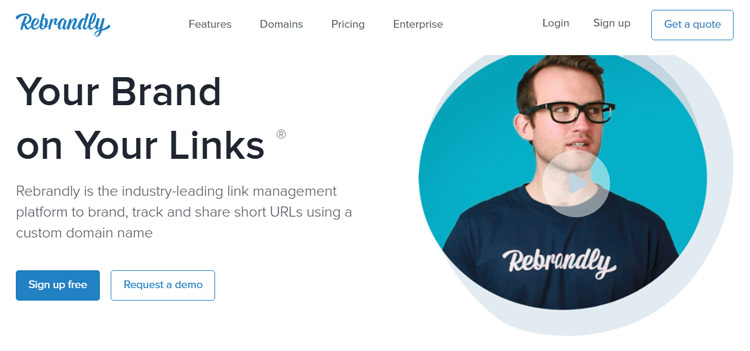 Rebrandly is an innovative URL shortener and link management service for shortening, branding, tracking, and sharing short URLs with custom domains.
While you cannot change the destination of the URL you created with Bitly, Rebrandly allows you to easily and instantly edit it.
With Bitly's premium plan, you cannot connect more than one custom domain. On the other hand, Rebrandly's free plan allows you to connect up to 5 custom domains.
Another drawback with Bitly is that the shortened URLs you create aren't kept private. That means that your competitor can spy on the performance of your links. On the other hand, Rebrandly links are confidential. Once you create links, no one else can monitor their performance but yourself.
Bitly also doesn't allow link customization. Rebrandly lets you connect your own domain, create, and customize slashtag.
And that's not all. There are more powerful features on Rebrandly than on Bitly which makes the platform a great alternative for users of all kinds.
Click Here to start creating customizable links with Rebrandly's free plan.