Are you looking for the best solo ads provider, vendor, and agency that guarantees targeted quality email traffic? If so, then you have come to the right page.
Solo ads are one of the best affordable traffic sources but you must ensure you're purchasing them from a trusted and reliable provider.
In this guide, I'm going to review the top solo ads providers, vendors, and agencies that sell quality targeted traffic clicks.
But before that, let's understand a few things.
What Are Solo Ads?
Solo ads are a type of advertisement done via email. These are dedicated emails sent to other people's niche email lists to promote an affiliate product or offer.
Solo ads are a popular advertisement strategy for affiliates and information marketers.
Unlike traditional Pay Per Click advertising where you need to set up everything by yourself.
While you also have to wait for the ad network you're using to approve your ad campaigns, with solo advertising, all you need to do is to find a reputable solo ads seller in your niche and then purchase your desired amount of email traffic clicks for a set cost per click.
To get started with solo advertising, you need to sign up on a trusted marketplace like Udimi, choose a reliable solo ads seller, and purchase email clicks.
What Type Of Offers Work Best in Solo Ads?
As stated above, solo ads are targeted email traffic clicks generated from the email list of another person. For some offers, solo ads work great but for some, this type of advertising won't be suitable.
Here are some of the offers that work best with solo ads:
Make Money online offers.
Webinar software.
MLM offers.
Business opportunities.
Internet marketing products.
Cryptocurrency offers.
Digital products for web design, SEO, paid social agencies, etc.
Weight loss.
Stocks, binary, forex offers.
Email marketing offers.
Dating
Video marketing programs.
ClickFunnels.
Work from home offers.
Entrepreneurship offers.
Personal development offers.
ClickBank affiliate offers.
And more.
Typically, offers that have instant gratification perform quite well with solo ads.
What is a Solo Ad Provider?
Solo ads providers are successful marketers or companies with huge email lists who sell email advertising to other people or companies.
Generally, these are professional internet marketers who have built high-converting email lists using different techniques to help business or product owners to advertise to targeted audiences via email or text message blasts.
Think of solo ads providers as business people who have attracted a loyal audience they can promote products to and generate great sales.
Usually, solo ads providers are more affordable than other forms of advertising.
Top List of Solo Ads Providers
In this section, I'm going to review different types of solo ads providers to help you make an informed decision.
Best Solo Ads Marketplace
Given the plethora of solo ads marketplaces out there, it can be difficult to know where to buy targeted high converting email traffic.
Here are the best marketplaces to buy targeted solo ads:
Supported Niches: Marketing, Business Opportunities, Finance, Crypto, Social, Mobile, Health, Make Money Online, Work from Home, Affiliate Marketing, Weight Loss, etc.
Price Per Click: $0.05 to $2
Available solo ads Sellers: 1,000+
Seller Traffic Source: Top Tier Countries including the UK, Canada, USA, Australia, and New Zealand.
Discount: $5 free credit
Even though there are many solo ads platforms out there, Udimi is pants down the best, largest, and most trusted solo ads marketplace for sellers and buyers. The marketplace is reputed for having top solo ads sellers in different niches.
The good thing about Udimi is that the platform uses a robust tracking system that protects buyers from buying fake clicks.
Besides, each solo ads seller on Udimi has reviews and ratings that can help you determine the quality of traffic you get from the seller. Plus you don't need any special skills to start using the platform.
All you need is to look for a trusted seller in your niche and order email traffic clicks.
Why Use Udimi?
Aside from the things I have mentioned above, there are many other reasons many people chose Udimi over other marketplaces.
Here are just a few reasons why I recommend this platform to every marketer or business owner:
Thousands of solo ads vendors with email traffic in different niches.
Real buyer reviews help you decide which solo ads providers to choose, plus you can filter sellers based on the traffic, niche, CPC, and other criteria.
Contact solo ads sellers via direct private messaging to find out more about their email list and offers that their subscribers are more likely to purchase.
Get your email copy and squeeze pages designed by professional solo ads sellers so you can get a higher opt-in rate.
Udimi protects both buyers and sellers from scammers and fraudulent activities.
Udimi Best Features
As one of the trusted and largest solo ads marketplace, Udimi offers a ton of amazing features that let you purchase highly targeted and warm email traffic.
Here are the features of the Udimi solo ads platform.
Opt-in tracking:

With Udimi's opt-in tracking system, you can monitor your solo ads campaigns without a problem. You can also use ClickMagick to keep track of every ad campaign you run on Udimi.
Advanced traffic filtering system:

Udimi's sophisticated traffic filtering system filters out bot traffic to ensure buyers get real email traffic clicks.
Ad texts:

Udimi allows you to host your ad texts and links so you can retrieve them easily at any time. You can also send your ad text to the seller when purchasing solo ads traffic to enable the seller to deliver targeted email traffic clicks.

Email list validator:

This feature enables you to analyze the quality of the email list a seller has to ensure you're buying quality email traffic.

Useful forum:

The Udimi forum enables people to interact and share ideas. For instance, if you aren't sure how to create the squeeze page, you can ask that question to get views and opinions from other buyers and sellers as well.
Best Solo Ads Sellers
The reality is that there are many solo ads vendors/sellers out there. However, not all offer quality traffic. Here are the top three solo ads vendors who are also the best Udimi alternatives.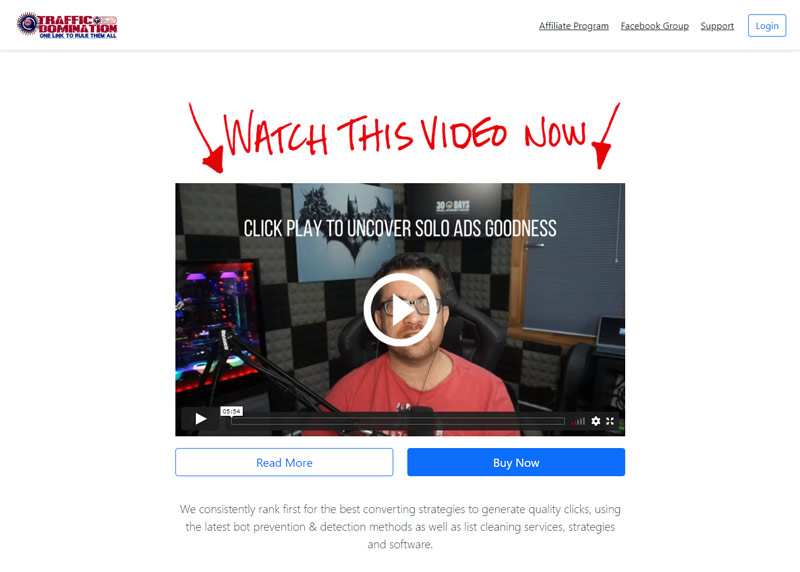 Wayne Crowe is also known as the Traffic Dominator and has been in the solo ads business for 11 years now so you rest assured to get quality solo ads traffic.
First off, Wayne Crowe is an expert in list building, marketing, and traffic generation.
Having been in the online marketing landscape for many years, this seller knows the importance of quality traffic when it comes to making money online that's why he guarantees quality traffic that generates sales.
He has also experimented with different strategies and knows what's effective and what's not.
That means that if you buy solo ads from this vendor, you rest assured to get more sales with highly engaged and warm traffic that will help you grow your business.
Aside from offering amazing traffic, Wayne also offers useful pieces of advice on how to make the most out of the email traffic you get.
Wayne offers highly targeted traffic in business opportunities and makes money online from Tier one countries including the UK, USA, Canada, New Zealand, and Australia.
The vendor also offers a training course to help you get great results with the solo ads you buy. Plus you can join the seller's Facebook group to interact with other people.
It's worth noting that Wayne only offers traffic in business opportunities and makes money online niches plus the seller's packages can be a bit pricey for beginners.
Pricing: Wayne's traffic package starts at $90 per 100 clicks ($0.90 per click)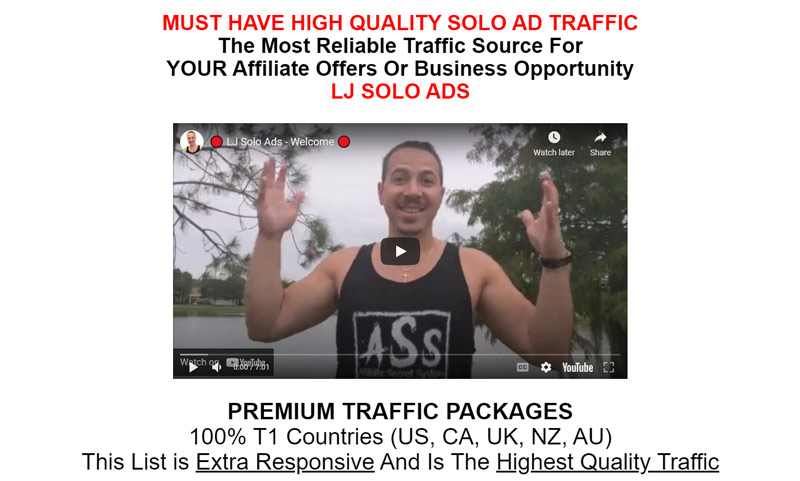 If you're looking for specialized targeted traffic that converts for your affiliate marketing and business opportunity offers then LJ has your back.
First off, LJ Aviles offers fresh and high-quality solo ads traffic that helps you generate quality leads, get more subscribers, and grow your business.
The vendor supplies email traffic from T1 countries including Australia, the USA, the UK, Canada, and New Zealand.
Whether you're in affiliate marketing, networking marketing, internet marketing, business opportunities, or make money online niches, LJ Aviles has your back.
You get traffic built through blogging, social media marketing, and paid advertising.
What's even great is that this seller will personally write the email swipe or solo copy for you so you don't have to worry about that.
Plus you get traffic within 24 to 72 hours although you can order quick traffic as well.
You also get exclusive bonuses when you order solo ads traffic from this seller including:
Free complimentary vacation stays for 7 nights that are valued at $1500.
Free eBook on how to craft high-converting email campaigns valued at $197.
Free access to the seller VIP coaching group valued at $97
Pricing: LJ Aviles supplies solo ads traffic in two different packages as below:
Premium Traffic Packages: From 100% T1 countries including the UK, USA, Australia, Canada, and New Zealand starting at $90 per 100 clicks($0.9 per click)
Value Traffic Packages: From 80% T1 countries including the USA, UK, Australia, Canada, and New Zealand starting at $70 per 100 clicks($0.7 per click)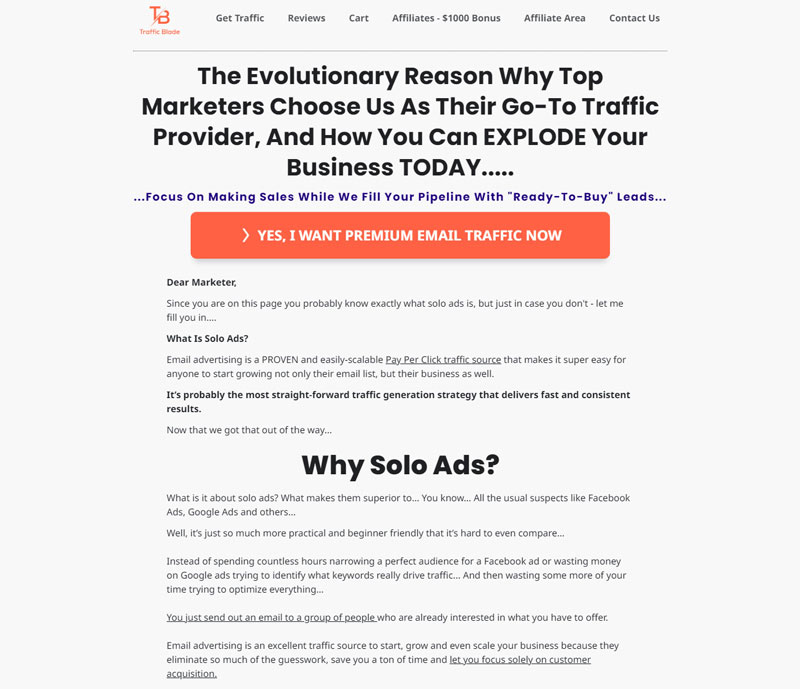 Traffic Blade is yet another top solo ads vendor and Udimi alternative that has built its email list using a wide range of strategies and techniques to guarantee better results.
Currently, Traffic Blade is the ultimate traffic provider for top marketers for various reasons.
First off, the vendor supplies the most responsive leads that fit your explicit needs.
The solo ads provider has also supplied to hundreds of clients which has enabled them to develop an explicit process to segment leads to provide you with the most responsive prospects that are 100% likely to purchase your offers.
The seller guarantees you that you will get conversions- and if not, you will get a refund of your money.
Plus you can order premium 85% or 100% Tier 1 traffic in the business opportunities and make money online niches based on your needs, requirements, and budget.
What's more, you get bonuses including a free 7-day email follow-up sequence and a review of your sales funnel.
What's more, the vendor will write an ad text, copy or email swipe for you for free.
The downside of this vendor is that you can only order traffic for business opportunities and make money online offers. The seller's packages are also high when compared to Udimi.
Pricing: Traffic Blade solo ads are available in two different packages as below:
Expert Marketer Packages start at $109 per 100 clicks ($1.09 per click)
Beginner Marketer Packages start at $99 per 100 clicks($0.99 per click)
Best Solo Ads Agency
If you have a website with multiple offers that you want to promote then finding a trusted solo ads agency would be the best idea for you.
A solo ads agency can send a single email with an offer to a large targeted group of people thus minimizing your cost of advertising.
You can also use a solo ads agency for any size of email campaign depending on the type of offers you have.
Below is a list of the top 5 solo ads agencies that guarantee 100% real clicks:
This solo ads agency promises to deliver 100% clean traffic in a smooth, fast, and easy process.
Let's find out more.
First off, Traffic For Me supplies traffic from English-speaking countries for health, personal development, financial, business opportunities, make money online, survival, etc.
Secondly, the agency employs effective precautions to ensure you get clean traffic that's free of bots.
The good news is that the solo ads agency works with a custom online traffic ordering system to deliver traffic on all devices including laptops, PCs, and smartphones.
You also get to choose from a variety of traffic packages depending on your needs and requirements. When getting started, you can use their starter package at a lower price.
Another thing that makes Traffic For Me a suitable traffic source for marketers is that they offer strong customer support as well as tips and recommendations.
One of the downsides with this agency is that you might be kept on a waiting list before you get your traffic since many people are ordering. This is where Udimi shines over this solo ads agency since the marketplace guarantees you traffic instantly or within 24 hours.
Another turn-off with this agency is the price. Their super-premium traffic package is a bit more costly than Udimi.
You also can't tell where the traffic is coming from.
Pricing: Pricing plans start at $0.79 per click.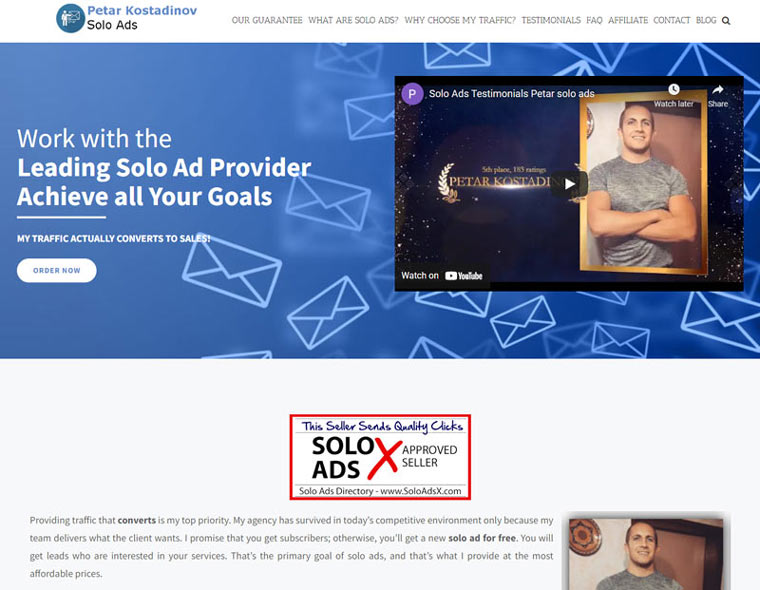 Every marketer who wants to achieve their marketing goals must find a reputable solo ads provider that delivers quality traffic from quality countries. If you're one of them, sign up with 7 Days Buyer.
They call themselves the leading solo ad providers on the market. How true could this be?
Let's dig deeper.
To begin with, the agency works with a competitive team that delivers quality traffic that converts. You get 95% T1 traffic from the UK, USA, AU, CA, and NZ.
You're also guaranteed to get subscribers or a new solo ad for free.
The coolest part about this agency is that the team chooses subscribers who are ready to convert. That means that you get traffic that's interested in what you offer because it will be sent to targeted leads that are looking to purchase.
And that's not just all, the agency ads between 300-1200 high-quality subscribers daily. You can imagine the number of new buyers your offers will be exposed to. You also get up to 20% bonuses. Order traffic and get it within 24 hours or less.
The downside about this agency is that you cannot tell the type of offers their traffic works with.
Pricing: 7DaysBuyer pricing plans start at $33 per 100 clicks ($0.33 per click)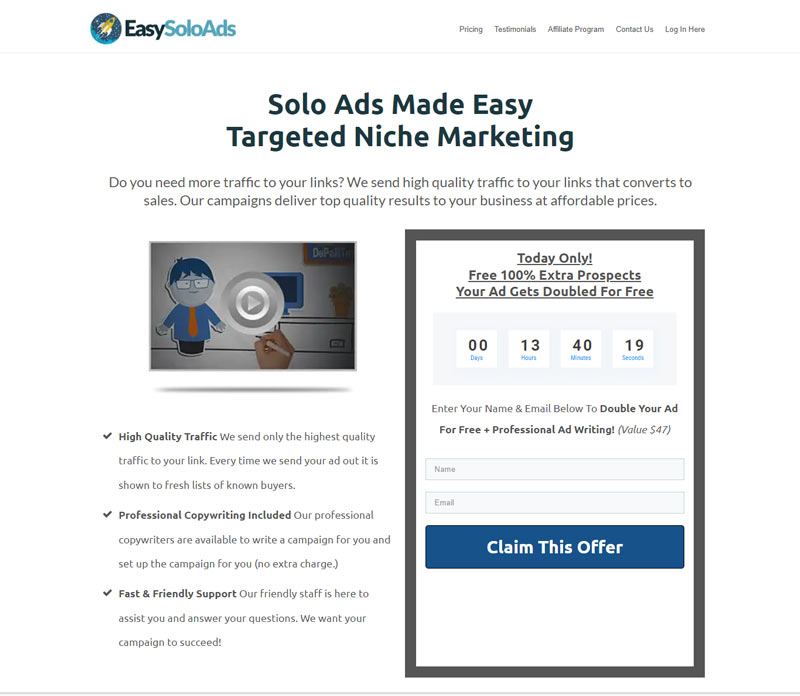 Do you want to get more targeted traffic to your links? Who doesn't?
Every marketer wants to drive quality traffic that converts to their products or services. And that's where Easy Solo Ads becomes useful.
The solo ads provider promises to send high-converting traffic to your links to help you generate more sales.
Not sure how to write eye-catchy ad copy?
Don't worry. The ad agency works with professional copywriters who can help you write a converting ad text and even set up the campaign for you at no extra charge.
Besides, you can use this agency to promote any kind of offers from internet marketing products, to weight loss, dating, insurance, business opportunities, work from home, crypto, self-improvement, and many other offers.
The agency also has a user-friendly interface that lets you set up your email campaign without a problem. All you need is to copy and paste your ad text into the system. You can also design your ad using the handy editor.
The agency also uses dozens of targeting options to get your ad in front of the most responsive audience.
Your ad text can also be shown to location-specific audiences. Plus you get real-time tracking statistics so you can keep track of your email campaign results.
Pricing: Easy Solo Ads pricing plans start at $27 per month per 4,000 unique visitors.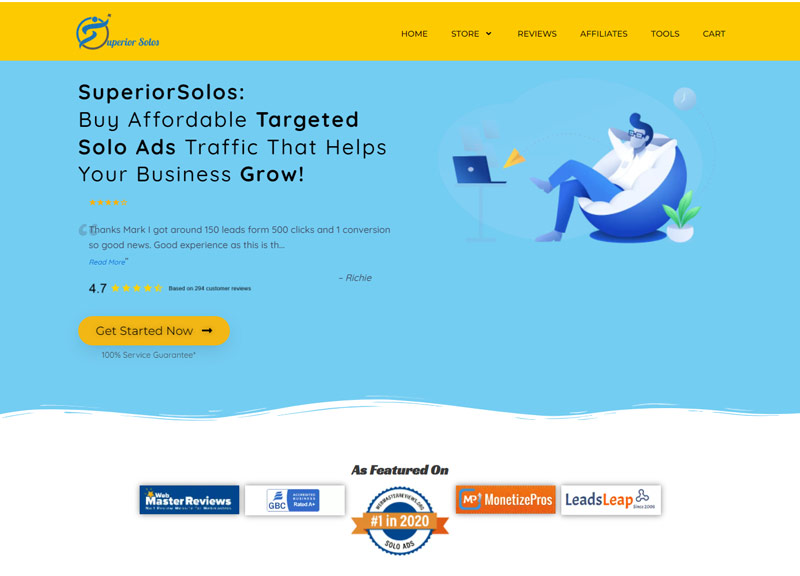 Superior Solos is a professional solo ads agency that was founded in 2014 by passionate professionals to help you grow your online business by offering you affordable targeted solo ads traffic you cannot get anywhere out there.
Currently, the agency offers email traffic for a range of offers such as crypto, health & diet, weight loss, make money online, business opportunities, and affiliate marketing.
Aside from solo ads traffic, the agency also offers DFY email lists for network marketing businesses, home-based businesses, direct marketing business opportunities, and work-from-home businesses.
Superior Solos offers a minimum of 90% top-tier traffic from Canada, New Zealand, the United States, and the United Kingdom. Buyers can also upgrade to 100% T1 traffic or location-specific traffic in the checkout.
The agency also offers amazing tools and programs to help you make money online.
Pricing: Superior Solos pricing plans start at $160 per 500 solo ad clicks ($0.32 per click)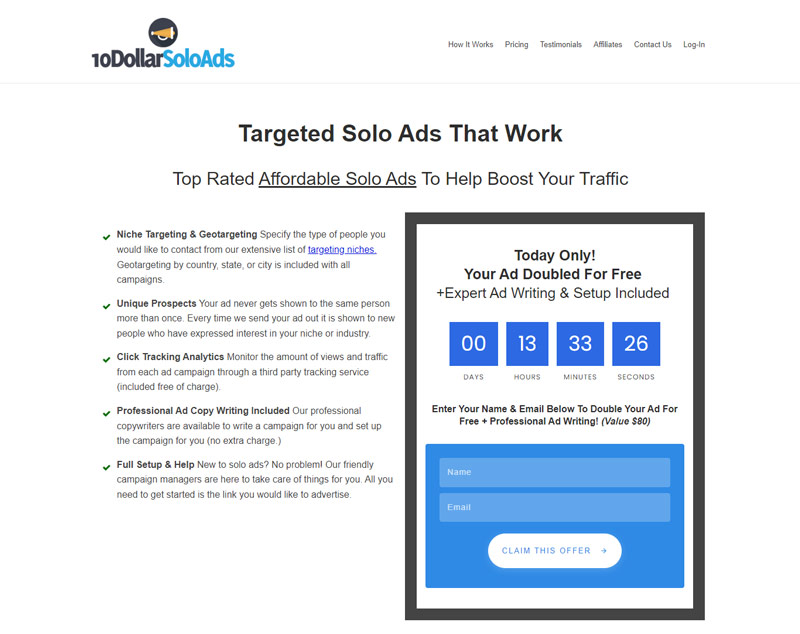 If you're looking for top-rated targeted solo ads that come at an affordable price then this agency is for you.
10 Dollar Solo Ads is an innovative targeted marketing system that gets your ad text in front of thousands of potential customers.
All you need to do is to enter your ad text and submit it and the system will take it from there. You can also request the agency to write one at no extra charge.
Driving potential customers to your website has never been easy.
Fortunately, 10 Dollar Solo Ads offers you highly responsive targeted solo ad campaigns that'll drive people who have shown interest in your offers to your website.
One of the greatest features that make this agency stand out from the rest is niche targeting and geo-targeting which enables you to specify the number of prospects you want to reach by country, city, or state.
Another amazing thing is that your ad campaign will be shown to new prospects. Plus you can keep track of the results of your ad campaigns using a third-party tracking service.
The downside with this agency is that you can't tell the type of traffic you get or the niches supported unlike other solo ads vendors and sellers I have reviewed in this guide.
Tools That Every Solo Ads Marketer Should Use
Here are the essential tools for solo ads buyers to help you make the most out of your email ad campaigns: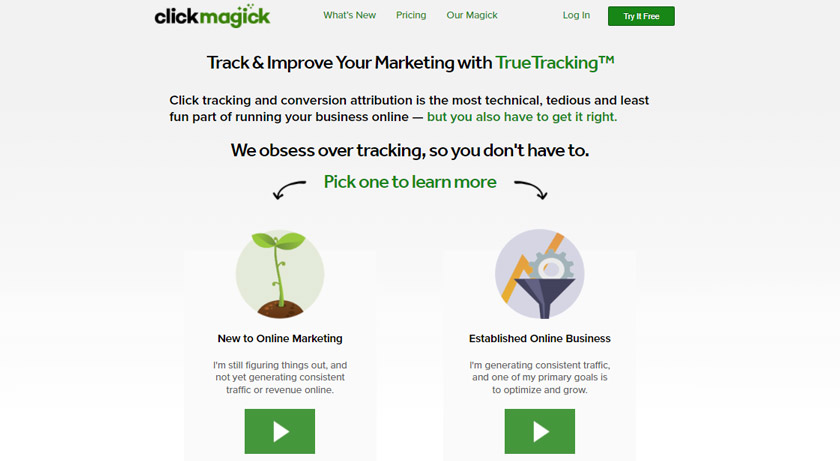 One issue that everyone in the solo advertising industry has to deal with is clicks fraud.
With the ClickMagick click tracking software, you can track the email traffic you're getting from a solo ads seller to ensure you're only getting quality traffic.
You can also see which solo ads provider is driving traffic with great ROI.
Pricing: ClickMagick pricing plans start at $37 per month up to 10,000 clicks per month.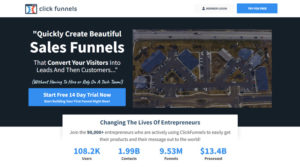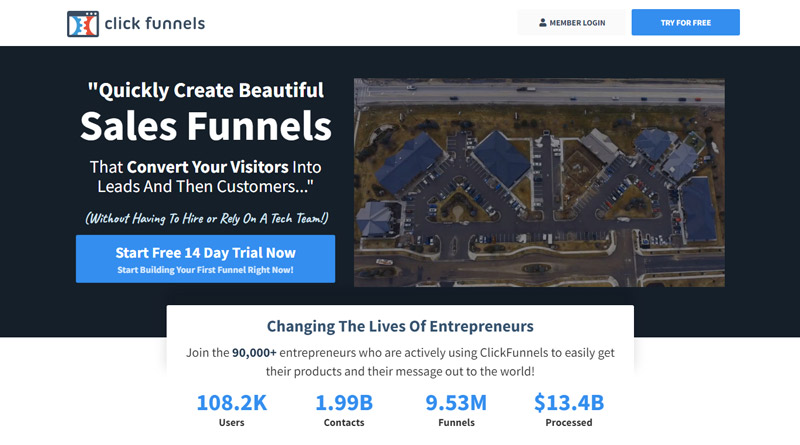 Before purchasing solo ads traffic, you need to set up an effective solo ads funnel (the page where the solo ads click will be sent to).
ClickFunnels is an innovative software solution for creating high-converting solo ads squeeze pages and sales funnels to automate the sales process from the start to the checkout.
The software also lets you A/B test your solo ads traffic to determine which seller's traffic brings great results.
Pricing: ClickFunnels pricing plans start at $97 per month.
ConvertBox is a powerful on-site engagement and leads capture platform that enables you to create personalized offers, lead capture forms, surveys, and more to target the right visitors.
For your solo ads campaigns, this tool can help you embed custom exit popup opt-in forms to capture email addresses from visitors, show different on-site messages depending on autoresponder tag and list as well as cookies, etc.
Pricing: ConvertBox is available at $495 for life.
UpViral, as the name suggests, is a web-based referral marketing platform that lets you run contests to run effective and profitable viral referral campaigns at scale.
The platform comes with industry-leading features such as fraud detection, retargeting & tracking A/B testing, and many others that let you take control of your solo ads campaigns.
Pricing: UpViral pricing plans start at $79 per month.
Actionable Tips to Make Solo Ads Work
Knowing the best solo ads providers, vendors, and agencies is one thing, and running successful solo ads campaigns is another.
Here are some actionable tips for success in solo ads advertising:
Step 1: Create a high converting squeeze page
The first thing to do before purchasing solo ads is to create a high converting landing/opt-in/squeeze page to which you will send all your email traffic.
To create professional landing pages, I recommend ClickFunnels. To determine which of your squeeze pages is generating better results (A/B testing), I recommend ClickMagick.
Step 2: Choose high converting offers
Once you have captured the lead, the next step is to deliver what you promised to them. That's the offer. It could be free training, webinar, sales video, etc. The offer you recommend must be great.
You can find good offers on the most popular affiliate networks like:
Step 3: Learn copywriting
You need to write catch email ad copies to grab the attention of your subscribers and convince them to purchase your offers.
For this, I recommend learning some basic copywriting. Even though most solo ads sellers can write email ads for you, it doesn't hurt to learn how to write them by yourself.
Step 4: Have effective email follow-up series
You're probably one of those people who don't purchase something on the first visit to a website. Who knows, maybe the people coming to your website are similar to you.
This is where you need to perfect your email follow-up sequences.
How to Choose a Suitable Solo Ads Provider
Solo advertising is an effective technique for generating targeted email traffic to your offers. Given the plethora of solo ads providers out there, it can be challenging for you to choose a trusted and reliable seller.
For that reason, you need to consider a few factors when deciding which provider to buy email clicks from.
Here are some of the things to keep in mind when choosing a solo ads provider:
Conduct Thorough Research
The first thing you need to do when looking for a solo ad provider is to conduct enough research. There are many solo ads providers out there but the mistake you want to make is to settle with the first one you come across without doing a proper vetting.
It's worth noting that some providers use shady techniques to run your ad campaigns. The last mistake you want to make is to purchase solo ads from a provider who uses bots. Conduct enough research to ensure you're getting quality traffic clicks from the provider.
Scrutinize The Reviews
Customer reviews can help you know a lot of things about the provider before ordering email traffic clicks from them. Read through the comments and feedback of other buyers to determine the quality of solo ads the provider offers.
Most solo ads providers have a section for reviews and testimonials on their websites.
This is the section where you can see the reactions of the customers who have purchased ads from the providers. Since reviews can easily be faked, ensure you're buying from a provider with real feedback from real customers.
If possible, reach out to the previous customers to ask them about their experience with the provider.
Determine The Type of Traffic Offered
Different solo ads providers have email lists for different niches. For instance, some sell traffic for weight loss offers while others for making money online and in many other niches.
As a rule, you must ensure you're buying solo ads traffic from a provider with high-targeted email traffic suitable for your type of offer.
Avoid using solo ads providers who claim to have email lists that work for any kind of offer unless you have scrutinized the feedback of previous customers who have used the provider and found out what they claim to be true.
Also, steer clear of providers who hide information about their subscribers.
Find Out More From The Provider
Sure, you can read reviews of people who have used the provider and learn more about the quality of traffic you can get. What if you get all the information from the horse's mouth?
There is no better way to choose a reputable solo ads provider than to reach out to them and inquire about their services. That's how you can get enough information.
Have the links to your offers and email swipes ready then reach out to the provider and discuss how they can help you.
From the discussion, you can tell whether you're getting quality traffic or you should move on to another provider.
Lastly, ensure you test the provider before purchasing huge amounts of traffic clicks from them.
Frequently Asked Questions
In this section, I'm going to answer some of the most frequently asked questions about solo advertising.
Are solo ads worth it?
Even though solo ads don't work for all kinds of businesses or offers, if you're working on a shoestring budget and have an effective solo ads sales funnel, I'd recommend using them.
Generally, if you're in the make money online, finance, and other money-related niches then solo ads would help you generate more sales.
How do I find free solo ads?
As someone who has been using solo ads for many years, I don't recommend using free solo ads at all. After all, how on earth can you expect to get effective solo ads for free from someone who has spent time and money to build their email lists?
There are many places to get solo ads at affordable prices starting from marketplaces like Udimi and other solo ads sellers I have reviewed in this article.
How much do solo ads cost?
Solo ads are sold on a cost-per-click basis and the cost will vary between solo ads sellers.
On average the cost per click for solo ads starts at $0.30.
Udimi is one of the most affordable and trusted solo ads marketplace with solo ads sellers offering email traffic for as little as $0.05 to a maximum of $2 per click.
Why can I not get sales promoted in solo ads?
There are two possible reasons why you're not getting sales in your solo ads.
First, you could be promoting an offer that people aren't interested in buying, your audience isn't ready to purchase, or are looking to learn more about your offer before making the final decisions.
How do I grow my email list using Solo Ads?
The first step to growing your email list using solo ads is to offer your visitors something that will make them sign up.
First off, create a well-optimized squeeze/landing/opt-in page.
Secondly, purchase solo ads from individual sellers or marketplaces like Udimi then start capturing the email addresses of people who visit your website.
How do I buy solo ads with guaranteed clicks?
The reality is that even though most solo ads sellers guarantee quality traffic, there is no guarantee of getting clicks.
This is especially true if you haven't researched and discovered your audience's pain points.
With the right information about the issues your audience is facing and a compelling message together with the right targeting, getting clicks is easy.
Can I use solo ads for my CPA marketing?
If you're a CPA affiliate marketer looking to make money through CPA marketing then paid to advertise is the way to go.
First off, find a profitable CPA affiliate offer, join a trusted solo ads marketplace like Udimi, find a reliable solo ads seller, and order your email clicks. Ensure you have an effective sales funnel for your CPA affiliate marketing business as well.
Can I use solo ads to promote ClickBank products?
Even though you can use solo ads to promote ClickBank products, the competition out there is insane, and getting sales can be a tough task.
Remember that you're sending traffic directly to an affiliate link and this means that a big chunk of the clicks you're driving to the affiliate link isn't going to convert.
That's why I recommend building an email list so that you can send follow-up messages to visitors who don't purchase on their first visit to remind them to visit your offer again.
Which is the best solo ads provider for you?
This is probably the last question you expected to get the final and conclusive answer to.
As you might have noticed from all the solo ads providers, vendors, and agencies I have reviewed above, they all lack the essential features you get in Udimi.
For instance, most of them lack a click filtering system that filters out bot traffic. In some of the providers, you cannot contact the previous buyers since they only have screenshots of the perceived buyers.
When buying solo ads from Udimi, you can contact the previous customers of a particular seller to find out more about the traffic they provide.
Udimi is pants down the best solo ads platform out there.
Join Udimi today and get a $5 discount on your first solo ads purchase.
For Udimi alternative solo ads sellers, I recommend Wayne Crowe.
I'd also like to know your best solo ads provider as well as the best place you have ever bought targeted email traffic in the comment section.