Are you looking to promote your products in the make money online niche to generate more sales?
If so then pay attention to this article as I'm going to introduce to you the best Udimi solo ad sellers that sell high-quality email traffic clicks at affordable prices.
Top Udimi Solo Ads Sellers in the Make Money Online Niche
As you're probably aware, Udimi is the best solo ad marketplace that connects buyers with trusted and experienced solo ad sellers.
Besides, the platform has powerful features that help verify sellers, filter out non-human traffic, and track traffic to determine which seller's traffic is generating better results.
Read on to discover the top solo ads sellers in Udimi.
1. Demian Voorhagen
Demian Voorhagen is an online marketing expert and verified Udimi solo ads seller who helps people make money online by selling them solo ad traffic that's proven to convert.
Currently, this seller has 61% "Got Sales" ratings and 19% repeat customers from the latest 100 buyers who have ordered traffic from him.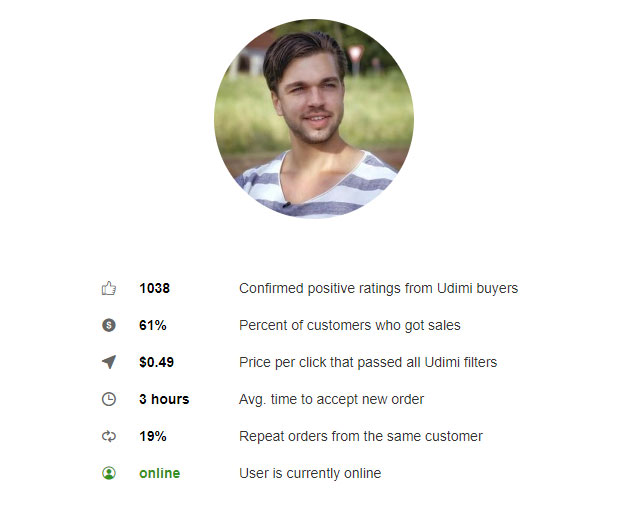 Demian's email list consists of visitors from 95% of Tier-1 countries including the UK-2%, US-88%, Canada-3%, Australia-1%, and 5% from across the globe.
As a way of ensuring you get better results for the traffic you purchase from him, Demian will review your landing page and thank you page for free before accepting your order.
He also guarantees over-delivery on every order you make. Besides, his email list is constantly updated with fresh leads daily and he takes approximately 3 hours to accept orders.
What's more, his offers work well with make money online, affiliate marketing, finance, bitcoin, and any other money-related offers.
2. Patrik Radacic
Patrik is a trusted and verified Udimi solo ads seller who offers high converting traffic. His list is constantly updated with 500+ leads daily. That means you get traffic that's proven to respond to your offer at any given time.
His email traffic comes from 93% of Tier-1 countries namely the US (66%), New Zealand (1%), UK (12%), Australia (4%), Canada (10%), and 7% from around the world.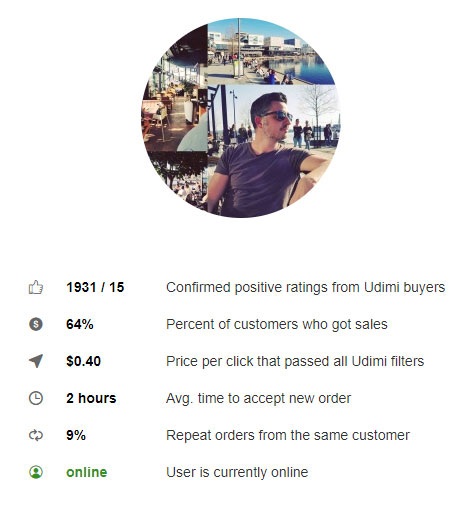 This Udimi solo ad seller has 64% "Got Sales" ratings and 9% repeat customers from the current 100 buyers.
The best thing about Patrik is that he takes approximately 2 hours to accept orders. There is not too much waiting.
Additionally, the seller offers three traffic filters; only top tier, prime filters, and only mobile traffic.
3. Mohamed Said Esousy
Mohamed is yet another verified solo ad seller in Udimi.
As an experienced internet marketer with over 20 years in the industry, this seller offers high converting email traffic from the United States. He's also a verified Udimi solo ads provider who guarantees 10% over delivery on every order.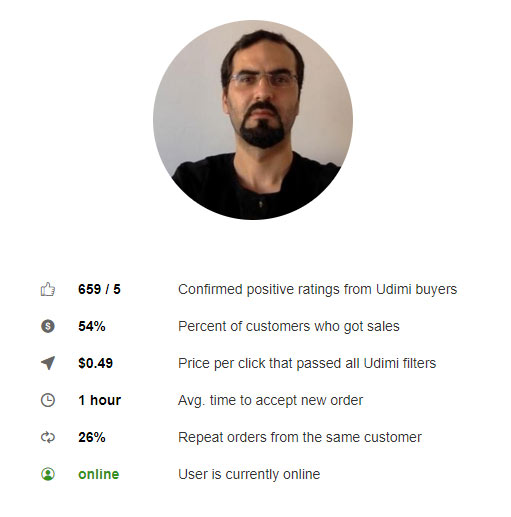 Apart from that, Mohamed does free funnel reviews and offers free high-quality email marketing video courses.
When you order traffic from this seller, you also get 3 high converting capture pages plus new subscribers and buyers that sign up to his email list daily.
Currently, Mohamed has boasts 54% "Got Sales" ratings and 26% repeat buyers from his recent 100 customers. He takes 1 hour to accept orders. He's the fastest Udimi solo ad seller on our list.
The seller offers both desktop and mobile traffic for make-money-online, affiliate, ClickBank, and other money-related offers.
4. Glenn Fedoruk
Glenn offers premium high-quality email traffic targeted for make-money-online, finance, and other offers. The seller is verified and a Hall of Fame member in Udimi.
The seller is also ultra-fast in traffic delivery so you can expect your traffic to flow immediately or 12 to 24 hours after making your order.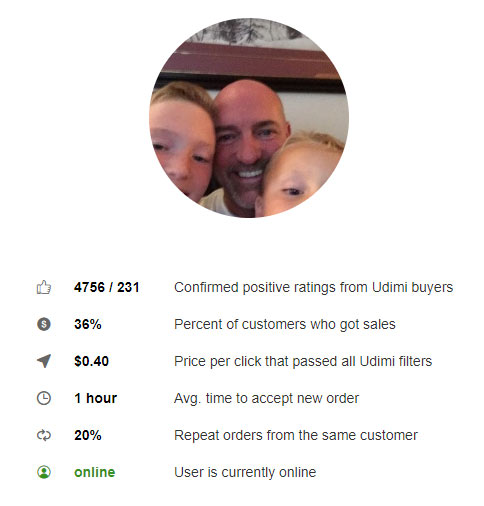 Glenn filters out bot traffic and fake traffic to ensure you only get traffic that's actually looking to buy your offers.
And that's not all, you also get 15% bonus clicks on every order you make.
His traffic comes from 99% of Tier-1 countries as follows: The US (97%), Canada (1%), and 1% from around the world.
You can also order 100% USA traffic from this seller by specifying that in your message.
5. Randy Sult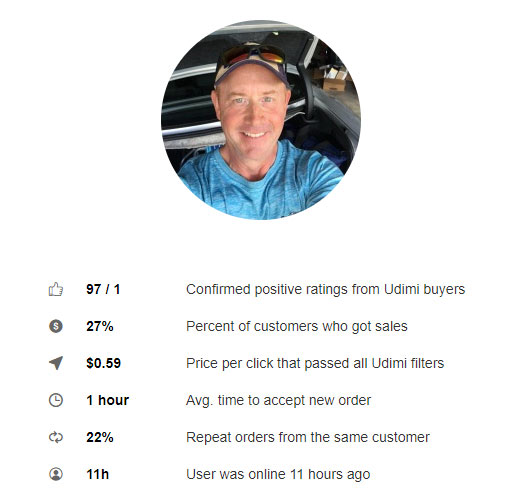 Randy is the last Udimi solo ad vendor on our list. He's an experienced affiliate marketer who has built his list with PPC, solo ads, and media buys.
When you order traffic from this seller, you get:
100% Tier-1 traffic from the USA.
10% bonus clicks on every order
New leads are updated constantly
The seller takes approximately one hour to accept orders
Funnel and landing page review at no extra charge
Traffic that works well with make money online and other money-related offers.
Other Solo Ads Seller In the Make Money Online Niche
Aside from the solo ad sellers I have reviewed above, there are other websites like Udimi that provide highly targeted traffic that converts greatly.
These Udimi alternatives solo ads websites are founded by experienced internet marketers who understand the importance of high-quality traffic.
Here are the top 3 Udimi alternatives solo ads platforms:
1. Wayne Crowe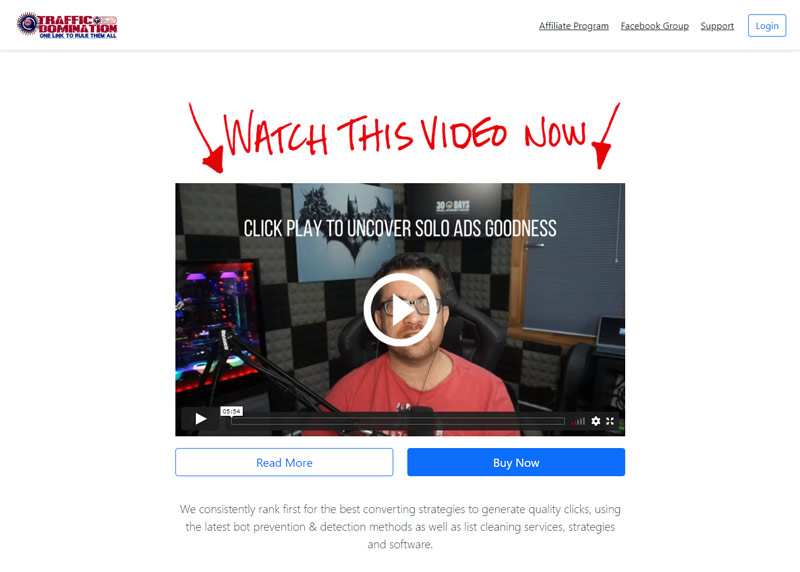 Wayne Crowe has constantly appeared in every list of Udimi alternatives solo ads providers for various reasons.
First off, he's the founder of Traffic Domination, a platform he uses to sell highly targeted traffic using powerful bot prevention and detection technology and list cleaning techniques.
Wayne is also a digital marketing and income coach with over 12 years of experience online and 6 years in solo ads.
Wayne also offers a free email course that teaches you about list building so that you can build your own effective email list.
This solo ads vendor also offers a simple copy-paste system that enables you to set up a high-converting landing page and autoresponder in minutes.
This vendor offers 85% traffic from Tier-1 countries including New Zealand, the USA, UK, and Australia.
Based on the traffic source and price, Udimi is much better than this seller.
Price: $0.90 per click.
2. Straight Arrow Solo Ads
StraightArrowSoloAds is another awesome solo ads vendor (and Udimi alternative) founded by Chris Gilman, an expert affiliate marketer to provide quality traffic that generates high opt-ins, conversions, and guaranteed results.
When you order traffic from this source, you get the following:
100% Tier-1 traffic from English-speaking nations including Australia, USA, New Zealand, England, and Canada.
Note, these are countries with high-income potential and their citizens have access to credit cards thus they are likely to spend more.
Traffic delivered on time. Once you order email traffic, the seller will start delivering clicks to your offers right away.
The good thing about this vendor is the use of an advanced filtering system that although not as effective as Udimi, weeds out any non-human or bot traffic.
You also get a free tracking report to monitor the traffic being sent to your offers. This will help you to understand which email campaign generated better results.
Chris himself will write your solo ad email. Just send him the URL of the product you want to promote and let him write an awesome solo ad for you for free.
Aside from that, you get 15% off the price on your first order and an additional 10% on every order.
One thing I don't like about this solo ads vendor is that, unlike Udimi, you have to enter your email address to see the price. Besides, to get USA-only traffic, you have to pay an additional $0.10 per click.
Price: $0.50 per click
3. Elite Traffic Club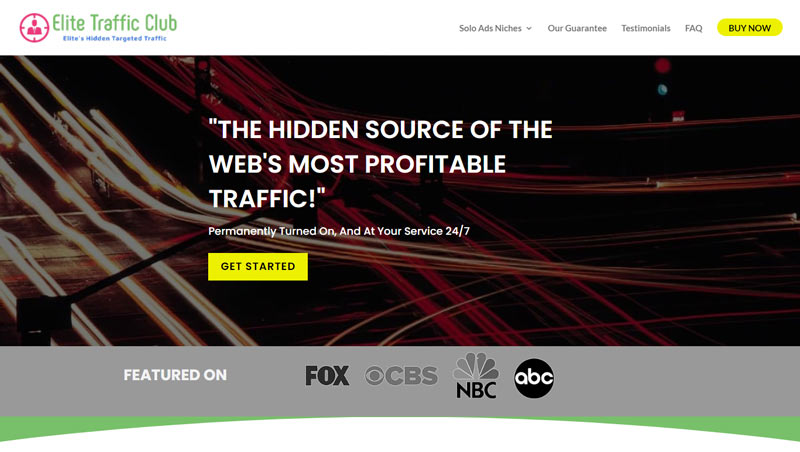 Elite Traffic Club claims to be the hidden source of high-quality traffic that provides buyers list solo ads in a range of niches including make money online, internet marketing, and many others.
Let's dig deep to learn more.
Generally, when using solo ads, the quality of the email list matters.
With Elite Traffic Club, you get targeted advertising from a list of qualified buyers.
The vendor also promises cost-effective and high-converting email traffic that's proven to buy. You also get bonus traffic clicks on every order you make.
The traffic you get from this resource comes from 70% to 80% Tier-countries. Most Udimi solo ads sellers deliver traffic that's over 90% from English-speaking countries.
Price: $0.90 per click
Final Thoughts
Have you been searching for highly targeted email traffic for your make money online offers without success?
Whether you're promoting your products or you want to build an effective email list any of these traffic sources can help you.
Nevertheless, I recommend using Udimi for all your solo ads traffic needs.
Apart from an advanced traffic filtering system, you get high-quality traffic from Tier-1 countries.
Besides, most Udimi solo ads sellers can write your solo ad at no extra charge, plus they can review your squeeze page to ensure it's well set up. You also get premium quality cost-effective traffic.